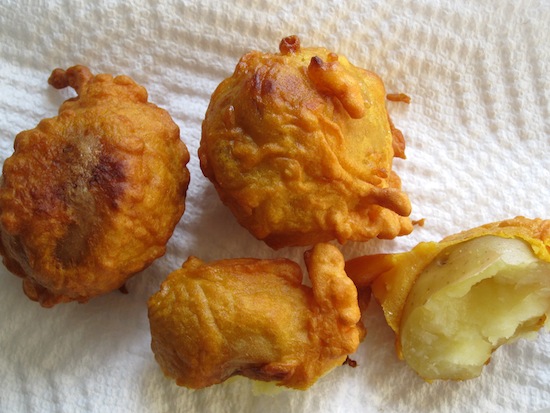 Papas Aborrajadas is a traditional Colombian side dish made with small potatoes, with skin-on, dipped in a batter and deep fried in vegetable oil. These potatoes can be served as a side dish or an appetizer served with Salsa Rosada(Pink Sauce),aji or hogao.
Buen Provecho!
Don't forget to comment on my post "Healthy Foods for Finicky Little Eaters" and enter to win a $100 Visa gift card from Tropicana and BlogHer.
Ingredients
Vegetable oil for frying
12 small white potatoes, skin-on
Batter:
1 egg
¼ cup all-purpose flour
Salt and pepper
1/4 teaspoon ground cumin
½ tablespoon sazon Goya with azafran
¼ cup milk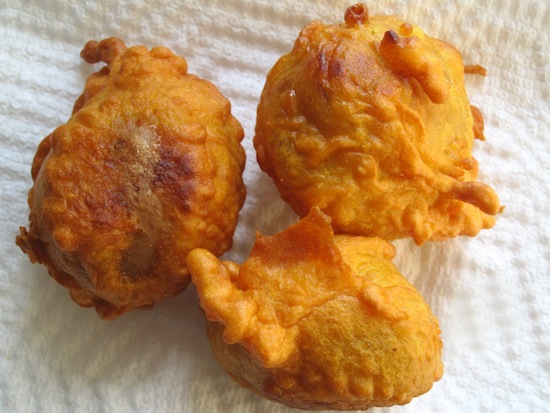 Directions
1. Put the potatoes in a medium pot and cover with water and ¼ teaspoon of salt.
2. Bring the potatoes to a boil over medium high heat, then reduce the heat to medium and cook until fork tender about 15 minutes.
3. Drain the potatoes and set aside.
4. In a medium bowl place all the batter ingredients and whisk until smooth and set aside.
5. Fill a large heavy pot with vegetable oil and heat over medium-high heat to 360° F.
6. Dip the potatoes into the batter and carefully place them in the hot oil and fry for about 4 minutes or until golden, turning over halfway through. Remove the potatoes from the oil using a slotted spoon and drain on a plate with paper towels.
7. Transfer to a serving plate and serve with your favorite sauce or as a side dish.

If you liked this post, you can say thanks by sharing it:
Related Posts