This post will show you how to create WordPress content called 'posts' and 'pages' and begins where 'How to Start a Food Blog' left off. WordPress makes adding content to your website super easy, so this post will follow suit.

What does it mean to create a 'post' or a 'page' in WordPress? Well, assuming that you have your website online after following the simple steps outlined here, you have a website with no content! A lot of good that will do you, or anyone else! So, you'll want to add some very important content to your site to share with the world, right? You do that in WordPress by creating blog posts and static website pages. What's the difference, you ask?
Blogs, by definition, are sites that display fresh content, while the older content falls off the main page of the site and is relegated to the archives, simply put, of course. So, a blog post is that fresh content that I mentioned. A static web page, on the other hand, is a page on a website where the content doesn't often change, such as the 'About' page or a 'Contact' page of a website. The beauty of WordPress is that while it was once considered a blogging platform, it is now a full-blown content management system, or CMS for short. That means that it not only supports blogs and regularly changing content, but static website content too. This way you can have traditional static website pages, and a blog with fresh content all in one place. Cool, right?
So, let me help you get started, here's what you do…
Step 1: Write your content on your computer using a word processor like Microsoft Word, Apple Pages or the like, and if you're writing recipes, you'll want to take pictures of your wonderful dishes as well!
Step 2: Log into WordPress, which you can access via web browser by adding /wp-login.php to your domain name, for example: yourdomain.com/wp-login.php
Step 2a: Before you create content in WordPress, you should change the default permalink structure to 'Postname'. Huh? I won't bore you with details here, but I strongly suggest that you use pretty permalinks rather than the default permalink structure setting in WordPress. There's a bit more to this than simple aesthetics, but we don't need to get into it here. So, all you have to do is hover over 'Settings' in the left sidebar and click 'Permalinks'. Then click the radio button in the 'Common Settings' list titled 'Post name' and be sure to click 'Save Changes'. Some prefer to use one of the other pretty permalink settings, but I prefer just the post name. The choice is ultimately yours.

Now it's time to post!
Step 3:
To create a new blog post: Highlight Posts in the left hand pane and click new.
To create a new static page: Highlight Pages in the left hand pane and click new.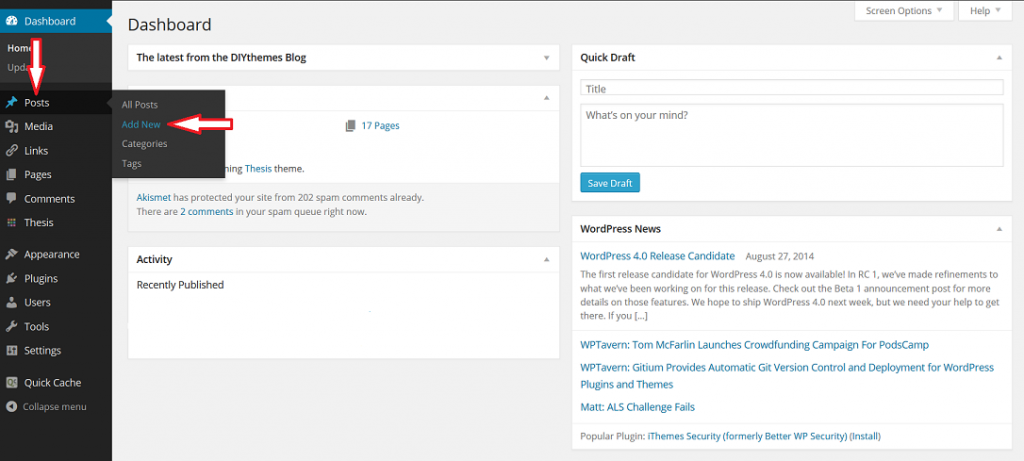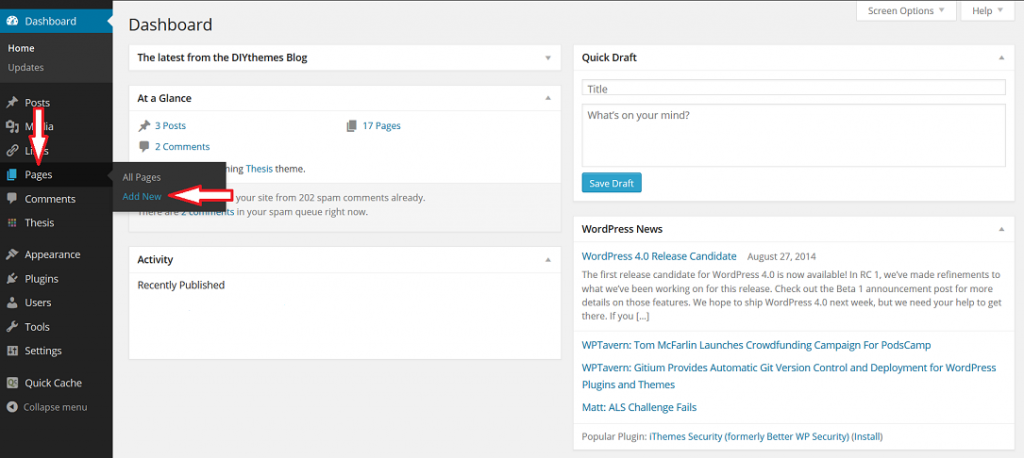 Step 4: Copy the text content that you wrote on your computer and paste it into the WordPress post or page editor, then add your photos. For a post, create a few keyword tags, as well as a category, on the right side of the screen and click publish. Viola, you've just created content for your website! The process is basically the same for a page, except that you will not choose tags and categories and can create parent and child pages, on which I will not elaborate here. Sure, I could get more detailed, but we're sticking to the basics. You can continue to learn more about WordPress stuff as you progress, while you should read more about 'categories' later in this post…very important!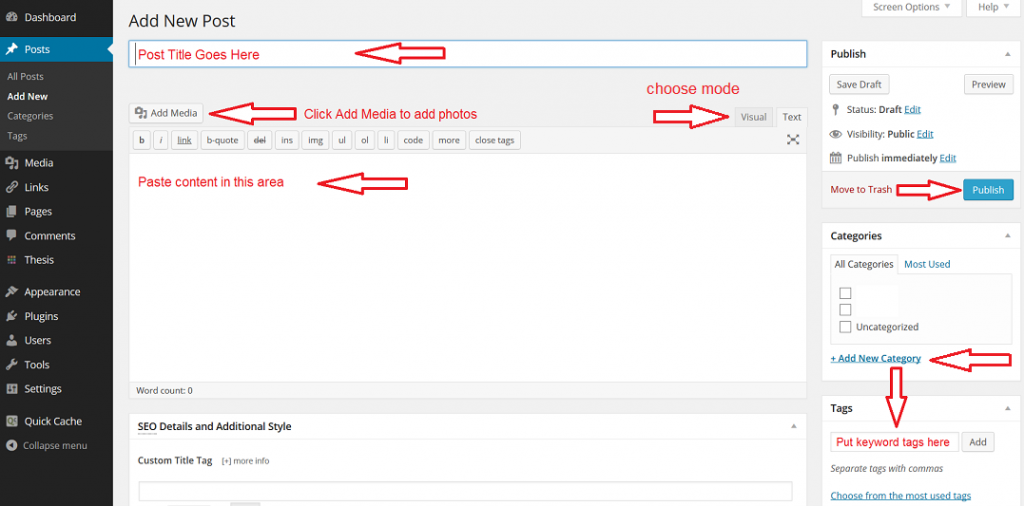 Similar to my initial post in this series 'how to create your own food blog', this post is not intended as the be all and end all of creating a website. Like my aforementioned post, my goal is to get you going and point you in the right direction. There are entire websites dedicated to helping you create your new website and specialty websites to aid you in specific areas of website development, such as SEO and website security, not to mention countless videos on YouTube. So, this is where you'll want to use the resources linked to in the following posts in this series, when you're ready for more!
Here is a great video from Bluehost about creating static pages in WordPress.
Below is another video from Bluehost about creating blog posts, but it demonstrates how to create a separate Blog page on which your dynamic posts will reside. This is not the default setting in WordPress and as you'll see in the video, you'd need to adjust some settings. This is also probably not the way that you'll want your website configured, providing your creating a recipe blog, unless you hire a developer and then all bets are off and your dev can discuss with you your site configuration and functionality. Let me elaborate a bit, as I think it's important that you have a basic understanding of this before you begin posting new content.
By default, WordPress displays your newest blog posts on the front page of your website, as opposed to a static front or home page where the content doesn't often change. Your website can still have static pages, such as an About or Contact page, for example, but the Home page will display your recent posts, thereby always delivering fresh content to your readers. Albeit customized, this is how My Colombian Recipes functions too. This is not to say that all of your content on the front page need be dynamic, as WordPress and your theme make it super easy to display static content in your sidebars! Check out our front page, you'll see Recent Posts displaying in the center column, while both the left and right sidebars display static content using widgets…that's right, I said widgets! As much as I like the word 'widget', as I do 'whatchamacallit' and 'do-dad', we won't be discussing any of them in this post! Anyway, you'll probably want to maintain the default WordPress settings so that your new posts display on your front page. But just in case you don't, here's another great video from Bluehost that will show you how to create a static Home page along with a separate blog page.
Again, just to be clear, as I know I went off a bit in the last paragraph, if you want a dynamic front page displaying your recent posts, you don't need to do anything to WordPress, just create your new posts as per my instructions above and everything will be cool! But for added support, here's a video from… you guessed it, Bluehost.
Now, about those 'categories' that I mentioned earlier & said were so important! You can add as many tags as you like, but while there is no hard rule as to how many categories is too many, keep categories to a minimum. Some example categories for a recipe blog might be:
Main Dishes, Side Dishes, Desserts
You may even want to create sub-categories for a category like Main Dishes, such as:
Beef, Chicken, Fish
Make sense? You'll want to do your best to get this right from the beginning so as to avoid cleaning up a mess later. Here's a very informative article about this topic from the folks at WPBeginner.
So, that concludes this post. You still with me? Alright then, what are you waiting for? Content is king! Have fun and get posting already!