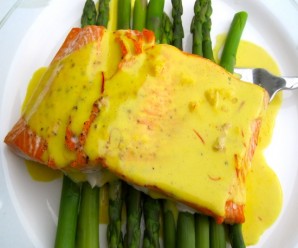 Salmon with Coconut-Saffron Sauce
Ingredients
2

lb

salmon fillets

Olive oil

Salt and pepper

½

teaspoon

groun cumin

1

tablespoon

butter

¼

cup

chopped onion

1

garlic clove

finely chopped

1

chicken or vegetable bouillon tablet

2

cups

coconut milk

½

cup

heavy cream

Large pinch saffron
Instructions
Preheat the oven to 400° F.

Place the salmon fillets in a large baking dish. Drizzle olive oil and season each fillet with cumin, salt and pepper.

Place the baking dish in the oven and bake for 15 to 20 minutes or until the salmon is cooked through.

While the fish is cooking make the sauce:In a medium saucepan melt the butter.

Add the onions and cook for 3 minutes, stirring often. Add the garlic and cook for 1 more minute.

Add the coconut milk, heavy cream, saffron and chicken bouillon.Bring to a boil, then reduce the heat to low and let it simmer for about 10 minutes stirring occasionally.

Spoon sauce over the salmon fillets and serve warm.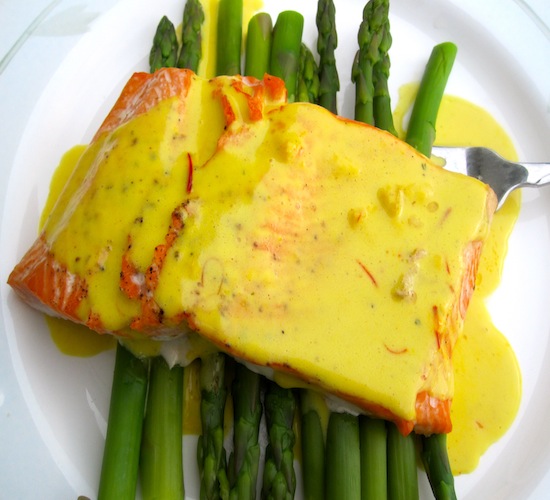 I made this tasty recipe for my sister last week. She is a huge seafood fan, so I am trying to cook a lot of the food that she likes while she is visiting. We both love salmon very much and I wanted to make something different and special for her and that is how this Salmon with Coconut-Saffron Sauce was born!
It was fantastic guys...the coconut and saffron together is a marriage made in heaven and the saffron gives this dish a beautiful color too.
Buen provecho!