A classic Ajiaco recipe made with different kinds of potatoes, spices, chicken, corn, guascas a (Colombian herb) and served with capers and cream. This Colombian chicken soup is thick, comforting and filling.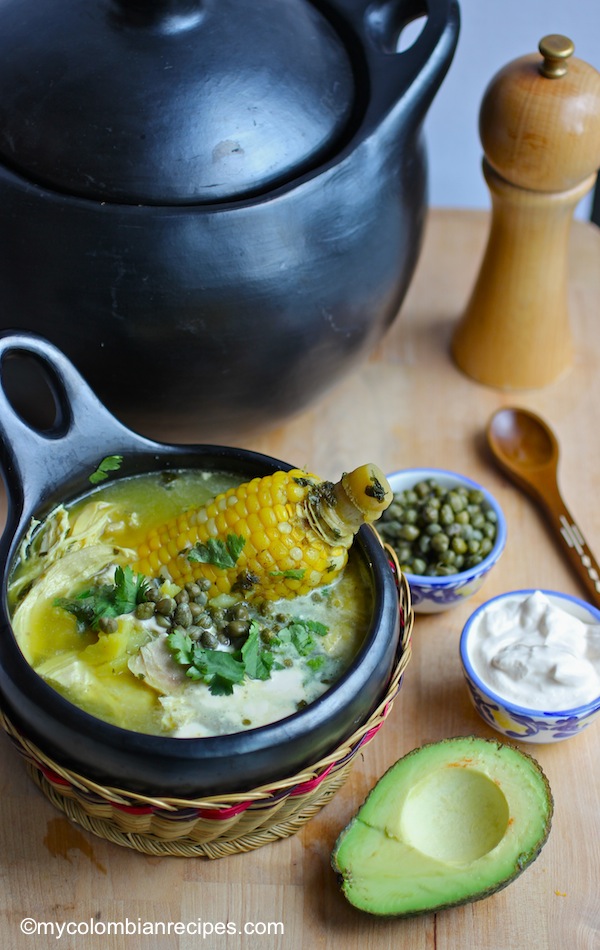 What is Ajiaco?
There are different versions of Ajiaco Bogotano o Santafereño, but it's a soup usually made with chicken, three kinds of potatoes, corn and an herb called guascas. This herb gives the soup a wonderful flavor. It is very important to use guascas and papa criolla as they are the key ingredients in this dish.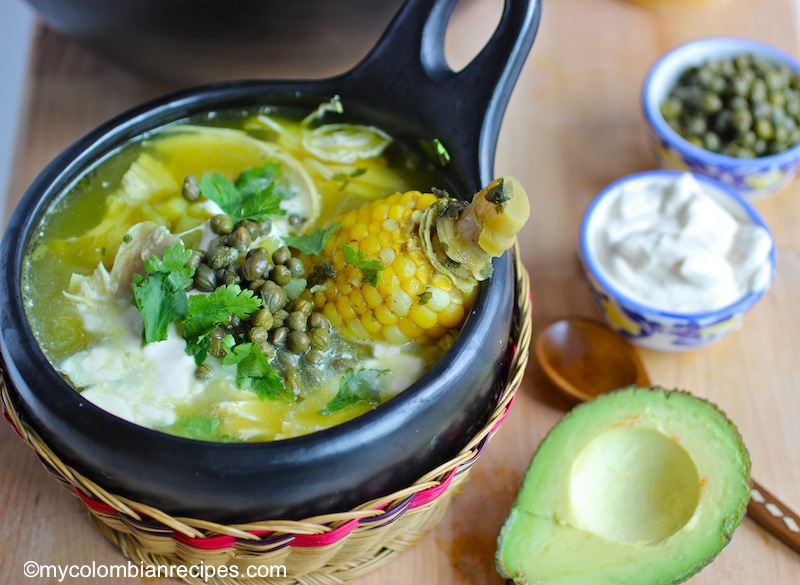 For me, Ajiaco Santafereño is a feel-good comfort food and I like to serve it with avocado on the side. In Colombia Ajiaco is traditionally cooked in clay pots like the one I used in the pictures, but if you don't own one, just use a regular large pot to make this popular Colombian soup.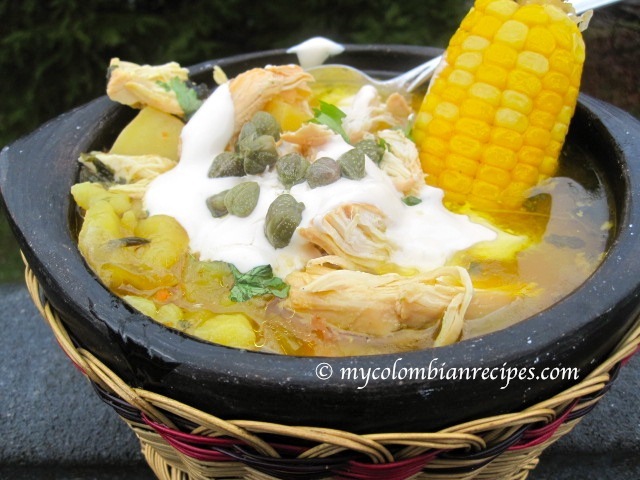 Each region of Colombia has it own specialties and characteristic dishes. For example, in the capital of the country Bogotá; Ajiaco is a very popular dish. Comforting, filling and absolutely delicious makes this Colombian chicken soup the perfect meal during the cold weather.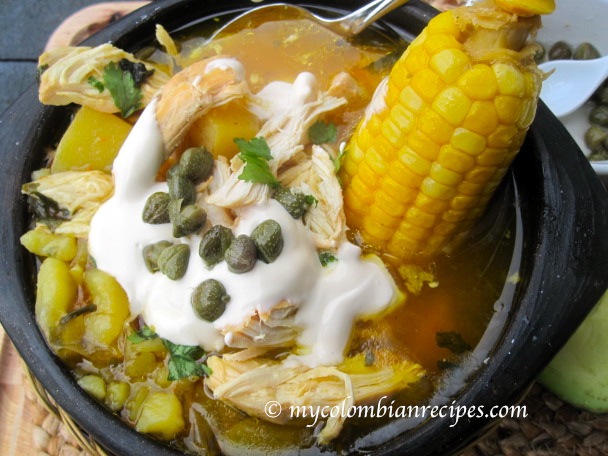 Ajiaco can be eaten for lunch or dinner and will keep you full and satisfied. I like to served my ajiaco with avocado and a green salad on the side.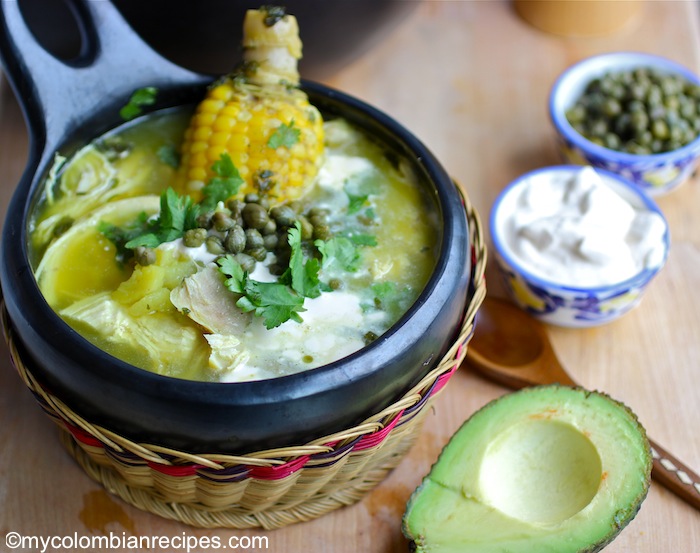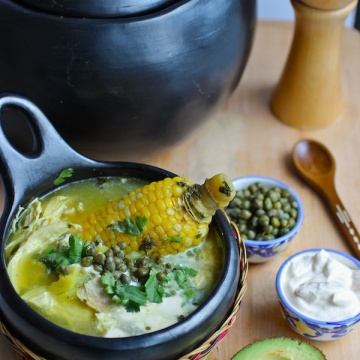 Colombian Ajiaco Recipe
Ingredients
3

chicken breast

skin removed

12

cups

water

3

ears fresh corn

cut into 2 pieces

Salt and pepper to taste

2

chicken bouillon cubes

3

scallions

2

garlic cloves

minced

3

tablespoon

chopped cilantro

2

cups

papa criolla

Andean Potato

3

medium white potatoes

peeled and sliced

3

medium red potatoes

peeled and sliced

⅓

cup

guascas

1

cup

heavy cream for serving

1

cup

capers for serving
Instructions
In a large pot, place the chicken, corn, chicken bouillon, cilantro, scallions, garlic, salt and pepper. Add the water and bring to a boil, then reduce heat to medium and cook for about 30 to 35 minutes, until chicken is cooked and tender. Remove the chicken and set aside.

Continue cooking the corn for about 15 more minutes. Discard green onion and add red potatoes, white potatoes, and the guascas. Cook for 15 more minutes.

Uncover and add the frozen papa criolla and simmer for 15 minutes, season with salt and pepper.

Shred the chicken breast and return to the pot. Serve the Ajiaco hot with capers and heavy cream on the side.
Notes
You can find dried guascas on Amazon.
In the USA yo can find frozen papa criolla in Latin markets.
I like to serve Ajiaco with avocado and a light salad on the side.
Nutrition
Calories:
497
kcal
Carbohydrates:
52
g
Protein:
32
g
Fat:
19
g
Saturated Fat:
10
g
Polyunsaturated Fat:
1
g
Monounsaturated Fat:
5
g
Trans Fat:
1
g
Cholesterol:
127
mg
Sodium:
1331
mg
Potassium:
1660
mg
Fiber:
7
g
Sugar:
6
g
Vitamin A:
825
IU
Vitamin C:
43
mg
Calcium:
94
mg
Iron:
3
mg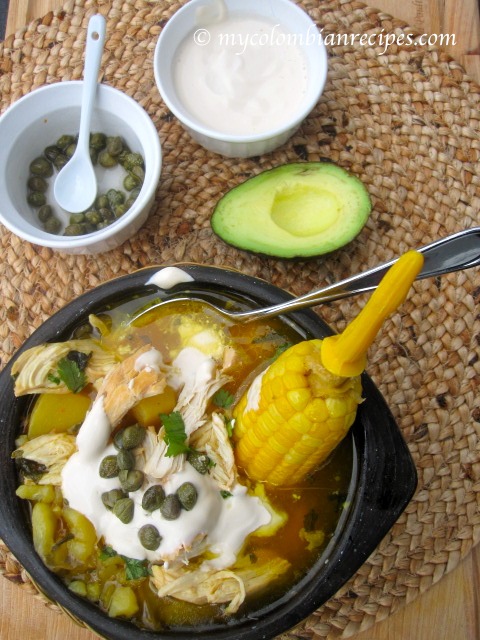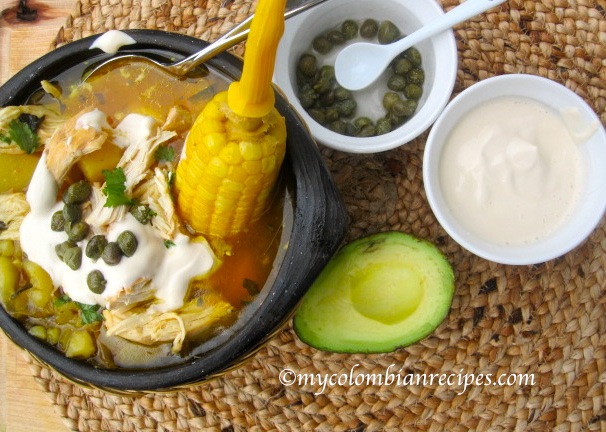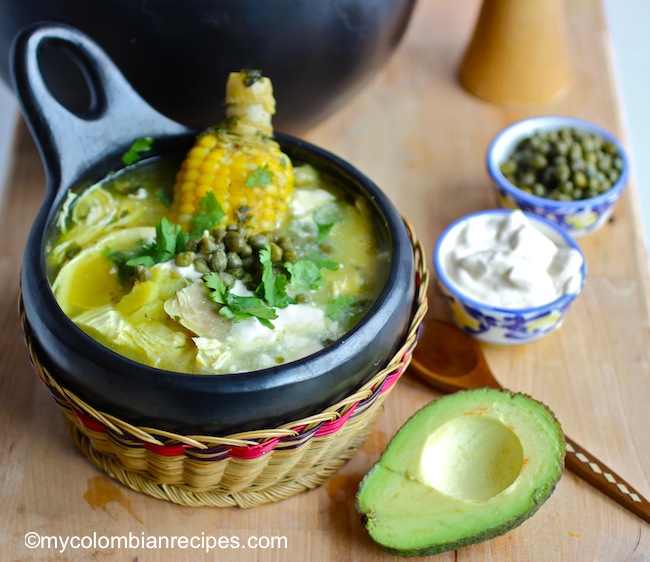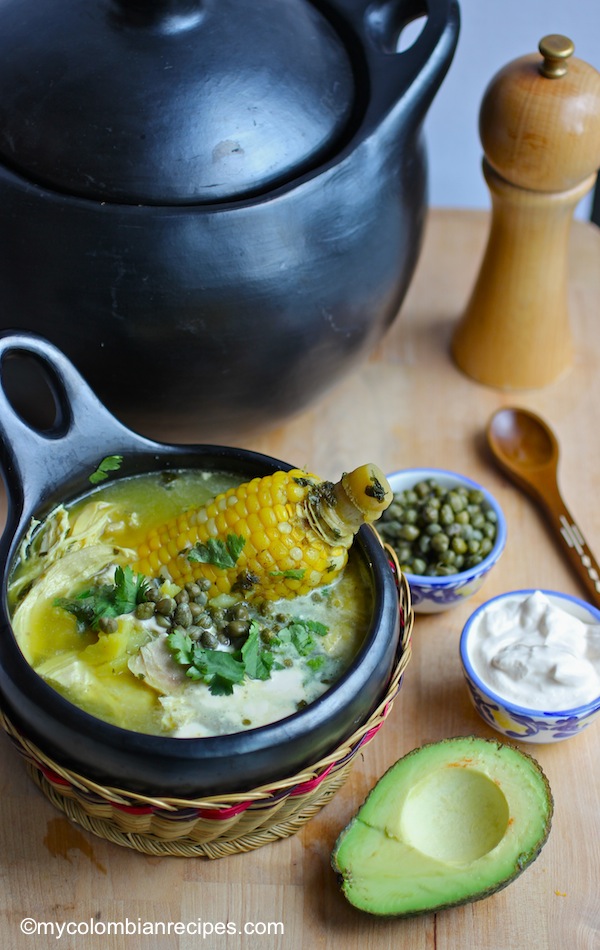 Looking for more chicken soup recipes to try? Here are a few of my favorites:
Sancocho de Gallina (Chicken or Hen Sancocho)
Cilantro-Lime Rice and Chicken Soup
Chicken Noodle Soup (Sopa de Pollo con Pasta)
Caldo de Pollo con Papas (Chicken Broth with Potato Soup)
Sopa de Arroz con Pollo (Chicken and Rice Soup)