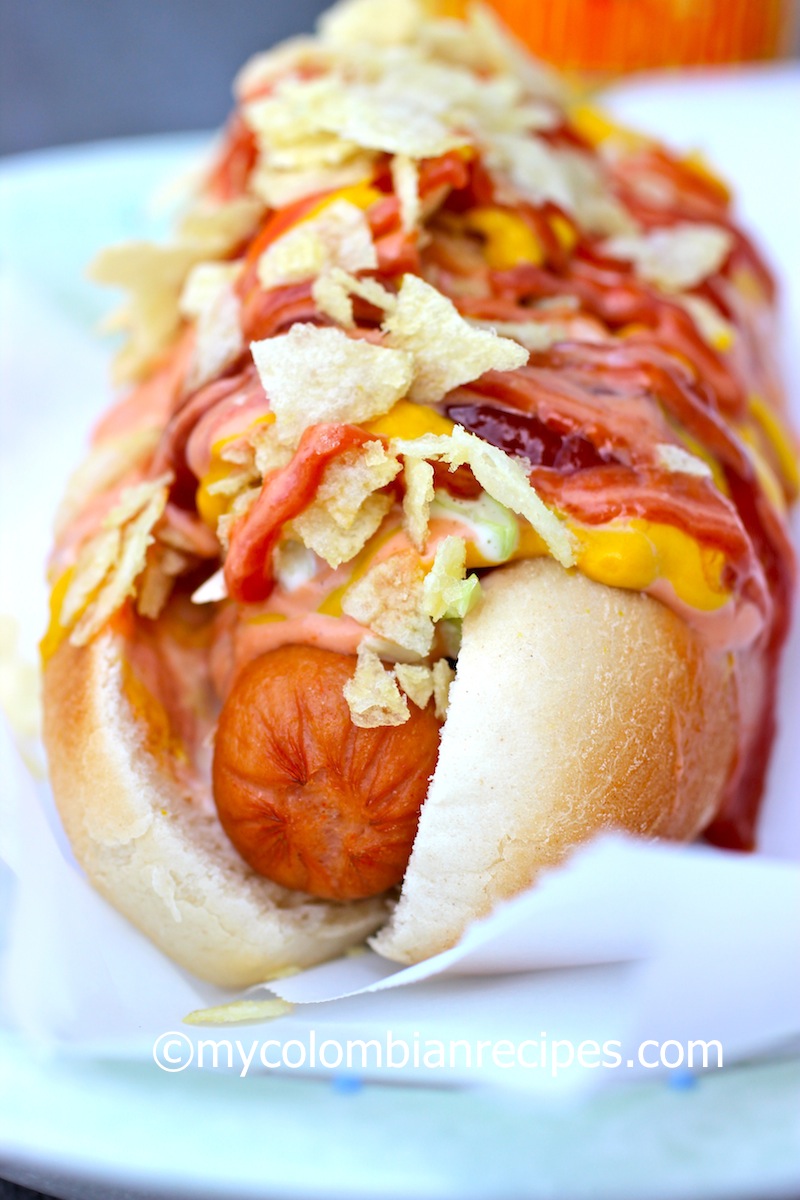 Colombian-Style Hot Dogs is one of those recipes that I really enjoyed preparing. There are a lot of things that I miss about my country, but the three that I miss the most are my family, my friends and the food.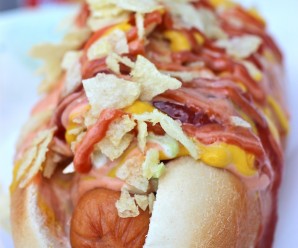 Colombian Hot Dogs (Perro Caliente Colombiano)
Ingredients
2

cups

fresh pineapple

peeled and cut into chunks

⅓

cup

water

2 ½

tablespoons

sugar

1 ¼

teaspoon

cornstarch

Juice of ½ a lime

6

hot dogs buns

6

pork and beef hot dogs or veggie dogs

1

cup

pineapple sauce

1

cup

cole slaw

1

small bag potato chips

crushed into fine pieces

Mayonnaise

ketchup

mustard
Instructions
Put the pineapple and water in a blender and blend until smooth.

Press the pineapple mixture through a sieve into a small saucepan. Discard the pineapple on the sieve.

Place the saucepan with the pineapple mixture over medium-low heat and add the lime juice and sugar. Cook, stirring for about 15 minutes.

In a small bowl blend the cornstarch with 1 tablespoon of water and then stir the mixture into the pineapple sauce.

Bring slowly to a boil, stirring until the sauce thickens. Simmer gently for 4 minutes while stirring.

Let it cool and transfer to a serving bowl.

In a medium pot bring water to a boil. Add the hot dogs to the boiling water and cover. Cook about 7 minutes.

Remove and drain on paper towels.

Place the hot dogs in the buns and top with pineapple sauce, coleslaw, mayonnaise, mustard and ketchup, topped with crushed potato chips. Serve and enjoy!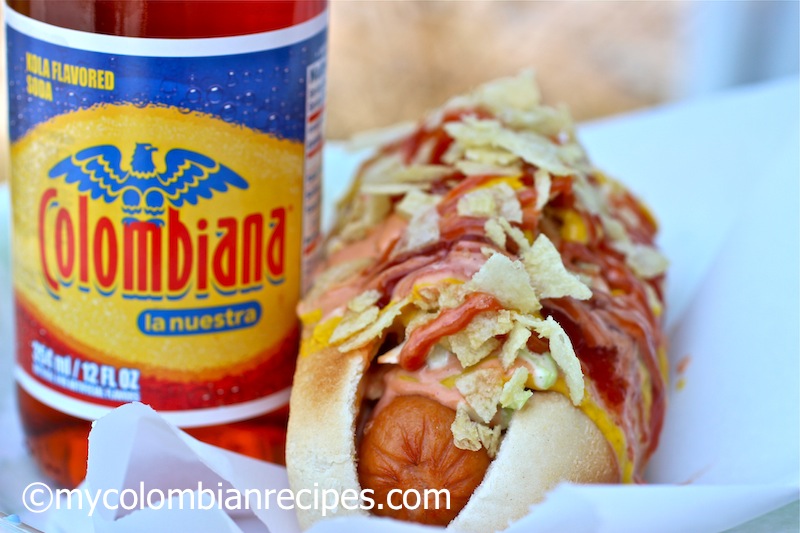 Medellin, like other cities in the world, has hot dogs stands on the streets and this recipe is very popular with them. In Colombia we don't grill the hotdogs or salchichas, we boil them and the toppings include coleslaw, pineapple sauce, ketchup, mayonnaise, mustard and potato chips. When my friends and I would go out to dance, we would usually end up at one of the best hot dog stands located on Poblado Avenue in Medellin at 2 o' clock in the morning. I really miss those times.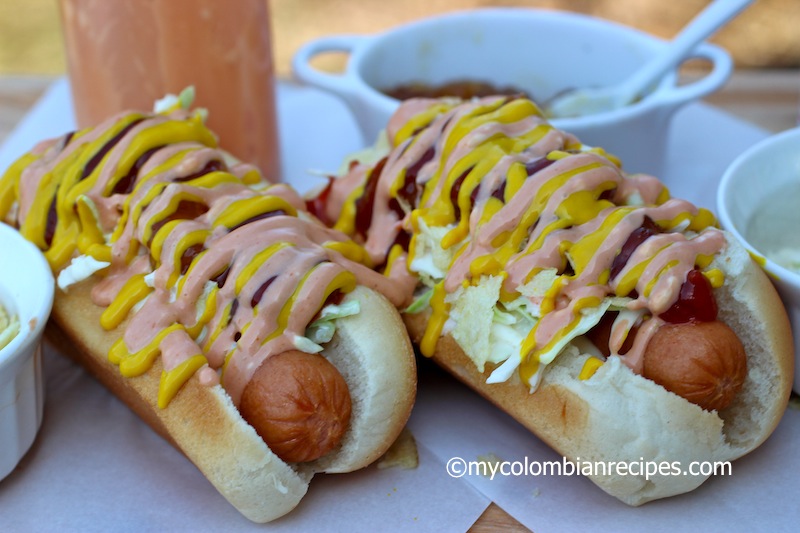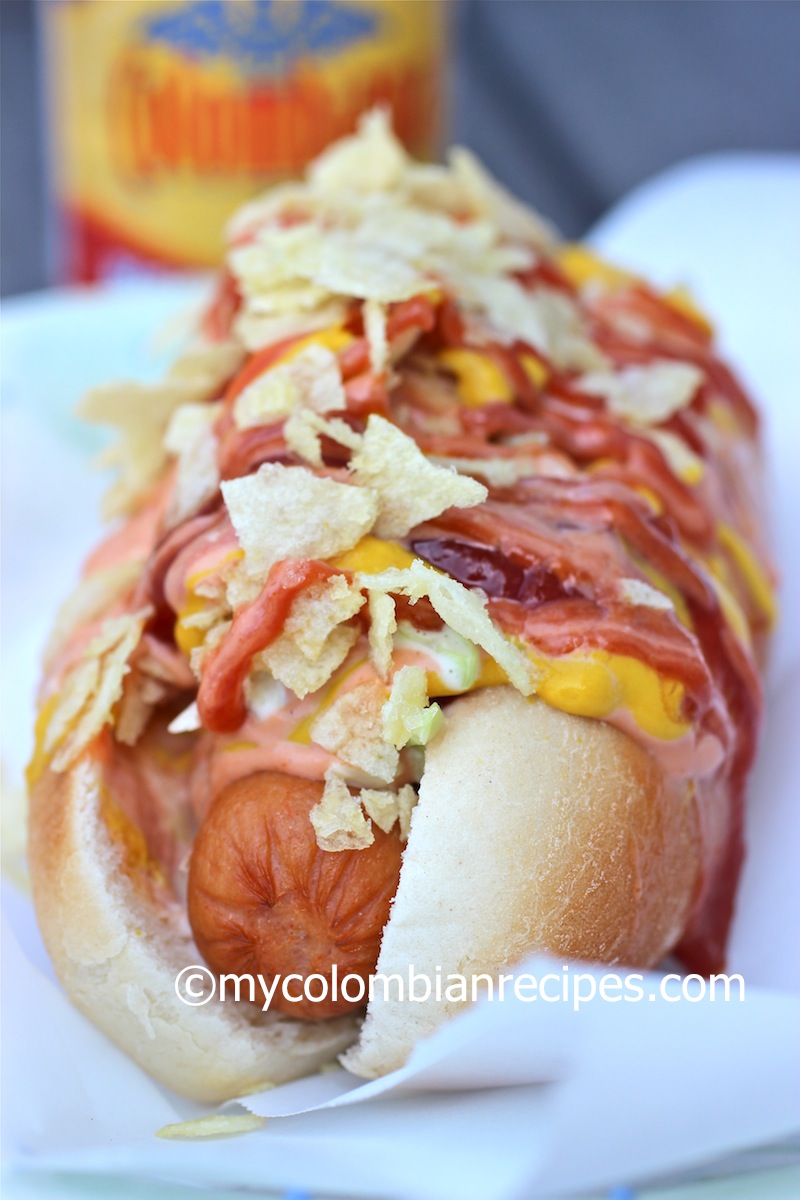 If you are a vegetarian, like my husband, you can buy veggie dogs and use the same toppings. I made them for him and he absolutely loved them.
I hope all of you have a great 4th of July weekend.