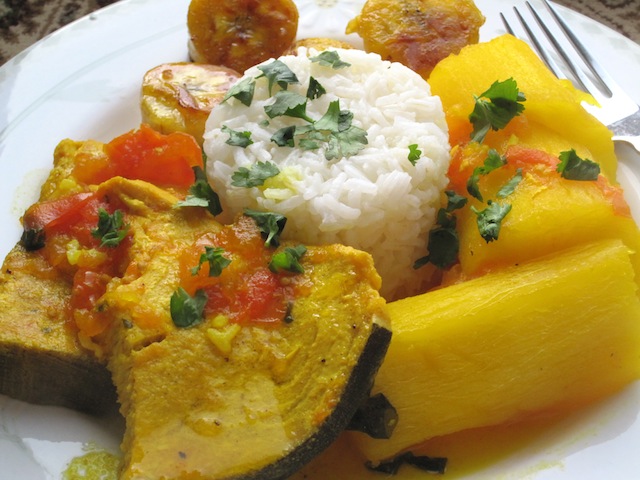 When I was growing up in Colombia, my mom made sudados once a week. Sudados are a popular dish in Colombia and we have many variations of this dish. For my mom, sudado is the perfect one pot, quick and simple meal. She would make a big pot so we would have left overs for the next day and served it over white rice and fried pantains with avocado on the side.
The aromas of this dish remind me of home whenever I cook it. I hope you enjoy it as much as I do. This is traditional Colombian home cooking, the style of food that my mom knows how to make very well. Some other variations of sudados are: chicken, beef, pork, meatballs and fish.
Buen Provecho!
Ingredients
(4- 6 servings)
1 tablespoon olive oil
1 cup chopped tomato
1/4 cup chopped onion
1 scallion, chopped
1 garlic clove minced
2 pounds sword fish steaks
1 pound frozen yuca (cassava)
2 cups water
salt and pepper
1/2 teaspoon ground cumin
1/2 teaspoon Sazon Goya with azafran or achiote
1/4 cup chopped cilantro
Directions
In a large pot, heat the vegetable oil over medium heat. Add the onion and scallions and sauté until onions are translucent, about 3 minutes. Then add the tomatoes, garlic, salt and ground pepper and sauté for 5 more minutes.
Add water, yuca and cumin powder. Reduce the heat to medium low, cover, and cook for 10 minutes, stirring occasionally.
Add Fish steaks and cilantro and cook for an additional 15 minutes or until the fish is cooked and the yuca is tender.
Serve with white rice and fried sweet plantains on the side.
This was printed from MyColombianRecipes.com