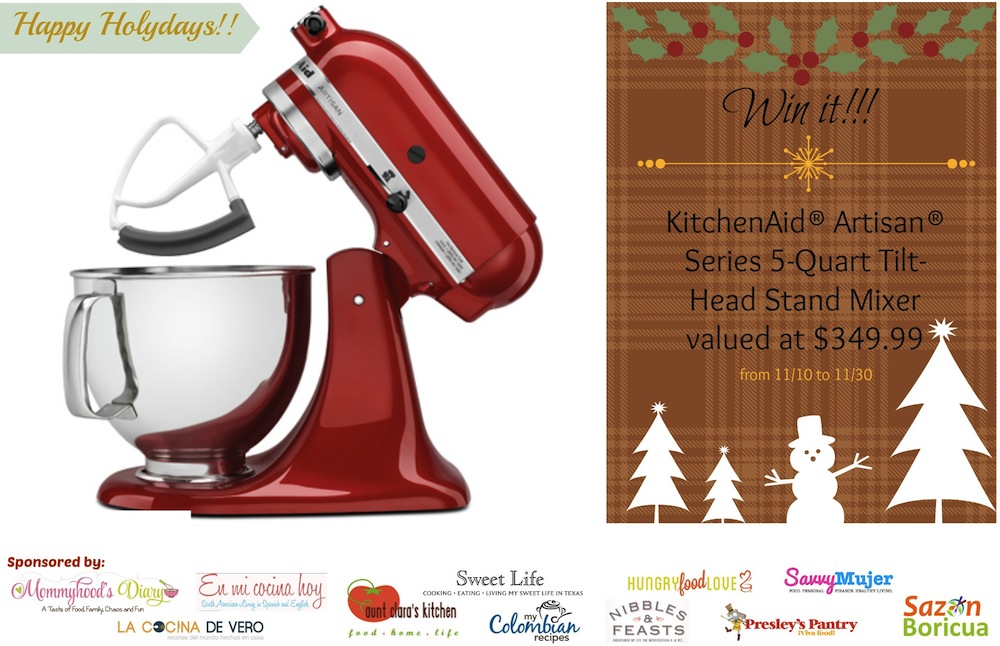 Have I mentioned how much I appreciate you, the My Colombian Recipes' readers? Thank you for reading my blog, for the comments, emails, Tweets, and for supporting me. I can't believe that it's been almost five years since I started My Colombian Recipes.
I'm very excited about this giveaway today. I've teamed up with 10 fantastic bloggers, to GIVEAWAY a KitchenAid Stand Mixer! We wanted to show our reader's how much we love them, so we decided to giveaway something we know you would love, a new kitchen toy!
Disclaimer: This post is sponsored by Oriana from Mommyhood's Diary, Veronica from La Cocina de Vero, Pilar from En mi Cocina Hoy, Jeannete from Sazón Boricua, Ericka from Nibbles and Feasts, Melissa from Hungry Food Love, Nicole from Presley's Pantry, Yoly from Savvy Mujer, Clara from Aunt Clara's Kitchen , Vianney from Sweet Life and Erica from My Colombian Recipes, and is NOT affiliated with KitchenAid. Terms & Conditions are posted within the Rafflecopter Entry Widget.