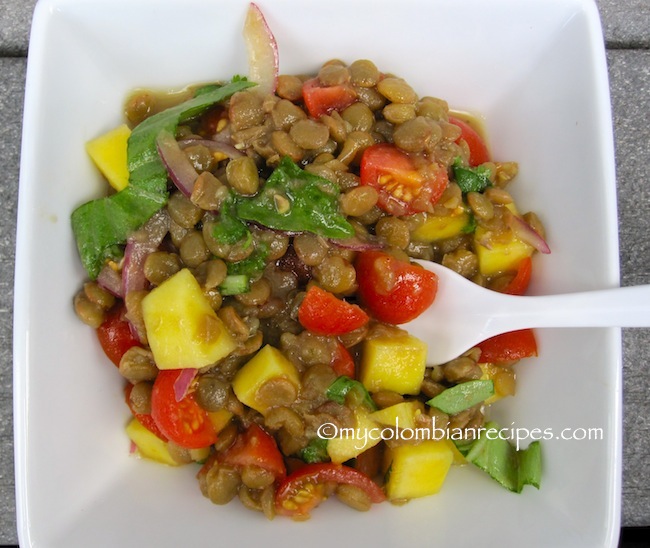 This Lentil and Mango Salad recipe has become a favorite of mine. I love the tangy and sweet flavors, and I also know that I am doing something good for my family and I, serving this healthy dish.
This salad can also be made with beans instead of lentils, if you prefer. It would make a great addition to any summer buffet or as a weeknight accompaniment to grilled salmon or chicken. It looks beautiful, colorful, and impressive as part of any spread. Hope you enjoy it too.
Buen provecho!
Ingredients
(About 4 servings)
1 cup brown lentils, rinsed and drained
3 garlic cloves
1 bay leaf
1 cup thinly sliced red onion
2 cups ripe mango, peeled and diced
1 cup grape tomatoes, diced
1/4 cup olive oil
2 tablespoons of white vinegar
1/4 cup chopped fresh basil
1/4 cup chopped fresh cilantro
1/2 teaspoon ground cumin
Salt and pepper
Directions
Bring a saucepan of water to a boil over high heat. Add the lentils, bay leaf, salt and garlic cloves. Reduce the heat and simmer until the lentils are tender to the bite, 18 to 25 minutes.
Drain the lentils, discard the garlic and bay leaf, then put in a bowl. Stir in the red onion, mango, vinegar, tomatoes, olive oil, vinegar, basil, cilantro, cumin and season with salt and pepper to your taste.
Serve the salad at room temperature or cold.
This was printed from MyColombianRecipes.com