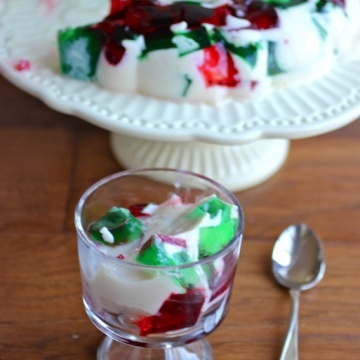 Gelatina de Colores o Mosaico (Mosaic Jello)
Ingredients
1

6 ounce box raspberry or strawberry jello

1

6 ounce box lime jello

4

cups

boiling water

½

cup

cold water

2

.25 ounce packages unflavored gelatine

1 ½

cup

boiling water

1

14 ounce can sweetened condensed milk
Instructions
Place the red jello into a medium bowl. Place 2 cups of water into a pot and bring to boil.

Pour the boiling water over the top of the jello and stir well until the jello is dissolved. Repeat with the green jello.

Pour the red jello onto a large cookie sheet or a baking pan, and the green jello onto another cookie sheet or baking pan.

Place the baking pans or sheets into your refrigerator. Let the jello chill and set for about 3 to 4 hours.

When the jello is set, make the milk mixture. Place ½ cup of cold water in a small bowl.

Bring 1 ½ cups water to a boil. Pour it over the top of the unflavored gelatine mixture and stir well.

Pour 1 can sweetened condensed milk into the mixture. Stir well to combine, then place it in the fridge for about 10 minutes to let cool down.

Grease a bundt pan or 9×3 pan with cooking spray.

Cut the jello into small pieces. Place all the jello pieces in the pan.

When your creamy gelatine mixture has cooled down, pour it over the top of the jello pieces.

Place the pan back in the fridge for about 4 to 6hours or overnight.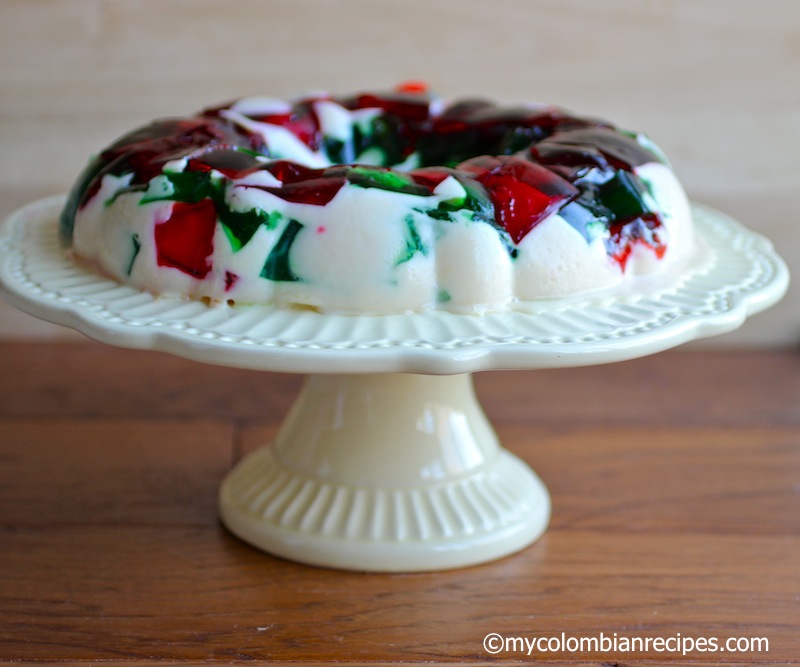 Gelatina de Colores also known as Mosaico de Gelatina is a staple at Colombian parties, especially during the holidays. Every year for Christmas one of my aunts would make it and I loved it so much! I've always loved Jello desserts and as a kid, my mom would often have a bowl of Jello in the fridge for quick snacks or desserts, which she would top with sweet condensed milk. Anyway, back to the recipe...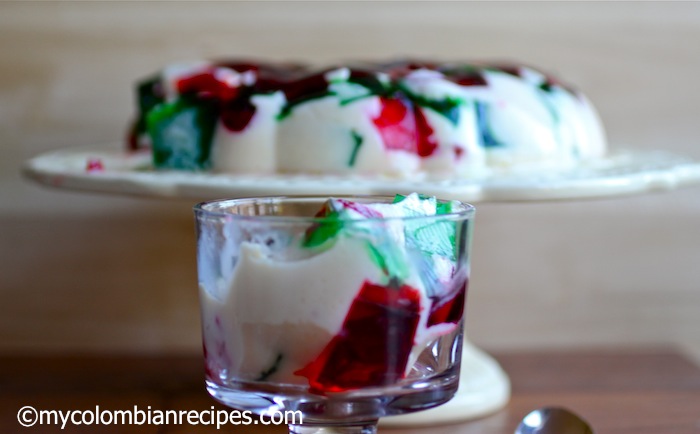 This is a very easy to make and fun dessert for any party. I love the combination of white, red and green for Christmas, but you could use any combination of colors you'd like, depending on the season.
This time I used a bundt pan to make my Gelatina de Colores, but you can use a jello mold, a regular bowl, or a casserole dish. This is a great make-ahead dessert for your Christmas dinner.
Buen provecho!