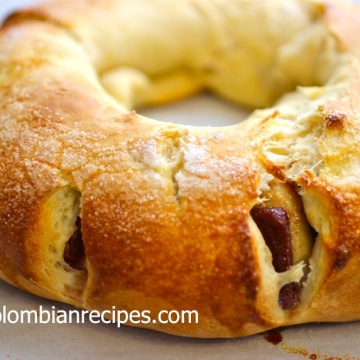 Roscón de Bocadillo o Guayaba (Guava Paste Stuffed Bread)
Ingredients
2 ¼

teaspoons

of yeast or 1 envelope

7

oz.

plus 4 tablespoons of warm water

4

cups

of all purpose flour

1

teaspoon

of salt

½

cup

of sugar

plus more for garnish

½

cup

of unsalted butter

melted

1

tablespoon

of vanilla extract

2

large eggs at room temperature

1

beaten egg for the glaze

2

tablespoons

of melted butter for the glaze

2

cups

diced or sliced guava paste
Instructions
Pour 4 tablespoons of warm water into a small mixing bowl. The water should be hot, but not so hot that you can not bear to put your fingers in it. Add ½ of the sugar and yeast, and stir to dissolve.

Wait about ten minutes for the yeast to begin to grow.

In a large mixing bowl add the flour, salt, remaining sugar and the water and yeast mixture and begin mixing. Use your hands for this, as you really get the perfect feel for the consistency of the dough. Add the butter, vanilla and eggs. Mix well.

Knead the dough on a clean, dry, flat surface. Sprinkle your work surface with a handful of flour, put your dough on top, and start kneading. Add bits of flour if necessary to keep the dough from sticking to your hands, or surface.

Keep kneading until the dough is ready. This may take 8 to 10 minutes. It will be quite elastic. It should not be too dry, however, it should still give and stretch easily without tearing.

Transfer to a lightly oiled bowl, turn once to coat, and cover with plastic wrap. Let rise in a warm place until doubled in bulk, about 2 hours.

Shape each piece into a smooth long rope. Then, using a rolling pin, roll each piece of dough into a long rectangle. Place the guava paste in the middle of each rectangle and roll the dough up jelly-roll style. Connect the two ends together, forming a ring. Repeat the process with the other rectangle.

Place the rings, seam side down, on a baking sheet lined with parchment paper, Cover and let rise in a warm place for 20-30 minutes. Using a pair of scissors, make cuts in the dough at 1 ½ inches intervals around the outside edge.

Preheat the oven to 400 F. Brush the tops of the rings with the beaten egg and melted butter. Bake for 15-20 minutes, or until the tops are golden brown and the rings are baked through. Sprinkle with sugar on top and let them cool slightly before serving.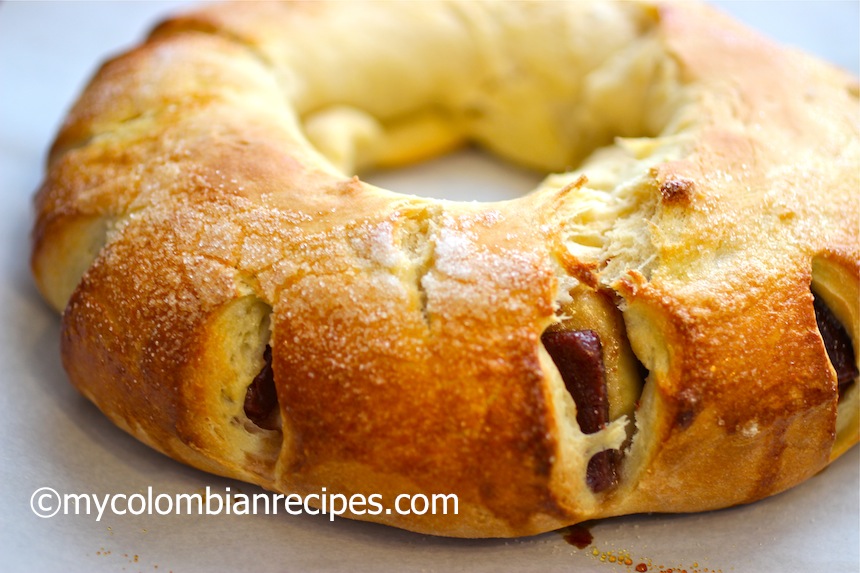 I must confess that I have never made Roscón de Bocadillo o Guayaba at home. I have had this popular and traditional Colombian dessert at restaurants in Colombia and once in a Colombian bakery in NYC. I simply love this dessert but haven't come across this Guava Paste Stuffed Bread anywhere else here in the United States.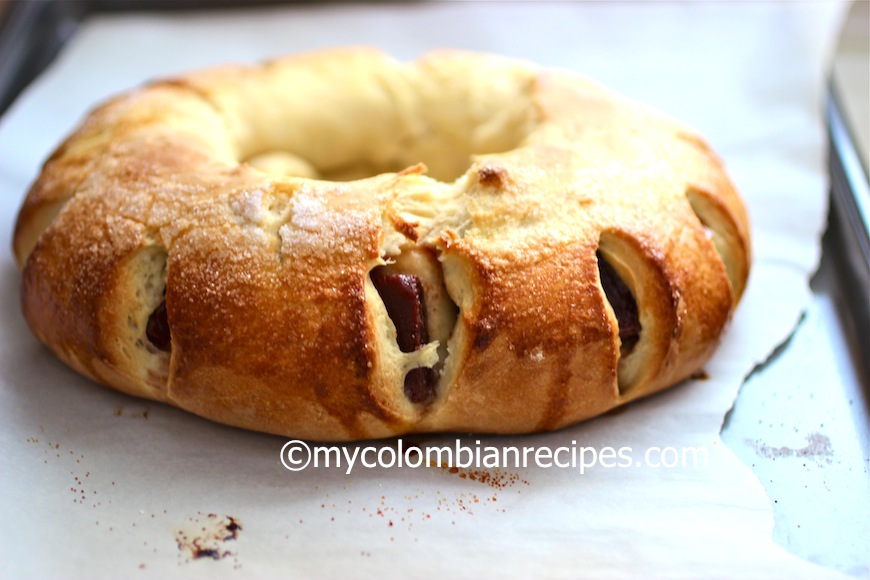 The main ingredient for this Roscón de Bocadillo o Guayaba recipe is guava paste (bocadillo), an ingredient widely used in Colombian cuisine and other Latin countries for many dessert dishes.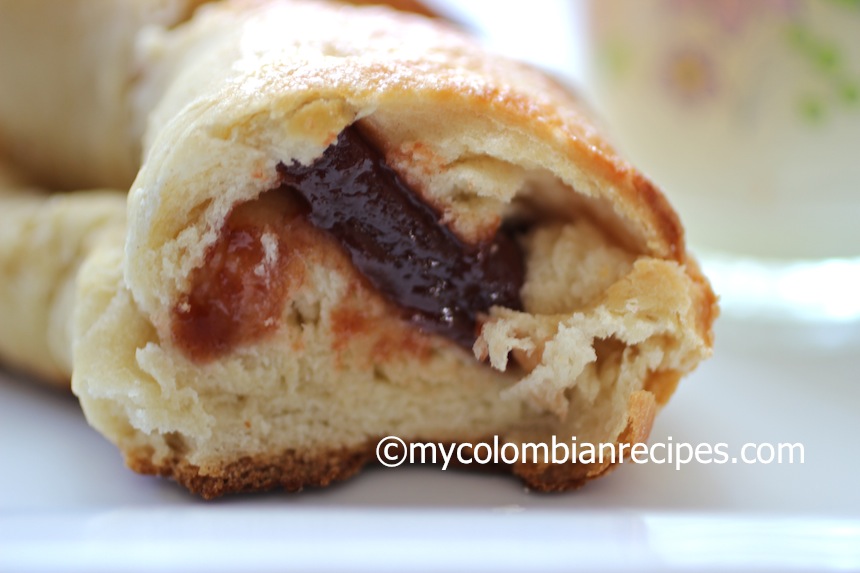 To make this dessert I used my recipe for Colombian Sweet Rolls (Pan Mojicón) as a base. I am really happy with how it turned out and within minutes, the two roscones were gone. They were delicious! I truly enjoy this dessert, especially when it's fresh from the oven. The lovely aroma that fills the house makes it difficult to resist. This Guava Paste Stuffed Bread is definitely one of the best Colombian breads I have made thus far.
Buen provecho!