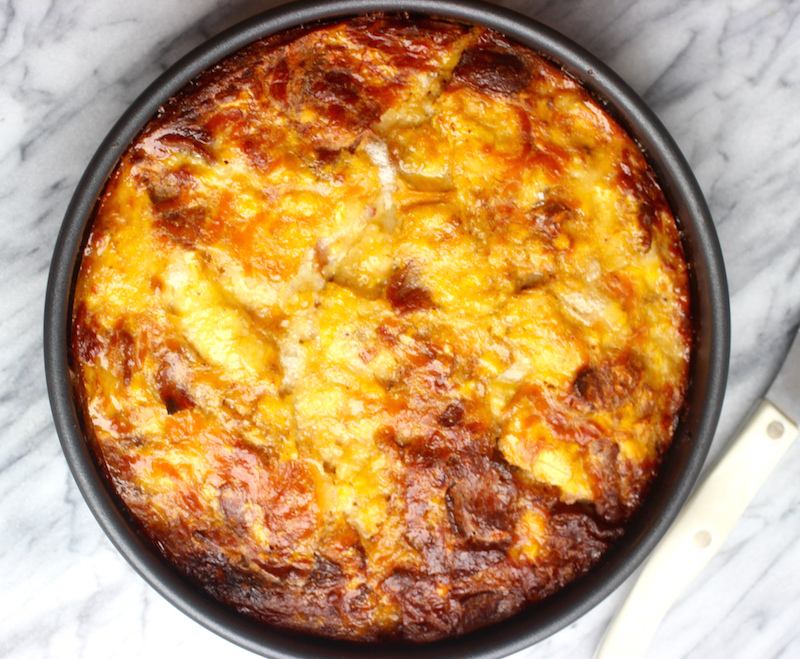 Disclosure: This is a sponsored post written by me on behalf of Sharp USA. The opinions and pictures are all mine.
Let's get right to the point… I absolutely love plantains! It doesn't matter how they're cooked; I could eat plantains every day and be quite happy. Like most Colombian and other Latin American families, plantains have always been a staple in my family's kitchen. I grew up eating some dish containing either green or ripe plantains at least twice per week. Today, I've partnered with Sharp Home Appliances to bring you this delicious Ripe Plantain, Bacon and Cheesecake recipe. It's effortless to make and versatile, it can be served warm or at room temperature, and can be served for breakfast, lunch with a green salad, a snack, and even dinner as a side dish. This plantain dish makes a great addition to a weekend brunch buffet with family, or as a neighborhood potluck dish. If you have ripe plantains at home and want to use them differently, this cake may become your new favorite recipe with ripe plantains. I loved making this kind of dish when the weather started cooling down, but maybe that's just an excuse to make it now, as it's right at any time of the year!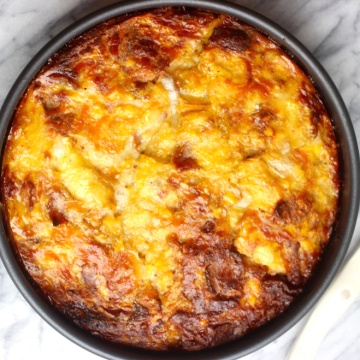 Ripe Plantain, Bacon and Cheese Cake
Ingredients
½

pound

bacon pieces, cooked

5

ripe plantains peeled and mashed

1

cup

grated mozzarella cheese

1

cup

grated cheddar cheese

3

eggs, beaten

2

tablespoons

whole milk

3

tablespoons

brown sugar

½

teaspoon

baking powder

¼

teaspoon

ground cinnamon

Pinch salt
Instructions
Set the oven to bake/350° F.

In a large bowl, combine all the ingredients and mix well.

Pour mixture into a greased baking pan and bake for 25 minutes.
Nutrition
Serving:
1
g
Calories:
2083
kcal
Carbohydrates:
45
g
Protein:
99
g
Fat:
166
g
Saturated Fat:
73
g
Polyunsaturated Fat:
19
g
Monounsaturated Fat:
63
g
Trans Fat:
1
g
Cholesterol:
851
mg
Sodium:
3328
mg
Potassium:
917
mg
Fiber:
1
g
Sugar:
39
g
Vitamin A:
2736
IU
Vitamin C:
1
mg
Calcium:
1652
mg
Iron:
5
mg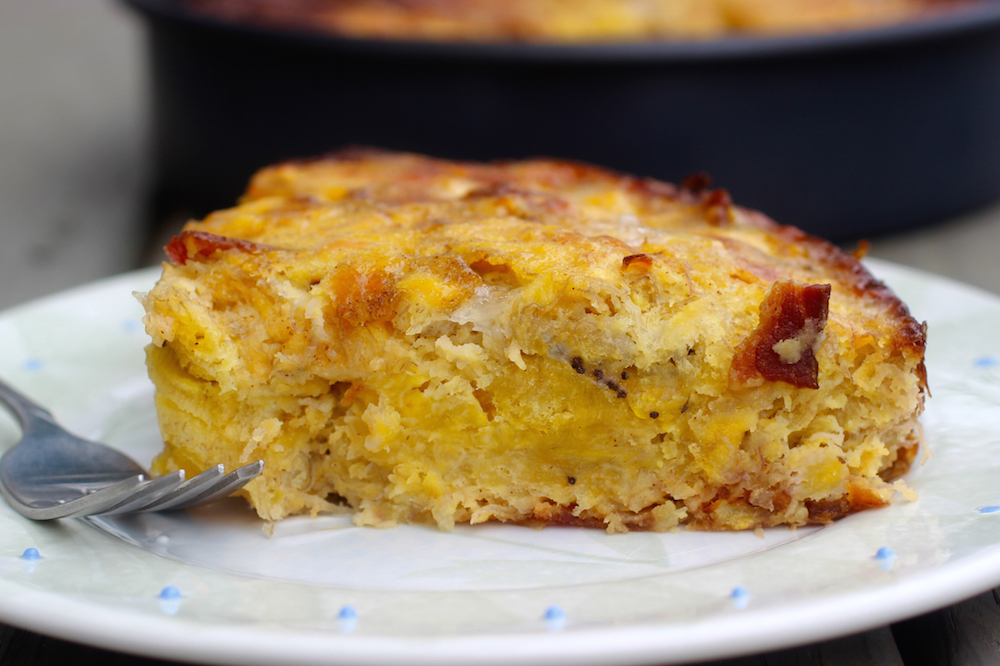 This plantain cake has plenty of bacon to give it extra flavor yet is not overpowering. However, if you are not a fan of bacon, use ham, prosciutto, or sausage instead. If you like spicy food, for an extra kick, you can add diced jalapeño peppers to the mixture before baking. The addition of spicy pepper would be the perfect combination of flavors along with the smoky bacon, creamy cheese, and sweet ripe plantains.
For those not familiar with plantains, ripe plantains are yellow with black spots and are sweet. Green plantains are starchy, like a potato, and have a mild flavor. Plantains look like bananas, but bigger. It's often challenging to find very ripe plantains at the grocery store, but if you don't find them ripe, just buy the green ones and leave them to ripen on the counter. It may take a few days for them to be perfectly ripe, but it's worth the wait, trust me. You can usually find them at the grocery store in the exotic fruit section or next to the bananas. If you don't find them at your local store, Latin or Asian markets usually carry them.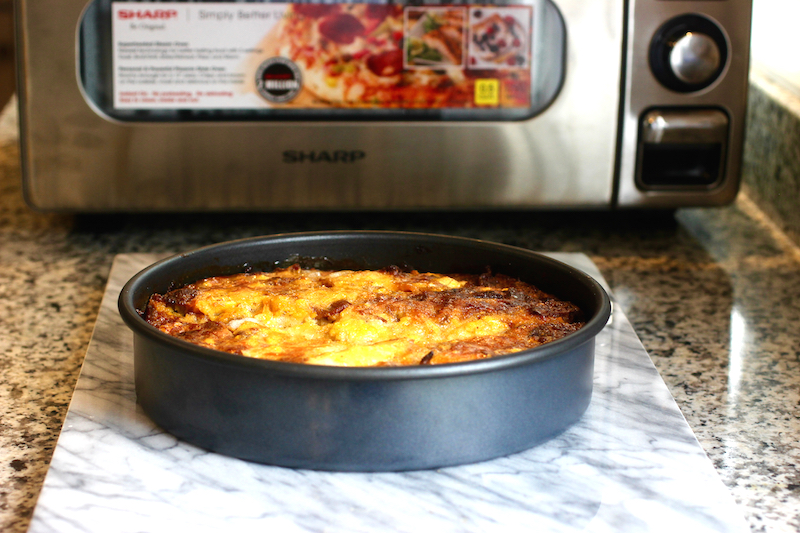 I used the Sharp® Superheated Steam Countertop Oven to make this Ripe Plantain, Bacon and Cheese Cake and the result was a luscious, savory cake that's crisp on the outside and very moist inside. My favorite part about this countertop oven is the steam heats up the oven so fast that you don't need to spend time pre-heating, so we're talking about cutting cook time by about 15 minutes, waiting for the oven to heat up. This makes using the Sharp® Superheated Steam Countertop Oven perfect for weeknights when you don't have a lot of time to get dinner on the table. That's a huge win in my book!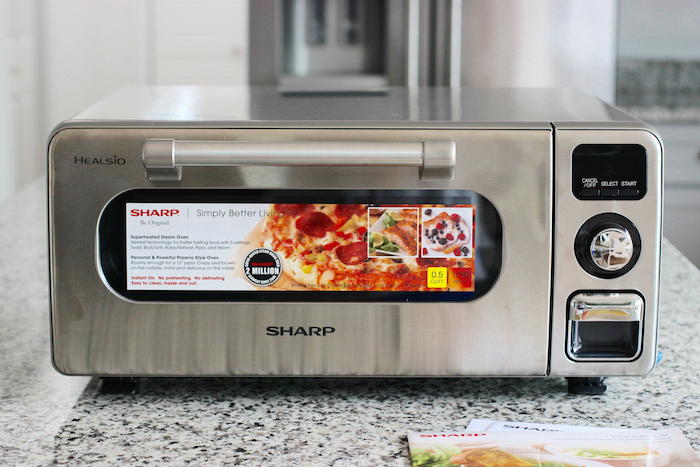 I have been using this oven for a couple of weeks and love using it to warm leftovers, as the steam ensures the food doesn't dry out. I especially like how it keeps pizza crust soft and moist while the bottom is crispy, and the cheese perfectly melted. This oven also changed the way I make grilled cheese! I was able to fit enough grilled cheese in the oven for my whole family, have them done in less time and come out perfect every time. Golden and crunchy on the outside with perfectly melted cheese inside. Before I got this oven, I didn't know it was possible to toast using steam and heat, so I was pleasantly surprised.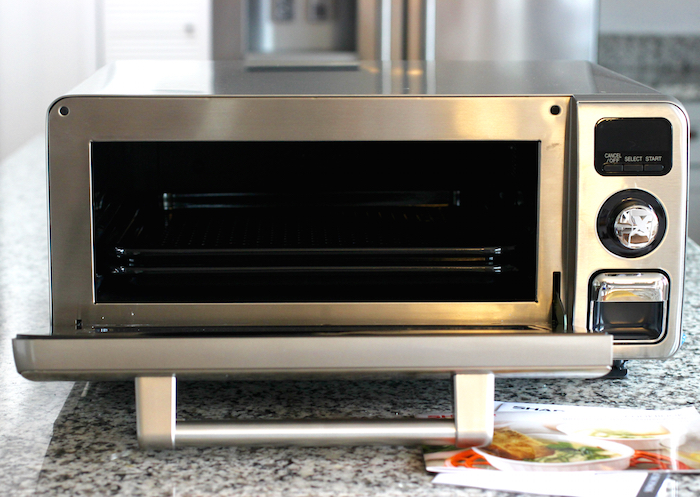 The Sharp® Superheated Steam Countertop Oven not only sits on my counter and fits in beautifully but has so much power! It is a stainless steel, low-profile, pizzeria-style oven. Even roomy enough for a 12" pizza or nine slices of toast. The included Broiling Pan and Crisper Tray (12.5"x12.5") give you more cooking area than a standard quarter-size sheet pan. Also, I am such a fan of the features that allow me to incorporate so many recipes with the 5 different cook modes (Toast, Warm, Bake/Reheat, Broil/Grill, and Pizza), an up to 485°F cooking temperature, instant-on, no preheating, and no defrosting. With my busy schedule and no time to deep clean every time I cook, I love how the flat oven door wipes clean easily, and the removable drip tray is easy to access and rinses clean. The Sharp® Superheated Steam Countertop Oven offers up to 60 minutes of steam cooking, at 1750 watts, and has 0.5 cu Ft. capacity*.
If you like this Sharp® Superheated Steam Countertop Oven and want more information about it, I invite you to visit SharpUSA.com. You can also find Sharp on Instagram, Facebook, YouTube, Twitter and Pinterest.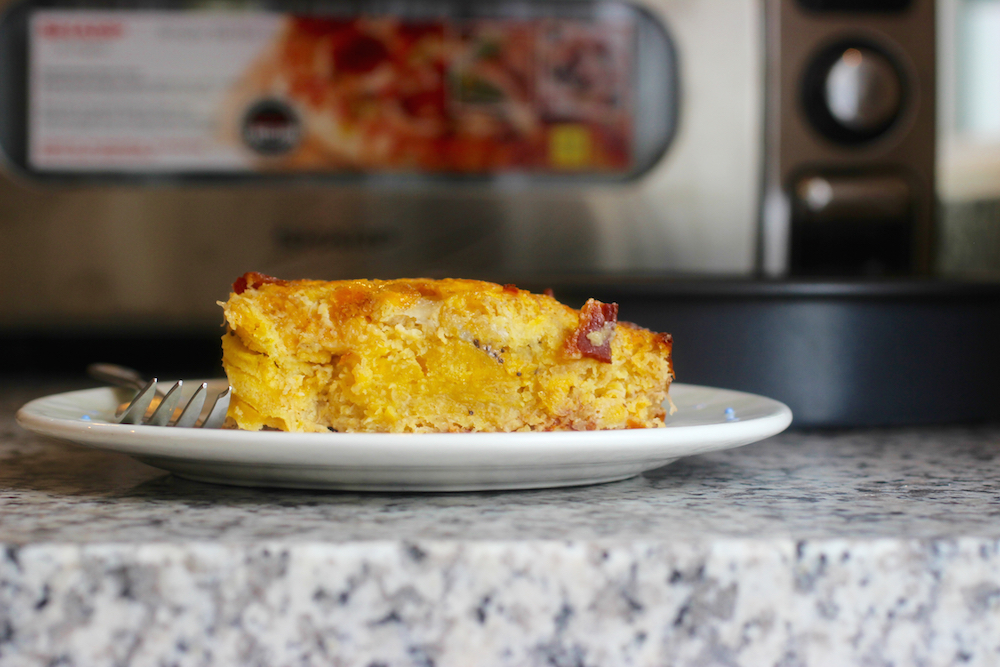 Here is the recipe for the Ripe Plantain, Bacon, and Cheese Cake. This recipe can feed about 6 to 8 people. However, if needed, double the recipe and make two cakes! Give it a try and buen provecho!