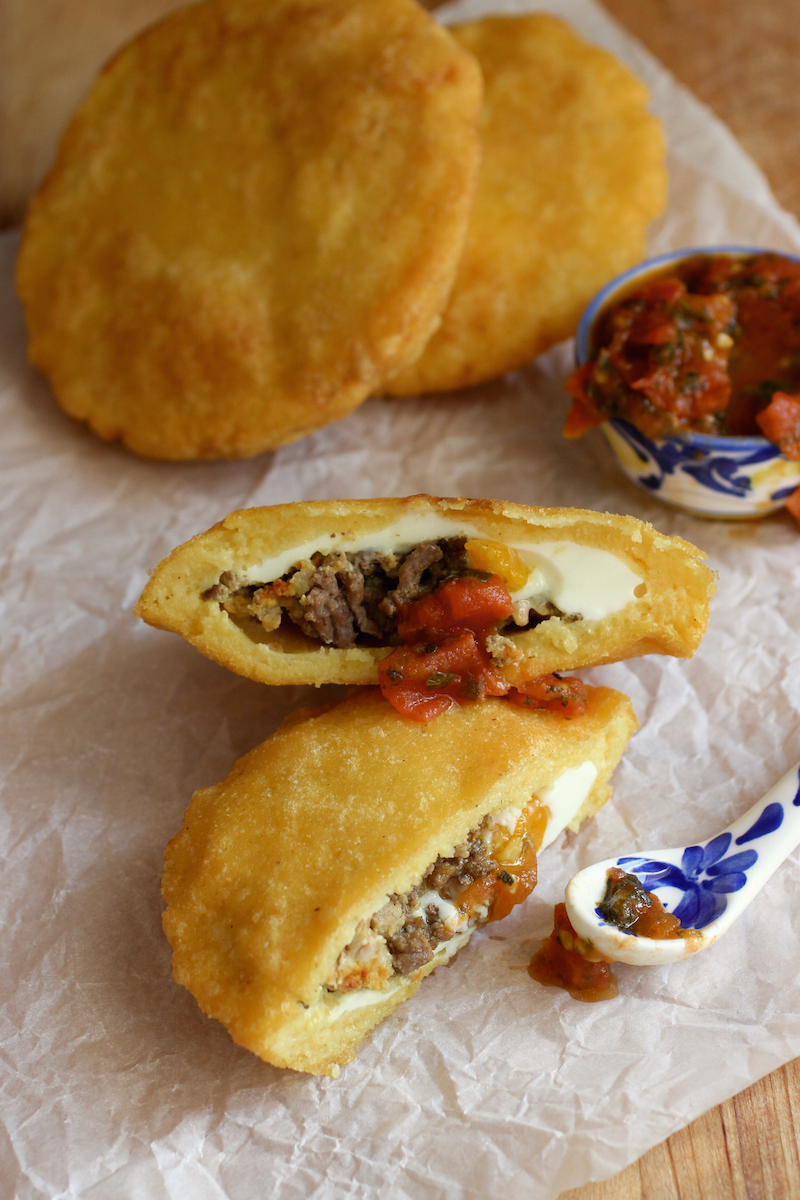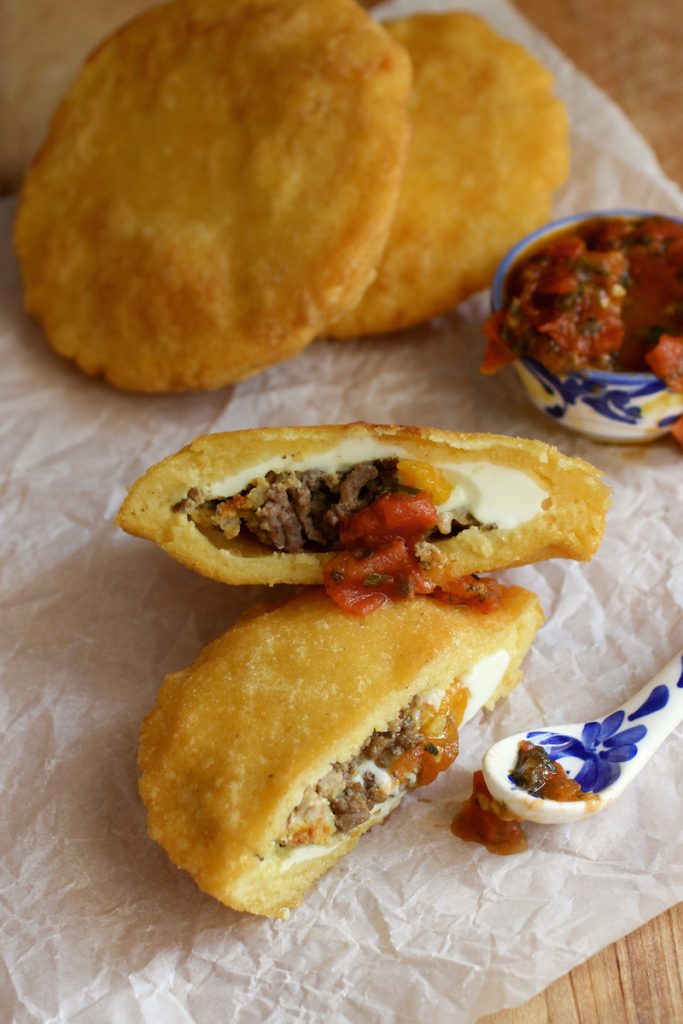 Arepa de Huevo is a traditional and very popular dish from the Caribbean region of Colombia, where they are sold in street stalls and restaurants. Arepas de Huevo are fried in oil, then split open, filled with an uncooked egg, closed with a small piece of masa, and fried again until the egg is cooked.
I have the recipe for the traditional Arepa de Huevo here in this post, if you want to try that one. Today I am sharing a recipe for a variation stuffed with ground meat. This Arepa de Huevo con Carne (Egg and Meat Stuffed Arepa) is also popular on the coast of Colombia and it is absolutely delicious!
If you are looking for a comforting and filling breakfast to make this weekend, I highly recommend these arepa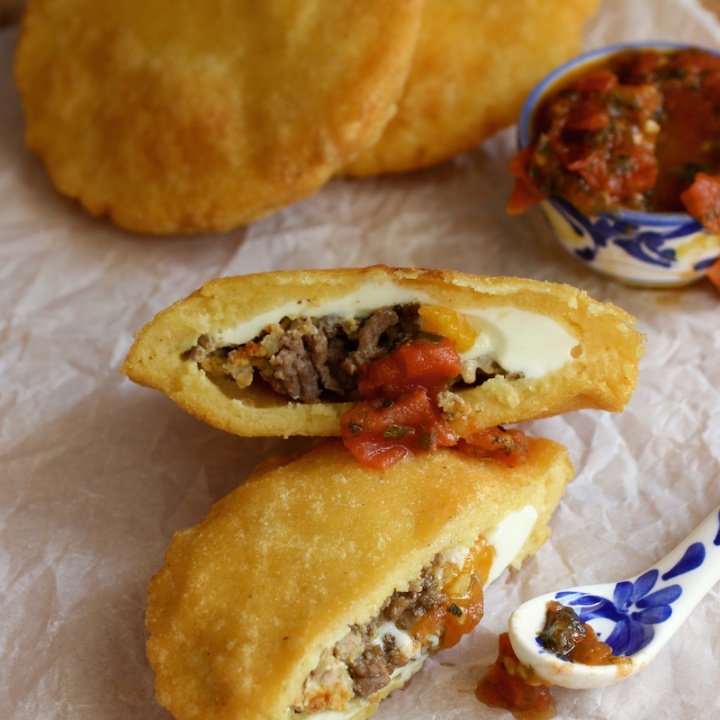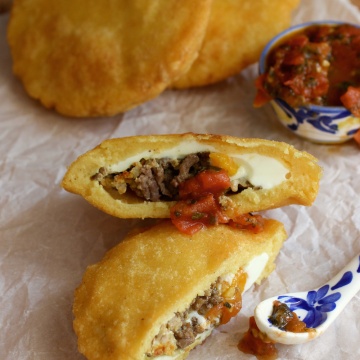 Arepa de Huevo con Carne (Egg and Meat Stuffed Arepa)
Ingredients
1

teaspoon

vegetable oil

¼

cup

diced onion

1

garlic clove, minced

1

cup

ground beef

1

cup

yellow masarepa or precooked corn meal

1

teaspoon

salt

½

teaspoon

sugar

1

cup

warm water

4

eggs

Vegetable oil for frying
Instructions
Place the oil and onion in a small pan and cook for about 2 minutes. Add the meat and garlic and cook for about 10 minutes more or until brown. Set aside.

In a medium bowl, mix the masarepa, salt and sugar with a fork. Add the hot water and mix using your hands to form dough. Let sit for 5 minutes.

Divide the mixture into 4 equal portions and form each portion into a ball by rolling between the palms of your hands.

Place a piece of parchment paper or plastic on the counter, or similar surface. Place the balls of dough on the paper/plastic and cover with another piece of paper or plastic and with a flat pot cover or a cutting board, flatten into rounds, about ¼ inch thick.

Heat the vegetable oil in a large heavy pot to 350° F. Add the arepas to the heated oil, one by one, and fry for 3 minutes, turning over once about half way through the process.

Using a slotted spoon, carefully remove the arepas from the oil and drain on paper towels.

When the arepas are cold enough to handle, with a sharp knife, make an opening about 1 ½ inches long on the sides of each arepa, cutting into the middle without slicing all the way through, forming a pocket. Put a couple of tablespoons of meat mixture inside each arepa pocket.

Crack 1 egg into a small ramekin and carefully pour the egg into an arepa pocket. Repeat for the remaining three arepas. Take the small pieces of the dough you had aside and use to seal the arepas. Add the arepas filled with meat and egg to the hot oil and fry one more time, for about 4 minutes to cook the egg.

With a slotted spoon, remove the arepas from the oil and drain on paper towels and serve immediately.
Nutrition
Calories:
216
kcal
Carbohydrates:
1
g
Protein:
15
g
Fat:
16
g
Saturated Fat:
7
g
Polyunsaturated Fat:
1
g
Monounsaturated Fat:
7
g
Trans Fat:
1
g
Cholesterol:
204
mg
Sodium:
682
mg
Potassium:
213
mg
Sugar:
1
g
Vitamin A:
238
IU
Calcium:
35
mg
Iron:
2
mg
Buen provecho!