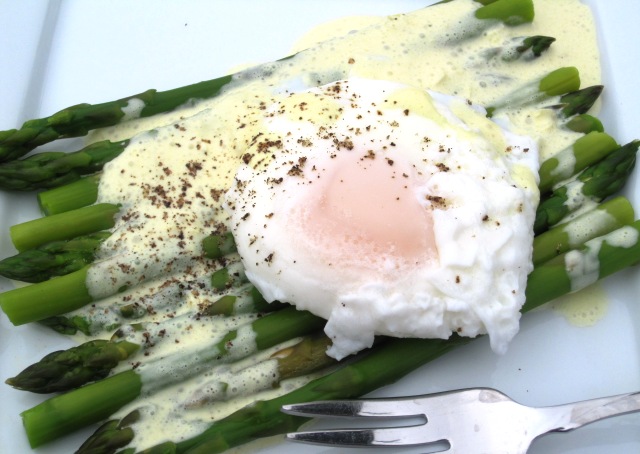 I love eggs in all forms, especially when they are soft and runny. I am one of those people who always has eggs in the fridge and I am always looking for new ways to cook them. The beauty with eggs is that you can eat them at any time of the day, not just for breakfast. This dish was so simple to make, yet delicious!
Ingredients
(4 servings)
4 eggs
24 asparagus
Sauce:
3/4 cup heavy cream
1 chicken bouillon tablet
1/4 cup chopped onion
1 tablespoon mustard
Salt and pepper to taste
1/2 teaspooon fresh thyme
1/2 garlic clove
Directions
To make the sauce: Place all the ingredients in a blender and blend until smooth. Set aside.
Fill a medium pot with water and bring it to a boil. Place the asparagus and blanch 1 minute. Rinsed with cold water and set aside.
To poach the eggs: Fill a saucepan with water and place on the stove over medium heat.
Crack one egg into a cup and carefully pour it into the water. Repeat with the rest of the eggs. Usually takes about 4 to 5 minutes to cook a soft to firm egg.
When they are ready, remove from the water with a slotted spoon place them on paper towel. Sprinkle salt and serve on top of the asparagus drizzled with mustard sauce.
This was printed from MyColombianRecipes.com