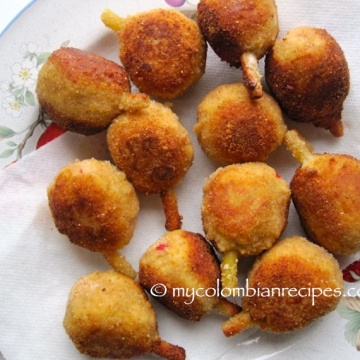 Muslitos (Chicken and Pork Croquettes)
Ingredients
2

tablespoons

of butter

1

cup

finely chopped onion

2

scallions

finely chopped

3

garlic cloves

minced

1

cup

chopped red bell pepper

Salt and ground pepper

to taste

1

teaspoon

of ground cumin

½

teaspoon

of ground thyme

2

large chicken breast cooked and cut into pieces

1

pond of pork loin cooked and cut into pieces

¼

cup

aliuños sauce

2

eggs

¼

of chicken stock

1

cup

of bread crumbs

Ziti pasta to from the Muslitos

Canola or vegetable oil for frying
Instructions
In a pan over medium heat, melt the butter. Add the onion,scallions, garlic and bell pepper. Cook, stirring occasionally, until the vegetables are soft and translucent, 3 to 4 minutes. Season with salt and pepper.

Meanwhile place the pork and chicken in the food processor or a meat grinder. Process for a couple minutes or until ground and set aside.

Remove the vegetables from the heat and stir in the cumin, thyme, ground pork and chicken.

In a large bowl, combine the eggs, aliuños sauce, ¼ cup of the bread crumbs and the chicken broth and whisk to blend. Add the meat mixture to the eggs mixture and mix well. Place the rest of the bread crumbs in separate bowl.

Form small balls with the mixture and place a ziti past in the middle of the ball. Roll the ball in the bread crumbs. Set the croquette on a plate. Repeat with the remaining mixture.Place in the fridge to rest for at least one hour.

In a large pot heat enough oil to cover the croquettes, over medium-high to 365°F. Carefully place 3 or 4 croquettes in the hot oil (do not crowd the pan) and cook, turning as needed, until golden brown, 3 to 4 minutes. Repeat with the remaining croquettes. Serve hot with salsa rosada on the side.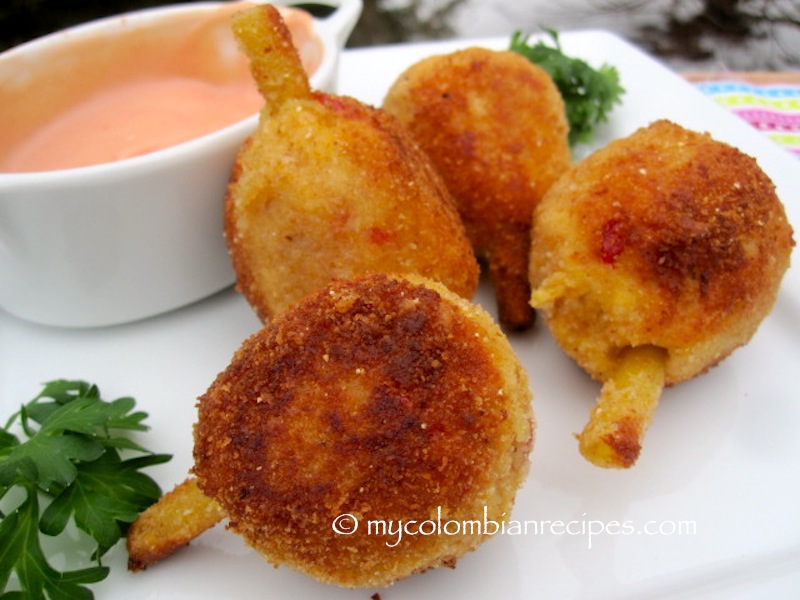 When my family got together for a party in Colombia, when I was growing up, my Aunt Consuelo always made these Chicken and Pork Croquettes. She called the "Muslitos" because they look like little chicken legs, which is the English translation of "Muslitos". These croquettes are made with a mixture of cooked chicken, pork, vegetables and spices, then formed into balls and stuck with an uncooked ziti pasta in the middle to make them look like chicken legs.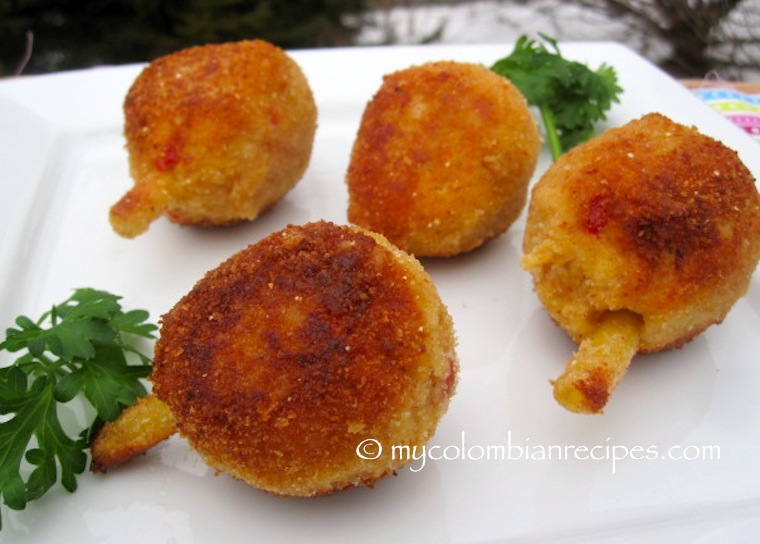 No matter where we would get together, and whatever we were celebrating, one thing was certain, this delicious appetizer would be on the table! While we're on this subject, I have a confession to make to my aunt Consuelo today... I may have contributed to a few Muslitos disappearing over the years before the parties even began. My aunt always wondered why the batch of Muslitos she cooked looked smaller than the uncooked one. It was in the name of taste-testing Consuelo! I am sorry, and thank you for sending me the recipe!
Muslitos have always been a huge hit with the kids in our family. We loved the fact that we can simply pick these up with our hands and gobble them down without a fork. I must warn you, when you make these, be sure to make a large batch. They may be wiped off the table in seconds and you'll be left with sad faces all around, with everyone asking "do you have more"?
Buen provecho!