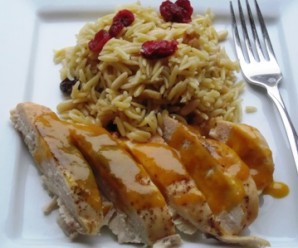 Chicken with Passion Fruit Sauce over Dried Fruit and Nuts Orzo
Ingredients
4

skinless

boneless chicken breasts

Salt and pepper

¼

teaspoon

cumin

¼

cup

olive oil

¼

teaspoon

onion powder

¼

teaspoon

garlic powder

1 ½

cups

passion fruit puree

⅓

cup

sugar

1

cup

heavy cream

1

pound

orzo pasta

½

cup

dried cherries

½

cup

dried cranberries

½

cup

pine nuts

¼

cup

walnuts

¼

cup

almonds

¼

cup

raisins

¼

cup

fresh chives

chopped

¼

cup

olive oil

Salt and pepper
Instructions
Place the chicken in a medium bowl and add the olive oil, cumin, salt, pepper, onion powder and garlic powder. Toss to combine, cover and let marinate for at least 1 hour.

Preheat the oven to 400° F.

Place the chicken on a baking sheet and cook in the oven for about 30 minutes or until the chicken is cooked.

Meanwhile make the sauce: In a medium sauce pan, place the passion fruit puree and sugar. Bring to a boil, then reduce the heat to medium and cook for about 5 minutes. Then add the heavy cream, bring to a boil one more time and reduce the heat to low and simmer for about 7 minutes. Set aside.

To make the orzo: Bring a large pot of salted water to a boil over high heat. Add the pasta and cook until tender, but still firm to the bite, stirring occasionally, about 8 to 10 minutes. Drain pasta and transfer to a large serving bowl. Add the olive oil and toss. Add the remaining ingredients and toss gently to combine.

To serve: Place orzo on a serving plate top with the chicken breast and drizzle passion fruit sauce on top. Bring the extra sauce to the table.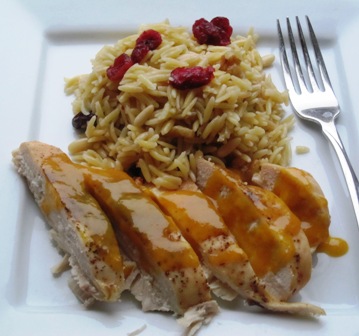 This dish tasted great and was easy to make! I love to combine meats with fruit as that combo makes for a delicious dish, which is why I created this Chicken with Passion Fruit Sauce. As you may know from reading my blog, passion fruit is a popular fruit in Colombia and I usually have bags of frozen pulp in my freezer to make juice. But, since this sauce was so delicious, I will be using the pulp to make sauces more often. Remember, it is important that you make the orzo with the dried fruit because together, they make the perfect marriage.
Last night I had a dream that I thought I should share with my blogger friends. The Food Network called me and told me that I won a prize and that I could spend a whole day with one of their celebrity chefs. They asked me which chef would be my choice. It took me a while to answer because I am a fan of all the chefs, but at the end, I chose Bobby Flay. Then they asked me why and I said, because he is a great chef and I love the flavors he uses in his food. Then I woke up, so that was the end of the dream. So, my question for you is, if you could choose a celebrity chef to spend the day with, which chef would you choose and why?