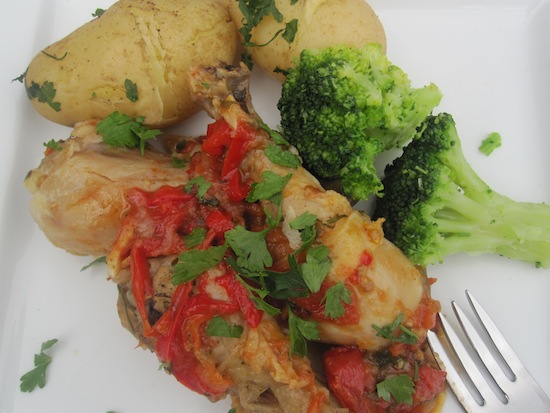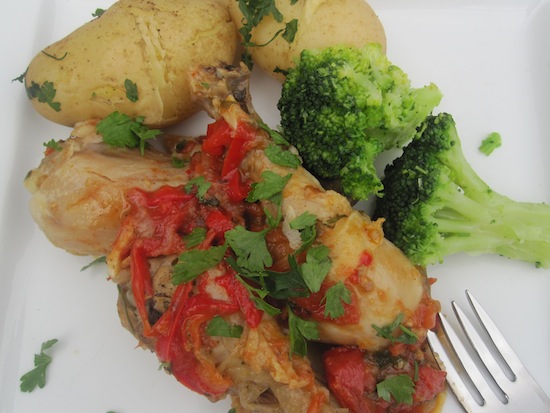 This dish was inspired by a traditional Colombian recipe from the Llanos  zone of the country called "Conejo a la Llanera" (Llanera-Style Rabbit) . To be perfectly honest with you I don't eat or cook rabbit. They are too cute and I happen to love the Easter bunny ;-). So, I made this delicious Colombian dish using chicken instead, but if you like rabbit you can use the same ingredients for the sauce.
Serve it with plain white rice or your favorite vegetables on the side.
This is a wonderful family meal. Buen provecho!
Ingredients
(4-6 servings)
1 chicken, about 5 lb., cut into 8 serving pieces
Salt and freshly ground pepper, to taste
4 Tbs. olive oil
6 garlic cloves, thinly sliced
1/2 onion,thinly sliced
2 tomatoes, diced
2 1/2 large red bell pepppers, thinly sliced
1/4 teaspoon chopped habanero pepper
1/4 cup fresh pasrley
1/4 teaspoon ground cumin
salt and pepper
Directions
Marinate chicken: Place the chicken in a  large bowl. Stir in 1 tablespoon olive oil, 2 garlic cloves, salt, pepper and cumin. Toss chicken within marinade until coated. Cover, put in the fridge and marinate for at least 1 hour.
n a large saucepan over medium-high heat, warm 3 tablespoons the olive oil until almost smoking. Working in batches, brown the chicken on all sides, 3 to 4 minutes total.
educe the heat to medium-low and add the remaining garlic cloves, onions, tomatoes, red pepper and habanero pepper to the pan and cook, stirring occasionally. Cover and simmer until the chicken is very tender, about 1 hour. Sprinkle fresh parsley and serve warm.
This was printed from MyColombianRecipes.com