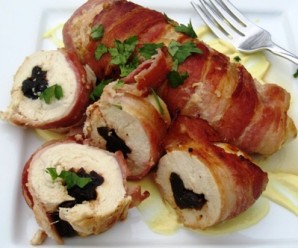 Chicken-Bacon Rolls stuffed with Prunes (Envueltos de Pollo, Tocineta y Ciruela)
Ingredients
1

tablespoon

olive oil

4

chicken breast halves

Juice of 1 lime

Salt and pepper

1

tablespoon

paprika

16

pitted prunes

8

slices

of bacon

¼

cup

mayonnaise

2

tablespoons

mustard

Salt and pepper
Instructions
Place chicken breast between 2 sheets of plastic wrap and using a meat mallet pound each breast to ¼-inch thickness. Repeat with remaining chicken breasts.

Lay chicken breasts flat on a cutting board and rub with lime juice. Sprinkle paprika, salt and pepper. Place 4 prunes in the middle of each breast.

Roll the chicken, wrap each roll with bacon and secure with toothpicks. Season the outside of the rolls with salt and pepper.

Heat the olive oil in skillet over medium-high heat. Brown the chicken evenly all over for 7 minutes or until golden, then reduce the heat to medium and cover the skillet. Let it cook for about 8 minutes more.

In every serving plate spoon some mustard sauce and place the chicken on top.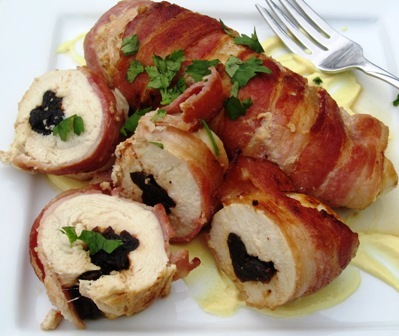 Every once in a while I get cooking cravings. This week I really wanted to make chicken rolls, but I didn't feel like going to the store to pick up the ingredients. So, I did what my grandmother used to do, just look in the refrigerator and see what's there. The result… chicken stuffed with prunes, rolled in bacon, with a mustard and mayo based sauce. I really liked how this recipe turned out. Try it!