These baked Colombian-Style Chicken Wings are fantastic and the perfect snack when watching a football game or a good movie. They are simple to make and will make your house smell amazing!
Buen provecho!
Ingredients
Wings:
2 dozen chicken wings, rinsed and patted dry
Salt and pepper
1 tablespoon vegetable oil
1 cup beer
5 scallions, chopped
6 garlic cloves minced
1 large white onion, chopped
1 tablespoon ground cumin

Cilantro sauce

1/2 cup scallions
2 cloves garlic, peeled
2 cups cilantro leaves
1/4 cup chopped mint
2 tablespoons olive oil
4 tablespoons lime juice
Salt and black pepper
1 tablespoon sugar
1/4 teaspoon ground cumin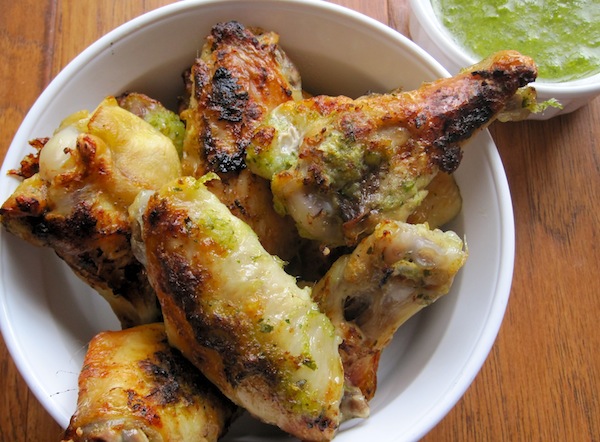 Directions
Place the vegetable oil, beer, scallions, garlic, cumin and onion in the blender and blend until smooth consistency.
Season the chicken wings with salt and pepper. Place the wings in a bowl and add the marinade on top. Refrigerate for 3 hours or overnight.

Preheat the oven to 400 degrees F.
Lay the wings in a single layer on a baking sheet. Bake for 30 minutes or until the skin gets crispy and the wings are cooked through.

Meanwhile, place all the cilantro sauce ingredients in a food processor and process until finely chopped. Transfer to a bowl and set aside.
Transfer the wings to a serving plate and serve with cilantro sauce on the side.
This was printed from MyColombianRecipes.com