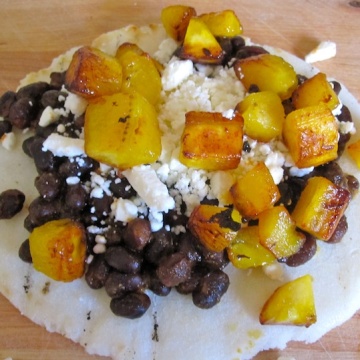 Arepa Dominó con Plátanos y Guacamole (Arepa with Black Beans, Fresh Cheese, Plantains and Guacamole)
Ingredients
4

cooked arepas

1

cup

crumble queso fresco

cotija or feta cheese

1

cup

guacamole
For the plantains:
2

tbsp

of butter

1

ripe plantain, peeled and diced
Beans:
1

tbsp

vegetable oil

¼

cup

finely chopped onion

2

garlic cloves, crushed

¼

cup

red bell pepper, chopped

1

cup

cooked black beans, canned or dried

Salt and pepper

1

teaspoon

ground cumin
Instructions
For the beans: Place the oil in a sauce pan. Add the onions, garlic, red bell pepper and cook for about 5 minutes.

Add the cooked beans, salt, pepper and cumin. Stir and cook for about 5 minutes more. Set aside.

For the plantains: In a medium skillet, melt the butter and add the diced plantains. Brown the plantains for about 3 minutes and set aside.

To assemble the arepa: Place an arepa on a serving plate, top with the beans, sprinkle the cheese and add the plantain and guacamole on top.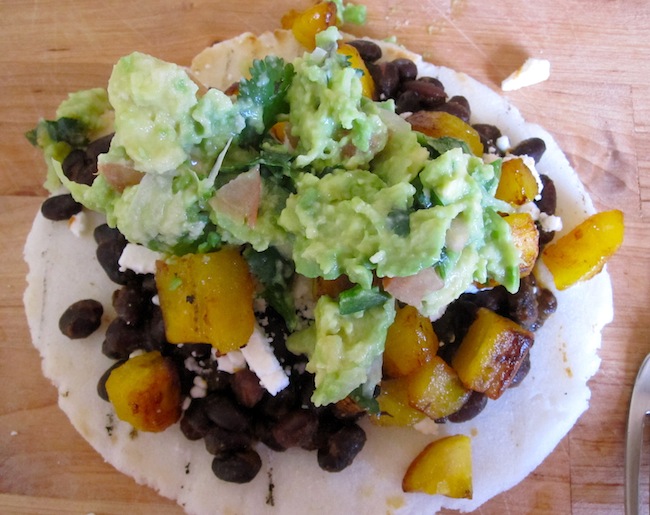 I enjoy taking time on the weekends to prepare a good, hearty breakfast. Very often I let my imagination take control and start playing with ingredients. It had been sometime since I last made a real tasty and satisfying arepa and I was craving one! I wanted to make a meatless arepa though so my husband could enjoy it too. So, I decided to make my Colombian version of this classic arepa, adding some plantains and guacamole.
Arepa Dominó is a traditional Venezuelan Arepa stuffed with black beans and crumbled white fresh cheese. The difference between Venezuelan and Colombian arepas is that the Venezuela arepas are smaller, thicker, and stuffed with different ingredients, like a sandwich. Colombian arepas on the other hand, are thinner and topped, not stuffed, with different ingredients, more like an open faced sandwich. Here is the recipe for my version of Arepa Dominó.
Buen provecho everyone!