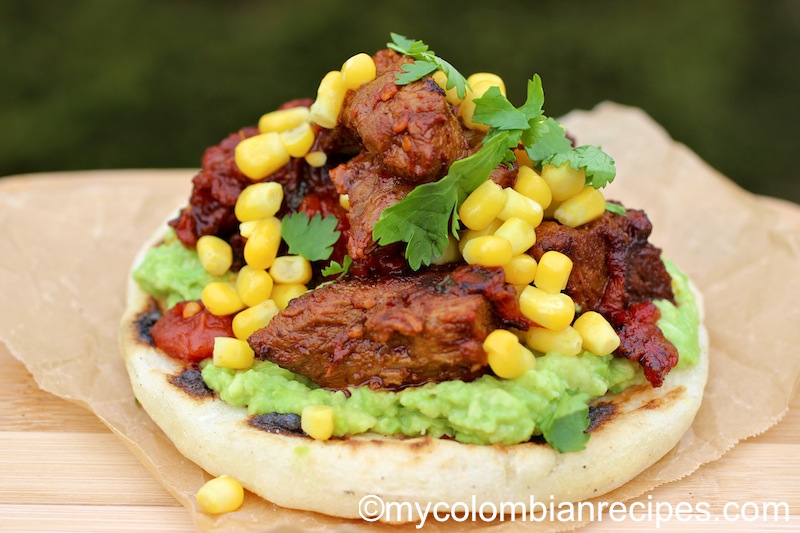 Arepas are patties made with masarepa (pre-cooked corn flour) warm water, butter and salt. They are an essential part of the Colombian and Venezuelan diet.
The difference between Venezuelan and Colombian arepas is that the Venezuela arepas are smaller, thicker, and stuffed with different ingredients, like a sandwich. Colombian arepas on the other hand, are thinner and topped, not stuffed, with different ingredients, more like an open faced sandwich. Nowadays, you can buy arepas in packages at the grocery store, just like you will find Mexican tortillas.
There are many different variations, shapes, and sizes of arepas throughout Colombia, depending on the region.
This Arepa con Carne a la Criolla is absolutely delicious. It has a great combiantion of textures and flavors.
Buen provecho!
Ingredients
4 arepas
1 cup pre-cooked white or yellow arepa flour or cornmeal
1 cup warm water
2 tbsp butter
Pinch salt
2 pounds sirloin or skirt, trimmed and cut into small pieces
1 tablespoon vegetable oil
2 cups chopped tomato
2 scallions, finely chopped
2 garlic cloves, minced
1 tablespoon ground cumin
Salt and black pepper
2 tablespoons fresh cilantro, chopped
1 cup of guacamole
1 cup cooked corn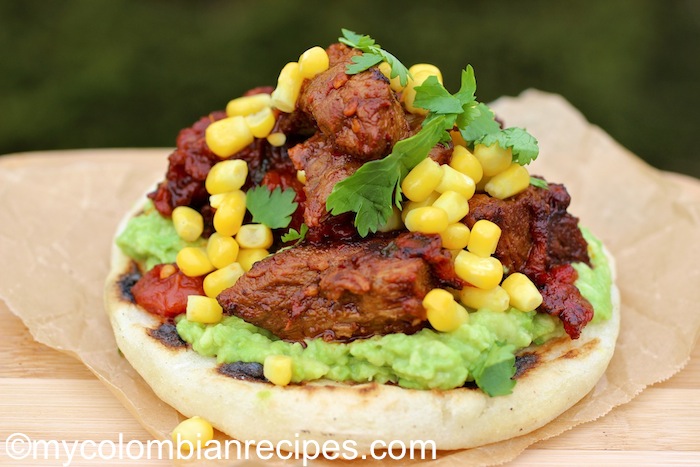 Directions
Combine the cornmeal, warm water, 1 tbsp butter and salt, mixing thoroughly. Let mixture stand for five minutes.
Knead with your hands for about 3 minutes moistening your hands with water as you work.
Form 4 small balls with the dough. Place each ball between 2 plastic bags and with a flat pot cover flatten to ¼ inch.
Add the butter to a nonstick pan over medium heat. Place the arepas in the pan, and cook about 3 minutes on each side, until a crust forms or they are golden brown.
In a large skillet, heat the oil over medium heat. Add the tomatoes, scallions, cumin and garlic. Cook for about 7 minutes.
Add the steak pieces into the skillet and cook for 3 minutes per side.
Place an arepa on a serving plate, top with guacamole, the beef and corn.Sprinkle fresh cilantro and serve.
This was printed from MyColombianRecipes.com