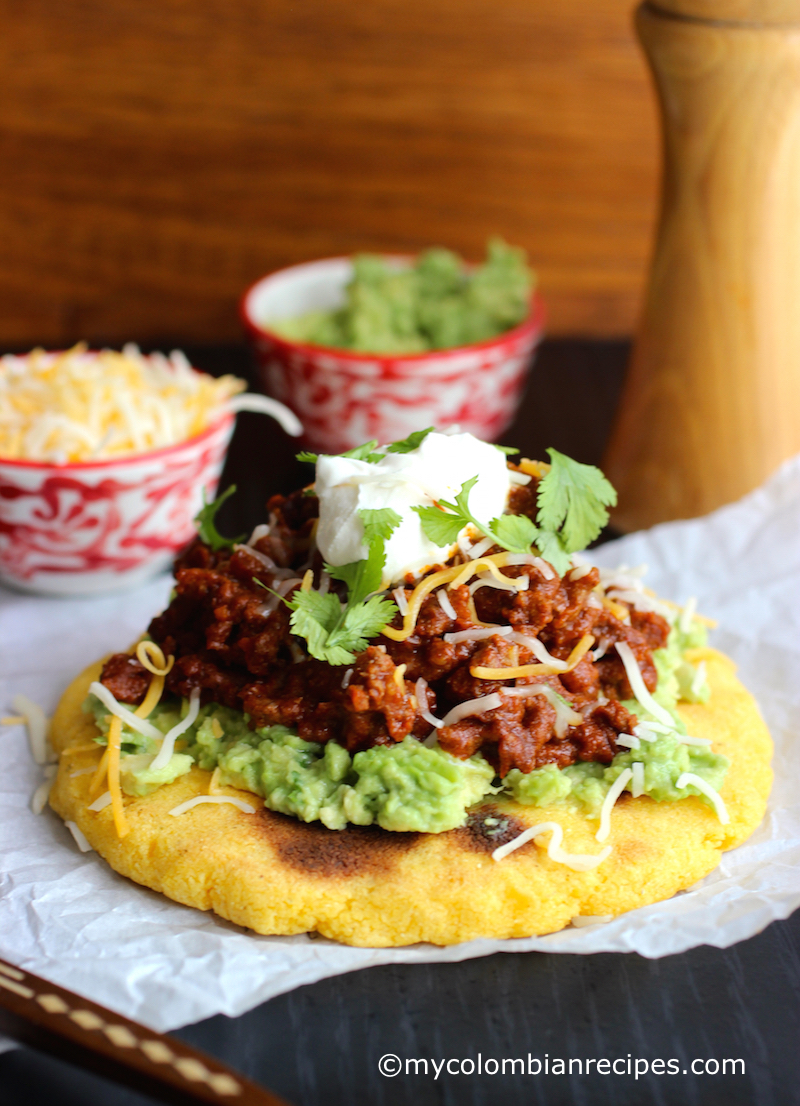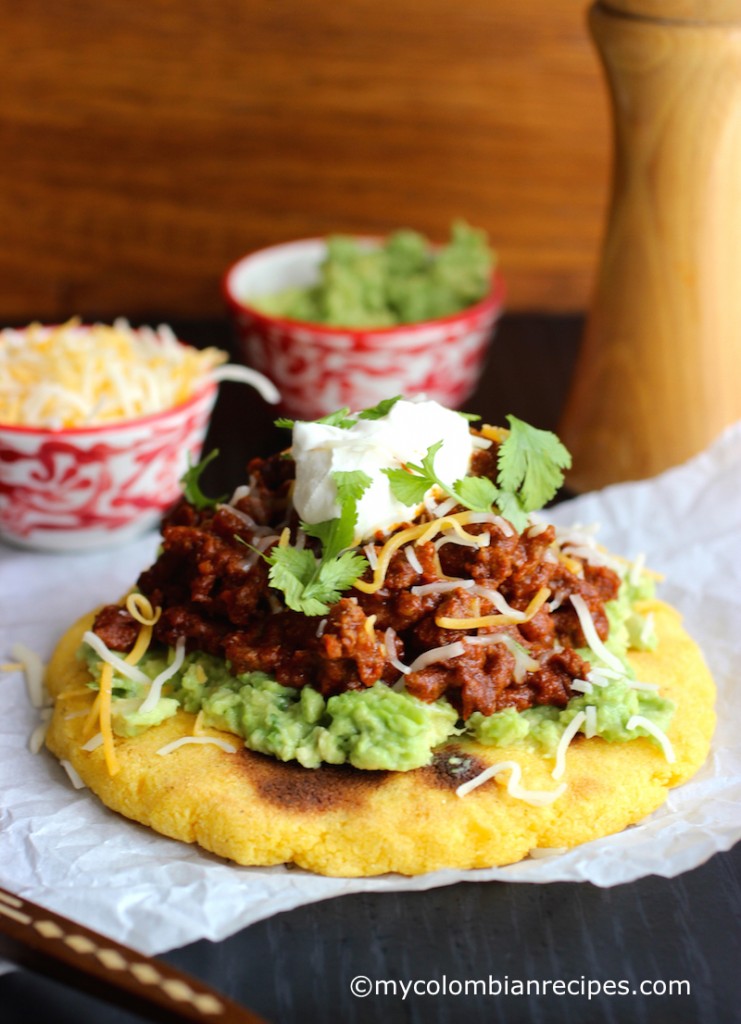 Arepas are one of my all-time favorite dishes! If you visit this blog often, you may be rolling your eyes already. I admit, I show a lot of love for many Colombian dishes, especially arepas, and while I love a variety of food, there are few I would classify as a favorite. The famous arepa definitely merits a "favorite" status.
If you ask my mom, growing up I could eat arepas for breakfast, lunch, dinner and snacks. She made dozens of arepas on weekends and kept them in plastic bags in the freezer for the week. Sometimes in the middle of the week she needed to make a new batch, because I ate all of them! Years have passed and nothing has changed, I still eat arepas every single day.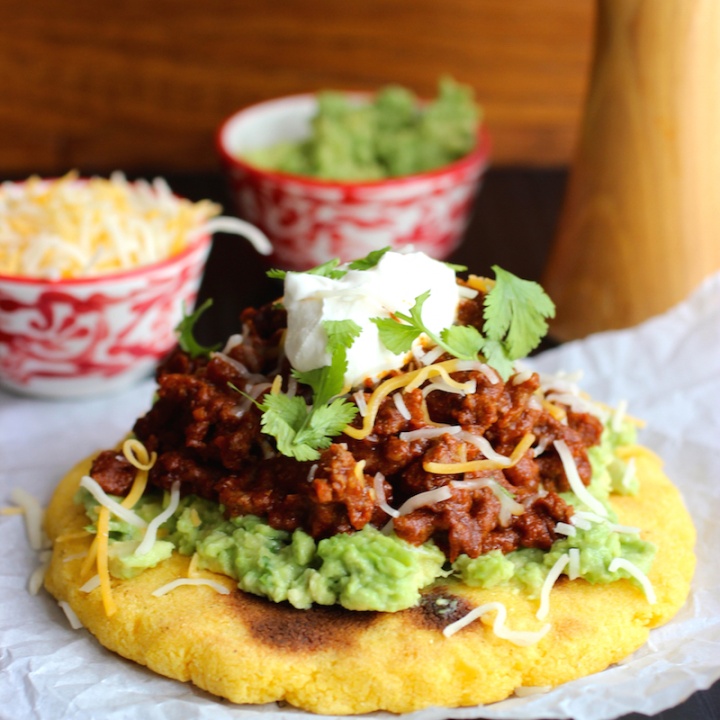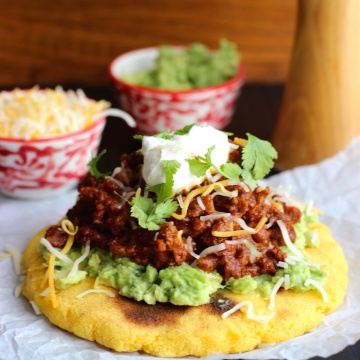 Arepas with Beef Chili, Guacamole and Cheese
Ingredients
4 to 6

cooked arepas

depending on the side

1

cup

of guacamole

½

cup

of grated cheddar cheese

2

tablespoons

of sour cream
Beef Chili
1

tablespoon

oil

1

onion

finely chopped

4

cloves

garlic

minced

½

pound

lean ground beef

¼

cup

of ketchup

¼

cup

of beef both

2

tablespoons

brown sugar

1

teaspoon

of chili powder or to your taste

1

teaspoon

ground cumin

½

teaspoon

paprika

Salt and pepper to your taste
Instructions
Heat the olive oil in a saucepan over medium heat. Cook the onion until soft, about 5 minutes. Add garlic and cook until tender, about one minute more.

Add the beef and cook until browned, about 10 minutes. Add the ketchup,broth, brown sugar, chili, cumin and paprika. Bring to a boil, then reduce heat to low and simmer for about 30 minutes.Season with salt and pepper.

To serve: Top or fill each arepa with guacamole, beef chili, grated cheese and a dollop of sour cream.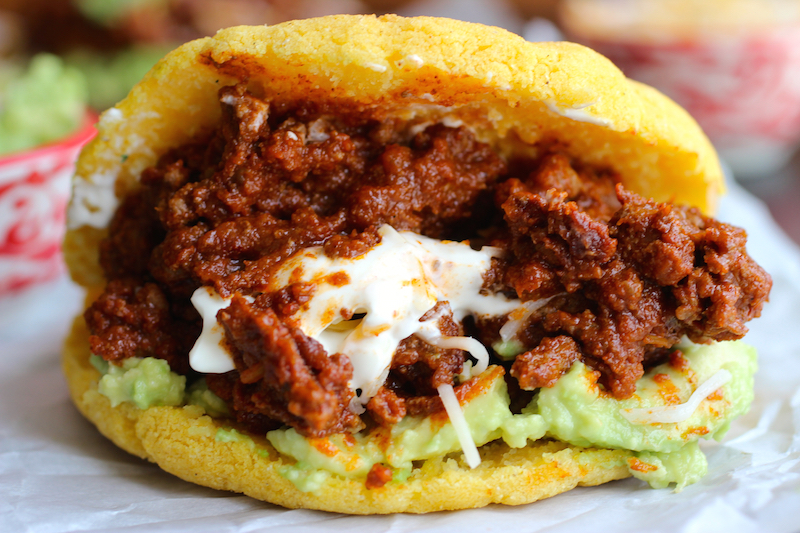 I made these arepas with beef chili, guacamole, cheese and a dollop of sour cream the other night, and they were so good! A gloriously messy, hand-held dinner.
Buen provecho!