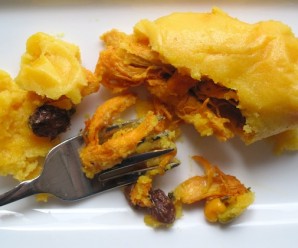 Hallacas Guajiras de Pollo (Chicken Hallacas)
Ingredients
3

chicken breasts

bone in and skin on

1

large onion

diced

4

garlic cloves

1

large red bell pepper

diced

1

large green bell pepper

diced

4

scallions

chopped

4

tablespoons

ground cumin

3

tablespoons

of achiote

Salt

2

cups

water

1

cup

peas

fresh or frozen

1

cup

carrots

peeled and diced

1

cup

green beans

2

tablespoons

capers

¼

cup

finely chopped red bell pepper

3

tablespoons

of raisins
Instructions
Place the chicken in a large pot. Add the onions, garlic, pepper, scallions, ground cumin, achiote, salt and water.

Cook over medium heat until the chicken is very tender, about 1 hour. Let it cool and shred the chicken using your hands or a fork. Place in a saucepan.

Add the peas, carrots, green beans, red bell pepper, capers, salt and raisins.

To prepare the masa: Place the masarepa in a large bowl, add the water, salt, achiote oil and aliuños. Mix well with a wooden spoon or your hands.

To assemble the hallacas: Place 1 piece of the leaf on a work surface and place a second leaf on top, pointing in the opposite direction, like forming a cross.

Spread about 5 tablespoons of masa in the center of the banana leaves or aluminum foil, at the point where they connect and form a cross.

Add about 3 tablespoons of the filling in a line down the center of each portion of the masa. Fold the banana leaves up, one of the four sides at the time, so that the leaves enclose all of the filling, like youu2019re making a package. Tie with butcheru2019s string. Continue the process until all the hallacas are wrapped and tied.

Position a steamer basket inside a large pot (such as a stockpot or pasta pot). Add water and place the hallacas in the steamer basket, cover the steamer, and bring to a boil. Steam the hallacas until masa is completely cooked through and tender, about 45 minutes.

Remove hallacas from the steamer and allow to cool briefly and serve with ají.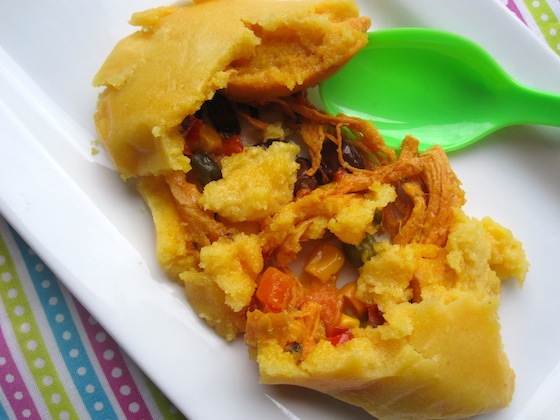 Hayacas or Hallacas are a traditional dish from Venezuela as well as La Guajira department of Colombia. This delicious dish is usually made with precooked cornmeal(masarepa) filled with beef, pork or chicken, and vegetables, raisins and capers. The meat is cooked with different seasonings, spices and herbs, such as, garlic, cumin, achiote, cilantro, amongst others, and wrapped with banana leaves or aluminum foil. They are similar to our traditional Colombian tamales, but smaller.
I didn't have banana leaves on hand, so I used aluminum foil to wrap my Chicken Hallacas.
Buen provecho!