A traditional Colombian Stuffed Beef recipe. This dish is easy to make and perfect for meal preparation, it can be serve warm or cold.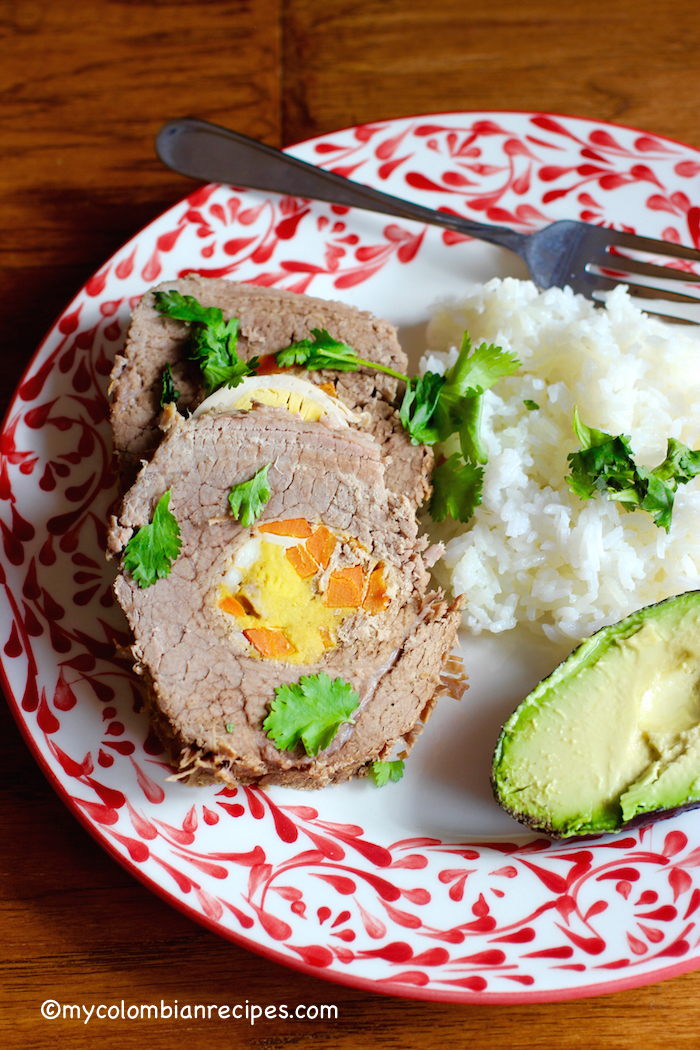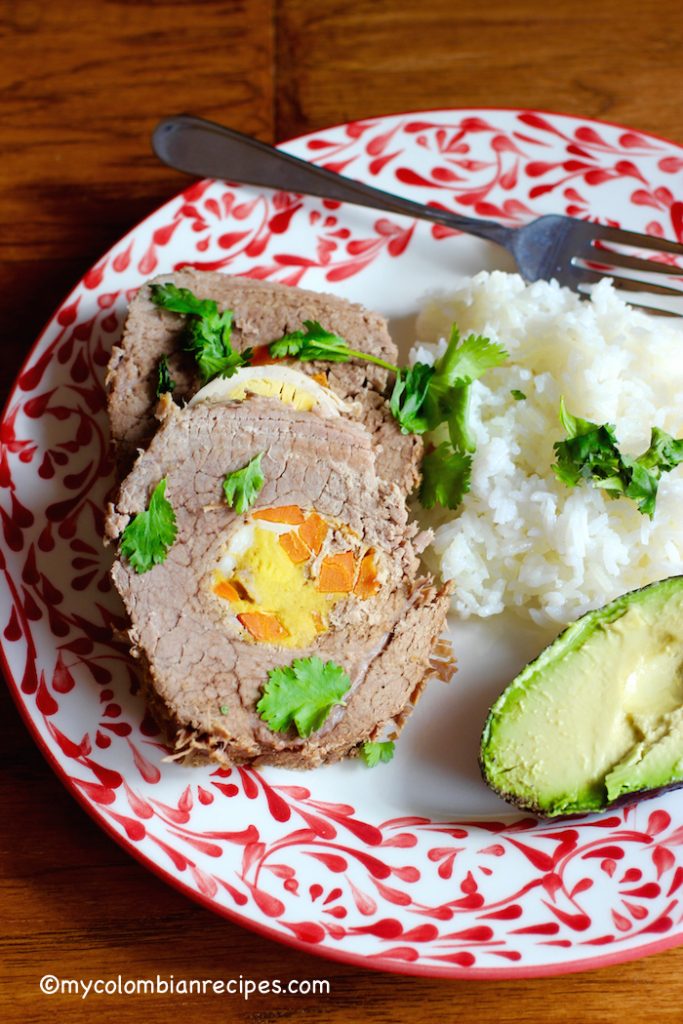 What is Capón Relleno?
It is a traditional Colombian dish popular in the Santander department which is located in the central northern part of Colombia. This dish is also known in other parts of the country as muchacho relleno and where I am from, posta rellena.
The ingredients vary from region to region, but the most common ingredients with which to stuff the beef are carrots, hard-boiled eggs and bacon. Some other popular ingredients used for the filling are dried fruit, hot dogs and green beans, depending on the cook.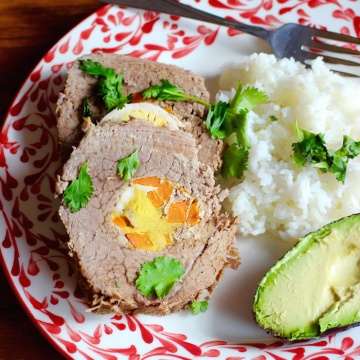 Capón Relleno Recipe (Stuffed Beef)
Ingredients
4

pounds

beef round roast

4

garlic cloves

1

cup

chopped onion

2

scallions

Salt and pepper

to taste

2

carrots peeled and cut into cubes

½

tablespoon

ground cumin

3

hard boiled eggs
Instructions
Place the salt, pepper, onions, garlic and scallions in a food processor and puree.

To create the cavity for the stuffing, use a long sharp knife and make a hole through the center of the roast making a lengthwise slit and taking some of the meat from the center out and reserve it for the filling.

Turn the meat around and cut another slit in the same spot so that your knife completes the cavity. Rub half of the onion mixture and place the beef in a bag and refrigerate overnight.

Stuff the beef with the meat, carrots, eggs and half of the onion mixture, pushing with your fingers to be sure the filling goes all the way through. Tie the end of the beef so the filling does not come out.

Take the beef from the fridge and let it rest for 30 minutes. Wrap it with plastic wrap and foil, place it in a pot and cover with water and salt.

Cover and cook over medium heat for about 3 hours. Add more water or beef broth if necessary.
Nutrition
Calories:
487
kcal
Carbohydrates:
6
g
Protein:
71
g
Fat:
18
g
Saturated Fat:
6
g
Polyunsaturated Fat:
1
g
Monounsaturated Fat:
7
g
Cholesterol:
281
mg
Sodium:
217
mg
Potassium:
1195
mg
Fiber:
1
g
Sugar:
2
g
Vitamin A:
3574
IU
Vitamin C:
5
mg
Calcium:
94
mg
Iron:
7
mg
My grandmother made posta rellena with pork belly, peas, carrots and potatoes, while my mom's stuffed beef was different from Mamita's recipe. A while back, I made a version similar to my mom's, which you can find here.
As a side note, the Santander version Capón Relleno, is usually made with sal de nitro (nitrate salt), an ingredient used in lunch meats which gives the stuffed beef a pink color, but I did not add that ingredient to my recipe below.
I love making any version of this dish during the summer months because it's delicious both hot and cold, besides, I like making sandwiches with the left overs for quick lunches.
Some of my favorite side dishes to serve this stuffed beef are rice, avocado, potato salad, fried green plantains or fried yuca.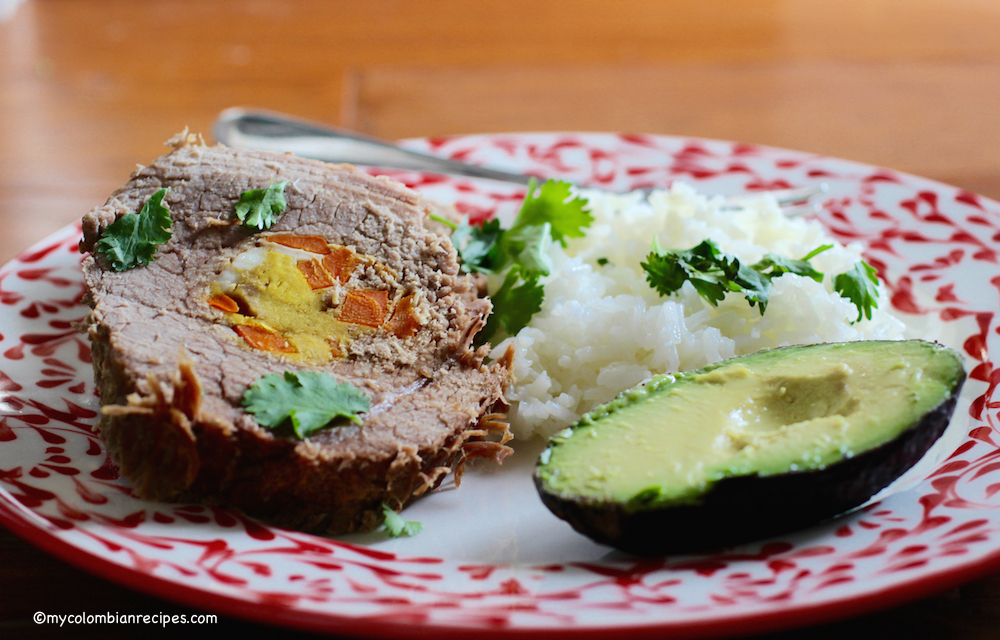 More Delicious Beef Recipes
Bistec a Caballo (Steak with Creole Sauce and Topped with Egg)
Posta Negra (Beef with Dark Sauce)