Posta Negra is a traditional Colombian main dish from the Caribbean coast of the country. This beef dish is full of flavor with a delicious sauce. I like to serve it with avocado, patacones and coconut rice.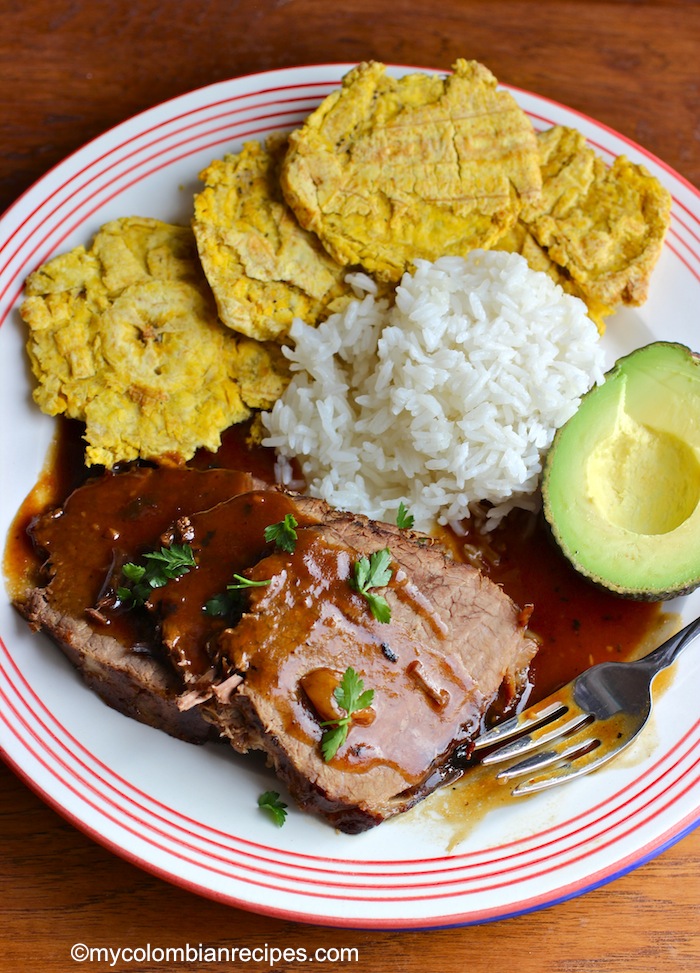 Posta Negra is basically a beef roast, cooked in a dark, sweet and flavorful sauce made with coca-cola, onions, garlic, Worcestershire sauce, wine, cumin, beef broth and panela or brown sugar. This dish is traditionally served in Colombia with coconut rice and fried plantains, but you can also serve it on top of mashed potatoes or even cauliflower rice if you prefer.
Before we get to the full recipe below, lets' talk a little bit about the ingredients you will need to make this posta negra colombiana recipe. You can use beef bottom-round roast, top round, eye of round or chuck roast to make this recipe. All of those beef cuts will work and are great options. You also need, garlic, onions, the traditional recipe is made panela (raw sugar cane), but if you don't find it in the USA, just use brown sugar, also you need salsa inglesa, but I used Worcestershire sauce. As you may know I don't live in Colombia and some ingredients are not the same in the United States, so I find the best options to make my recipes.
In Venezuela they have a similar dish called "Asado Negro". The ingredients and preparations are a little bit different than posta negra but it's also a delicious dish.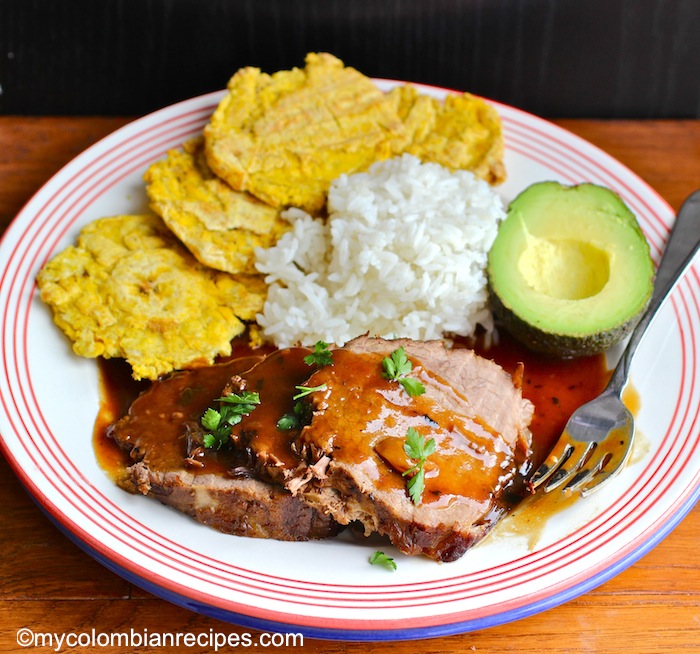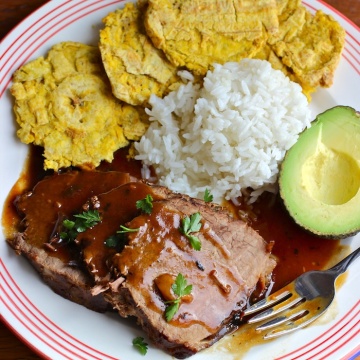 Posta Negra Recipe
Ingredients
3

pounds

beef eye round roast

or chuck roast

8

garlic cloves

1

large onion

Salt and pepper

to your taste

2

tablespoons

butter

2

tablespoons

vegetable oil

4

tablespoons

Worcestershire sauce or salsa negra

½

cup

brown sugar or grated panela

1

cup

of Coca-Cola

2

cups

beef broth

1

cup

red wine
Instructions
Place the onions and garlic in a food processor and puree.

Place the beef in a zip lock bag, add the onion mixture, salt and pepper.

Be sure the beef is covered with the marinade and refrigerate for at least 3 hours or overnight.

In a large pot over medium-high heat, melt the butter and brown the meat on all sides.

Add beef broth and wine to cover the beef and cook for 2 hours over medium heat.

Add the brown sugar, Coca-Cola, butter and Worcestershire sauce.

Cook for about 45 minutes more. To serve slice the beef and pour the sauce on top.
Notes
*Use a good red wine to cook the beef.
*I prefer to marinade the beef overnight.
*I recommend using a good-quality beef broth.
*Check the meat after two hours of cooking if the sauce is getting dry add one cup of water to the pot and continue cooking.
*You can store this posta negra in the fridge up to 3 days.
Nutrition
Calories:
507
kcal
Carbohydrates:
28
g
Protein:
52
g
Fat:
16
g
Saturated Fat:
5
g
Polyunsaturated Fat:
3
g
Monounsaturated Fat:
6
g
Trans Fat:
0.03
g
Cholesterol:
141
mg
Sodium:
587
mg
Potassium:
1033
mg
Fiber:
0.4
g
Sugar:
24
g
Vitamin A:
19
IU
Vitamin C:
4
mg
Calcium:
96
mg
Iron:
6
mg

There are many different versions of this beef recipe, but this one is very popular on the Atlantic Coast. The must have side dishes for "Posta Negra" include boiled or fried yuca, fried green plantains and coconut rice.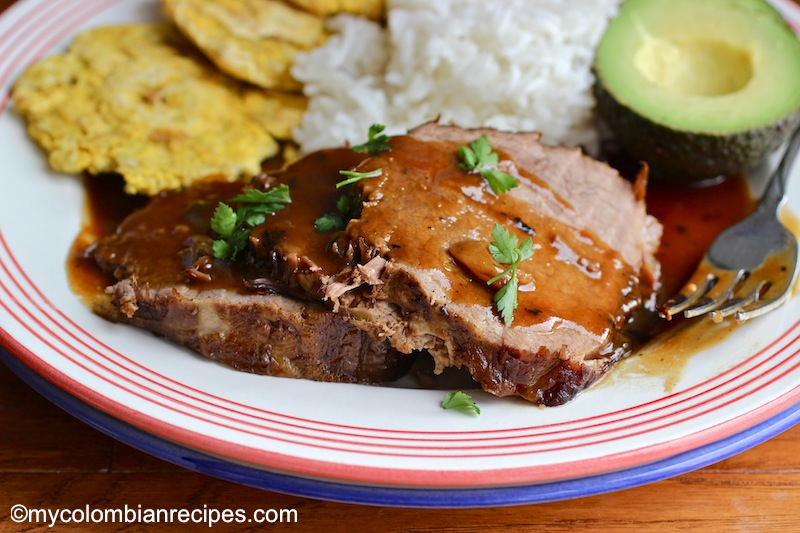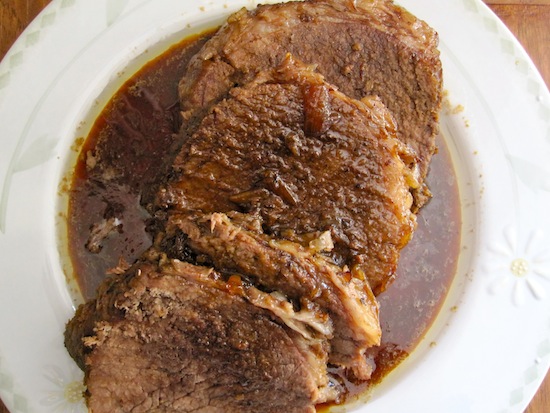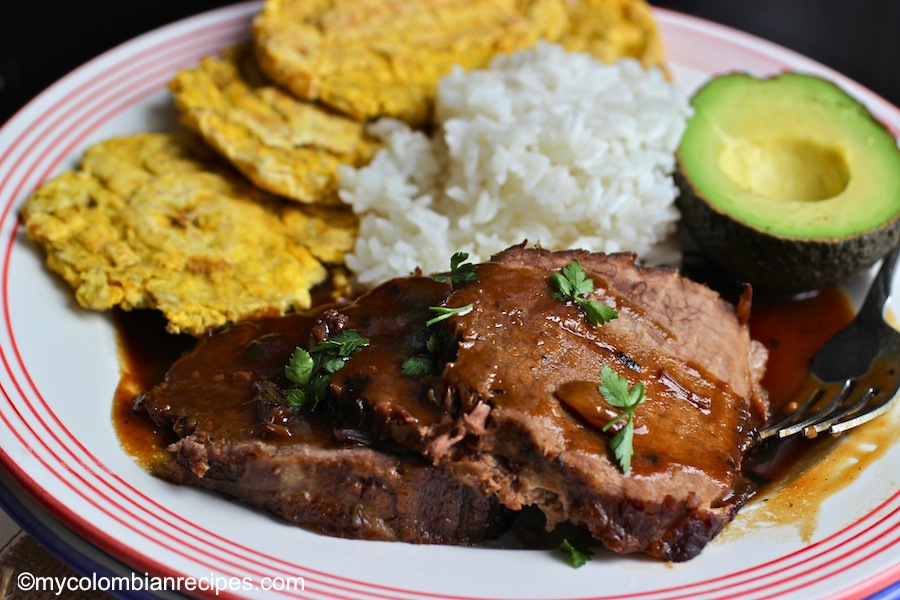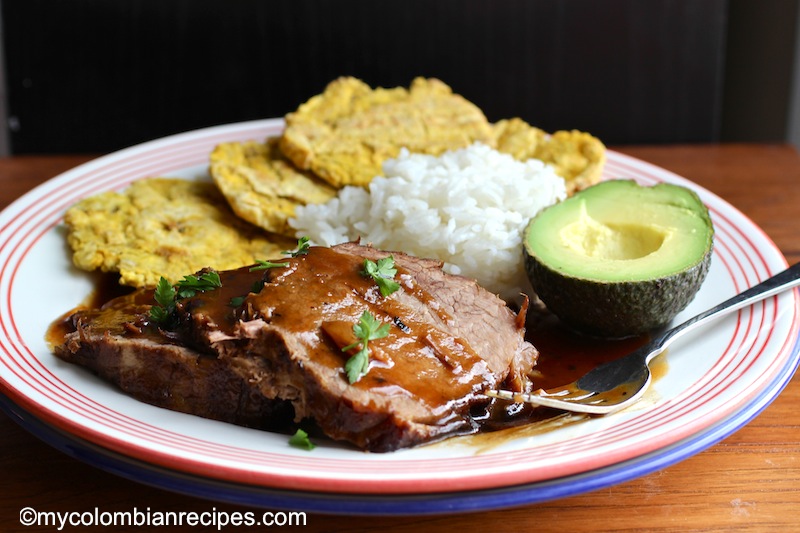 Looking for more beef recipes to try? Here are a few more of my favorites: