This baked turkey recipe is very easy to make and full of flavor. This dish is usually served in Colombia and Latin America during the holiday season. I like to served this turkey with potato salad, rice with coca-cola and prune sauce to drizzle over the cooked turkey.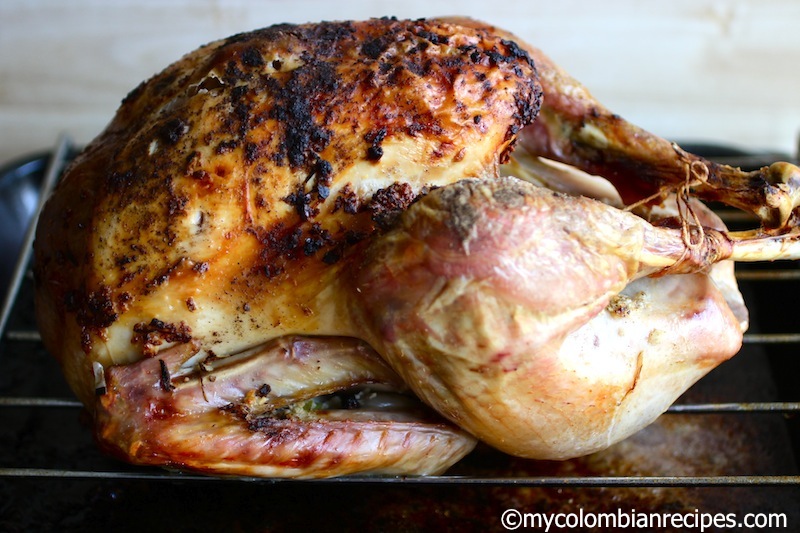 I did not grow up eating turkey (pavo) on Christmas Eve in Colombia, and of course, we did not celebrate Thanksgiving, as it is an American holiday. My family always made tamales, lechona and pernil de cerdo (pork leg) for our main dishes during the holidays. But Pavo Asado Navideño is very popular around the country and traditionally served on Christmas Eve in Colombian homes. Each family and cook has their own turkey and stuffing recipe. I got this recipe from one of my aunts who makes this turkey for special occasions.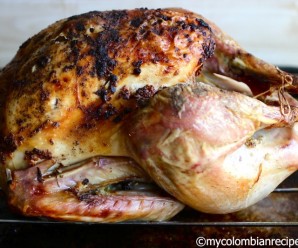 Pavo Asado Navideño (Christmas Turkey and Latin-Style Stuffing)
Ingredients
Turkey
1

(12-14 lb.) turkey, thawed

10

scallions, finely chopped

30

garlic cloves, crushed

¼

cup

ground cumin

3

teaspoons

ground achiote

Salt and pepper to taste

7

cups

beer

2

salted butter at room temperature
Stuffing
3

tablespoons

butter

1

tablespoon

olive oil

1

cup

finely chopped onions

5

garlic cloves, minced

½

teaspoon

ground achiote

1

teaspoon

ground cumin

½

pound

ground beef

½

pound

ground pork

½

pound

ground chorizo

1

cup

chopped prunes

1

cup

sliced green olives

⅓

cup

chopped almonds

½

teaspoon

ground oregano

1

teaspoon

ground cinnamon

1

cup

red wine

2

cups

bread crumbs

2

eggs, beaten

½

cup

apple sauce

2

cups

beef broth

Salt and pepper to taste
Instructions
To prepare the marinade, mix the scallions, garlic, cumin, achiote, salt, pepper and beer.

Pour the marinade over the turkey and massage over the entire turkey and let it marinate overnight in the refrigerator.

To cook the turkey: Preheat the oven to 400 degrees F and lower the rack to the lowest position.

Tie the legs together with kitchen twine. Rub the butter inside and on the skin of the turkey, then stuff it with the rest of the butter. Place the turkey, breast side down, in a roasting pan on a rack. Pour two cups of water in the pan and place in the oven.

Roast for 1 hour. Add additional water to the pan if needed and roast another 45-60 minutes. The interior temperature of the turkey should reach 160 degree F in the thigh area. If the turkey starts getting too dark on top, cover it loosely with foil. Allow the turkey to rest at least 20 minutes before slicing.
Stuffing
Place a sauce pan on medium-high heat and add the butter and oil.

Add the onion, garlic and season with salt and pepper. Cook for about 5 minutes. Add the beef, pork, chorizo and brown, stirring occasionally, then add the cumin, achiote, cinnamon, oregano, wine, olives, nuts and prunes. Reduce the heat to low, cover and cook for about 15 minutes, stirring often.

Add the bread crumbs and eggs, stir well and cook for another 7 minutes. Add the beef broth, apple sauce and mix well. Cook for about 30 minutes more.
Nutrition
Calories:
1128
kcal
Carbohydrates:
57
g
Protein:
95
g
Fat:
49
g
Saturated Fat:
14
g
Polyunsaturated Fat:
8
g
Monounsaturated Fat:
18
g
Trans Fat:
1
g
Cholesterol:
332
mg
Sodium:
1333
mg
Potassium:
1563
mg
Fiber:
6
g
Sugar:
14
g
Vitamin A:
901
IU
Vitamin C:
9
mg
Calcium:
270
mg
Iron:
12
mg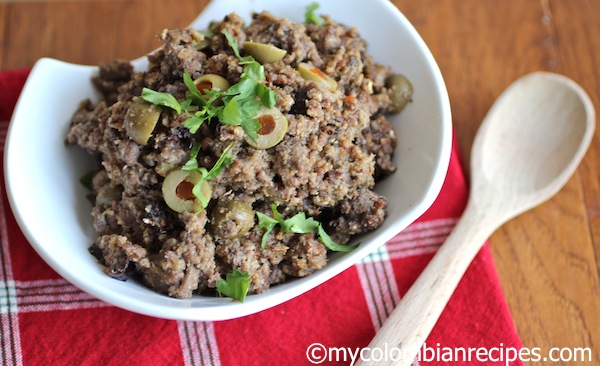 This latin-style turkey stuffing has a wonderful combination of textures and a delicious sweet and savory flavor. The stuffing recipe usually has different kind meats, fruit, olives, nuts, spices, herbs, bread crumbs and eggs. The stuffing can be cooked on the stove top, in the oven, or in the turkey. I don't like to stuff my turkey, so l usually cook my stuffing on the stove top and serve it on the side. Feel free to cook your stuffing the way you prefer. Buen provecho!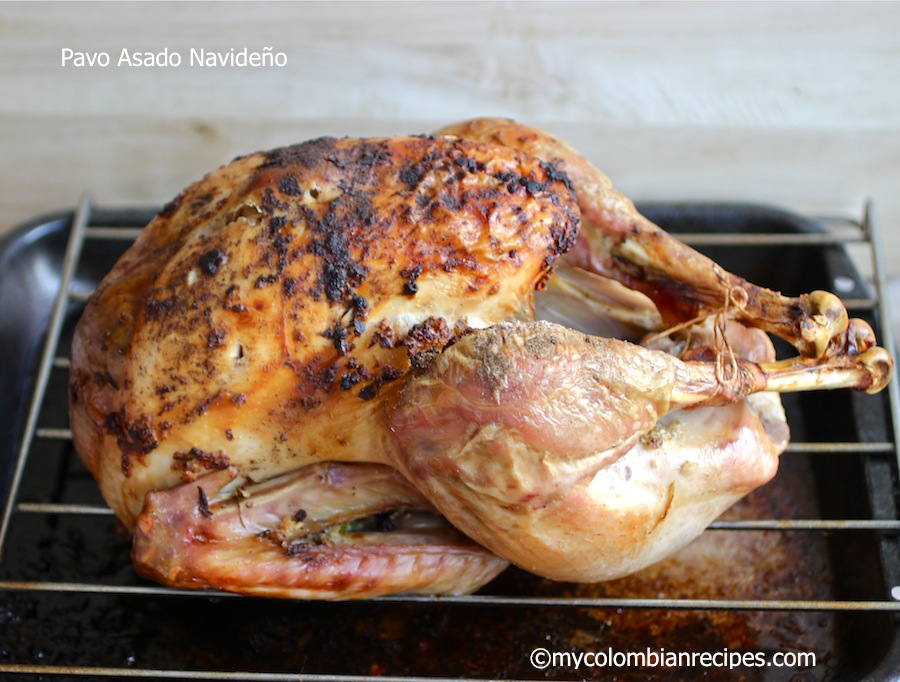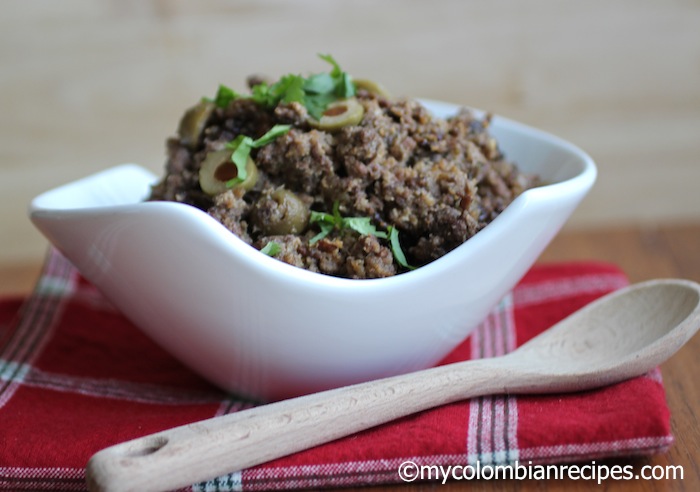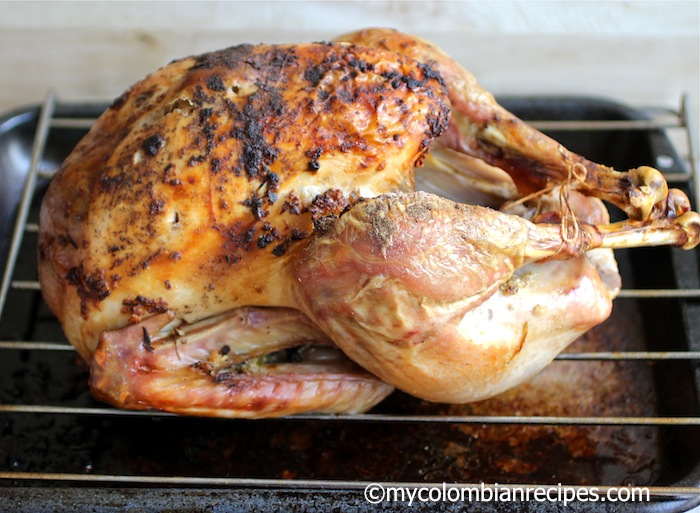 More turkey recipes you may want to try: