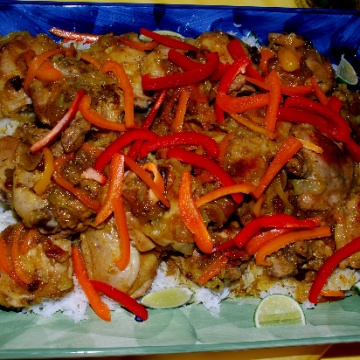 Tropical Curried Chicken with Rice
Ingredients
2- ½

lbs.

of chicken legs and thighs

3

Tablespoons

oil

3

Tablespoons

good quality curry powder

Salt and Pepper to taste

1

(12 ounce jar good quality chutney

1

red bell pepper

thinly sliced

1

lime

cut into wedges

⅛

cup

chopped green onion for topping

¼

cup

chopped honey roasted peanuts

Prepared hot and ready to serve long grain rice

preferably a basmati or jasmine
Instructions
Rinse chicken and pat dry. Sprinkle chicken with salt, pepper and curry powder. In a large skillet, heat oil until hot. Add chicken pieces, skin side down. Brown chicken until lightly golden on both sides. Add chutney and ½ of the red bell pepper. Simmer 30 minutes over medium low heat.

Transfer hot rice to a large serving platter. Place cooked chicken on top. Garnish with green onion, red bell pepper and peanuts. Surround platter with lime wedges.

As an extra, I like to add fried plantains to the serving platter or as a side dish.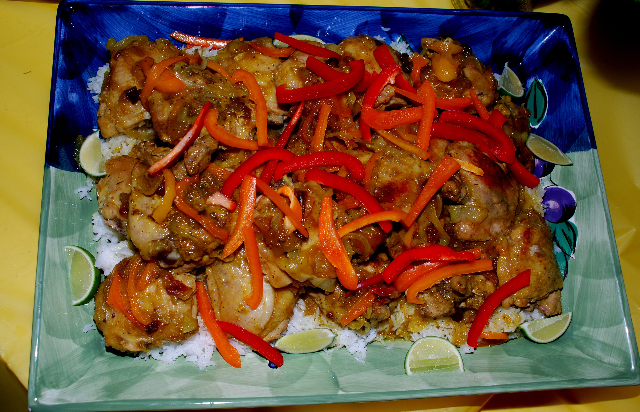 Guest posting today and sharing her delicious recipe is Velva Knapp from "Tomatoes on the Vine". Velva has a beautiful blog filled with fantastic recipes.
~Erica
Growing up in South Florida, food was as diverse as its people.
Today, my cooking reflects all of my food and travel experiences. I am not sure what inspires a person to have a passion for cooking. I am at my happiest not just when I am feeding a few, but when I am feeding a crowd. Where does it begin? Looking back, I could not find a single epoch in my life that would clearly define my passion for all things FOOD! Yet, there were definitely signs, events that added together would be equal to the moment that I was attempting to discover. I am reminded that life is often like that....a collection of events, that when reflected on, collectively tells the story.
My husband convinced me to submit the recipe below for the Annual "North Central Florida Cooks" sponsored by the local newspaper. I won first place in the entree category with this recipe. This prize winning dish has evolved over the years to its present splendor. Try it and you'll see, or feel free to change it! This is still my favorite recipe to serve a houseful of guests.
Chutney provides a delicious shortcut in this lime and red bell pepper accented curry served over Basmati or Jasmine rice.
Note: All measurements are approximate and you will need to adjust to your taste. Prepared hot and ready to serve long grain rice (preferably a basmati or jasmine)