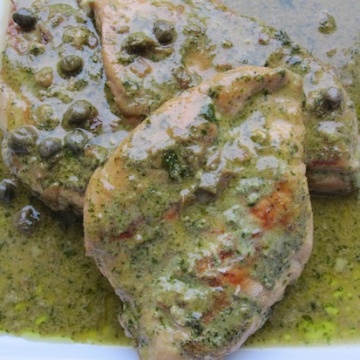 Chicken with Cilantro-Parsley-Capers Sauce
Ingredients
4

boneless

skinless chicken breast halves

1

Tablespoon

butter

1

Tablespoon

olive oil

Salt and freshly ground pepper

to taste

¼

cup

chopped white onion

1

garlic clove

1

cup

heavy cream

¼

cup

chicken stock

¼

cup

white wine

½

cup

fresh cilantro

finely chopped

½

cup

fresh parsley

finely chopped

1

tablespoon

capers
Instructions
Trim any excess fat from the chicken. Rinse and pat dry with paper towels. Place a chicken breast half between 2 sheets of waxed paper or plastic wrap.

Flatten to an even thickness of about 1u20442 inch. In a large sauce pan over medium-high heat, melt the butter with the olive oil. When hot, add the chicken, season with salt and pepper and sautué gently, turning once, until the chicken is golden, about 3 minutes per side.

Transfer the chicken to a warmed plate. Add the shallot to the sauce pan and sautué, stirring until translucent, 1 to 2 minutes. Add the garlic, cook for 1 minute more. Add the wine and cook for 2 minutes.

Add the heavy cream and chicken stock, increase the heat to medium and stir with a wooden spoon, scraping up any browned bits from the pan bottom and blending well. Cook for about 2 to 3 minutes. Add the parsley, cilantro and capers.

Season with salt and pepper. Return the chicken to the pan and cook for 5 minutes more, turning each breast several times in the sauce until well coated and hot.

Transfer the chicken to a serving plate or individual plates and spoon the remaining sauce over the chicken. Serve immediately.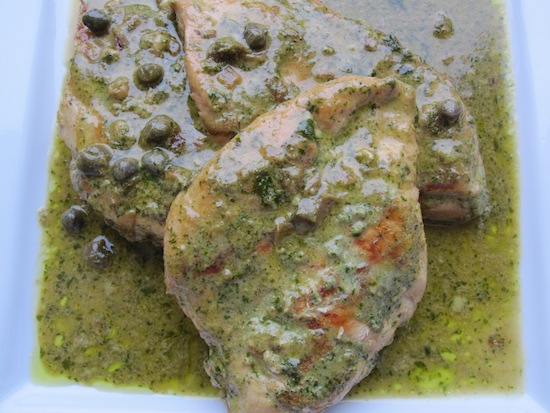 I made this chicken for lunch about three weeks ago and it was very tasty and easy to make. Serve it with mashed potatoes, noodles or white plain rice to soak up the delicious sauce. I used boneless chicken breast for this recipe, but you can use your favorite chicken parts.
Enjoy it!
Thank you all, for your congratulations and good wishes in my last post.