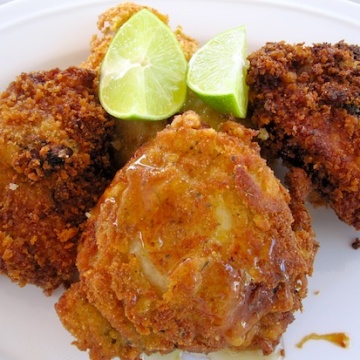 Colombian-Style Fried Chicken (Pollo Frito Apanado)
Ingredients
10

pieces

of drumsticks or chicken thighs

salt and freshly ground black pepper

½

teaspoon

ground cumin

½

teaspoon

paprika

½

cup

mustard

Oil for frying

2

cups

milk

3

beaten eggs

5

tablespoons

all purpose flour

½

teaspoon

paprika

½

teaspoon

ground cumin

Salt and pepper

1 ½

cups

bread crumbs

2

Limes

Honey

to your taste
Instructions
Rinse the chicken with cold water and pat dry with paper towels.

In a small bowl, combine salt, black pepper, cumin, mustard and paprika. Rub the mixture onto the chicken. Place in a large baking dish, cover with plastic wrap, and refrigerate for at least 5 hours or overnight.

In a 6-quart deep sautué pan over medium-high heat, heat the oil to 375F on a deep-frying thermometer. Preheat an oven to 200°F. Line a baking sheet with paper towels.

o make the batter: In a bowl, combine the flour, milk, salt, paprika, cumin, black pepper and eggs and mix well. Dip the chicken into the batter.

Place the bread crumbs on a plate. Dredge the chicken in the bread crumbs, shaking off the excess and set on a plate.

Place half of the chicken pieces in the oil and fry, turning often and maintaining the oil temperature at 325°to 350°F, 14 to 16 minutes. Transfer to a baking sheet and keep warm in the oven. Repeat with the remaining chicken. Transfer the chicken to a serving plate, drizzle with lime juice and honey. Serve with your favorite sides.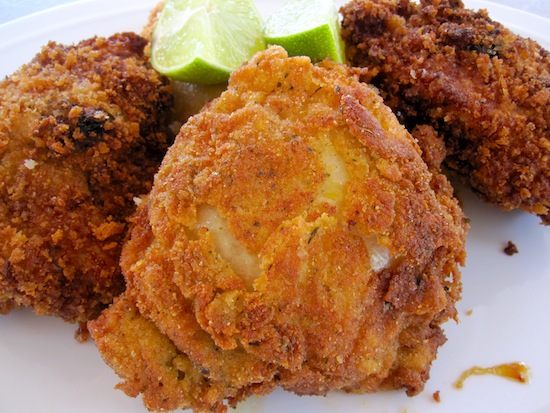 What's there not to love about Pollo Frito? I know I love it! But for some reason, I have always been a little afraid to make fried chicken at home. I just didn't think I would be able to get it just right.
This week, I was craving some fried chicken from Frisby, a fast-food franchise in Colombia that specializes in Pollo Frito (Fried Chicken). I love to go there when I am visiting Colombia and order their wonderful crispy chicken drizzled with honey. And you wouldn't believe all of the wonderful sides that they offer... small fried arepas, rice, salted potatoes, corn on the cob, baked plantain filled with guava and cheese, fried yuca, potato salad, coleslaw and their fantastic beans. You can't leave the place without eating their delicious esponjados!
Here is the recipe for my first ever homemade fried chicken. It was crispy on the outside and moist on the inside. Just perfect!
Buen provecho everyone!