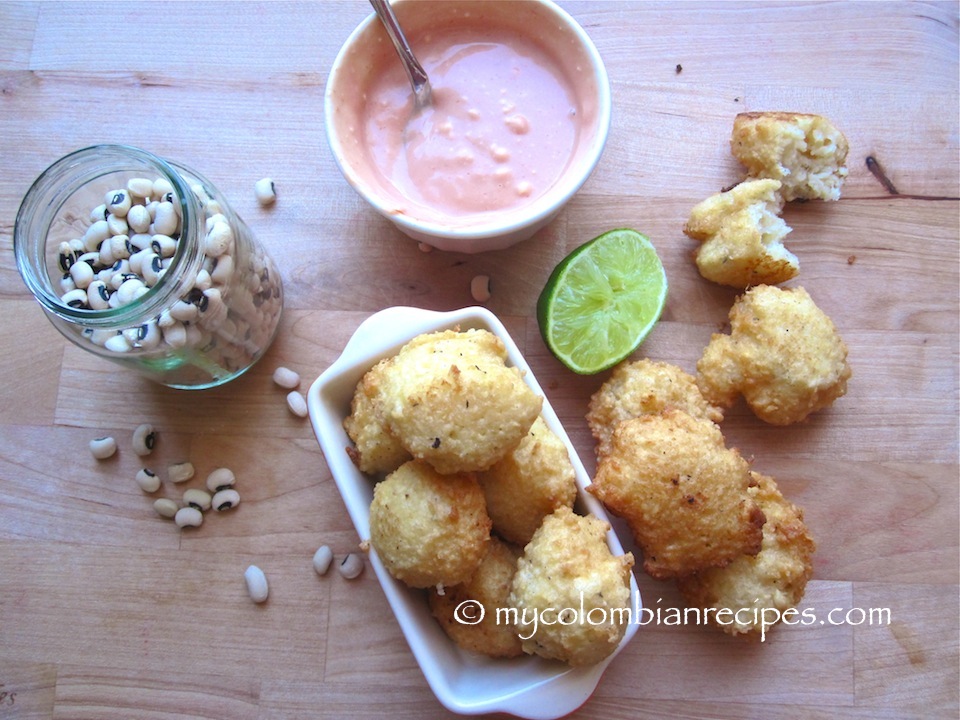 I love beans, and luckily for me, Colombian cuisine is filled with great tasting bean dishes. One of my favorites is a simple fritter made with black eyed peas. It's not fancy, but it's really good!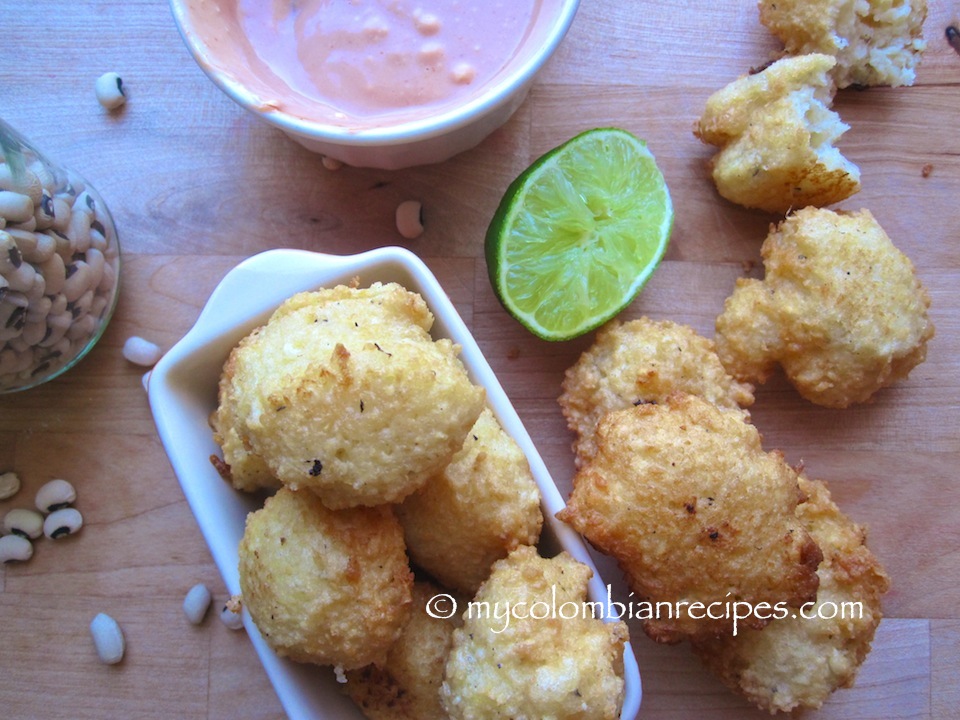 When the dough balls hit the oil, they puff up a little. The inside becomes light and airy whereas the outside forms a crispy crust. They make a wonderful appetizer or snack for everyone, including vegetarians. I like to serve mine with salsa rosada (pink sauce) on the side.
Buñuelos de Fríjol de Cabecita Negra are a traditional dish from the Atlantic Coast of Colombia. Black-eyed peas, or Frijoles de Cabecita Negra, as they are called in Colombia, are an important ingredient in the Atlantic coast cuisine. There are many dishes native to this region of Colombia that use this type of bean. Arroz con Fríjol de Cabecita Negra(Black-eyed Pea Rice), Sopa de Fríjol de Cabecita Negra(Black-eyed Pea Soup) and these Buñuelos de Fríjol de Cabecita Negra(Black-eyed Pea Fritters), are just some of the more popular dishes from the Atlantic coast region of Colombia.
Buen provecho!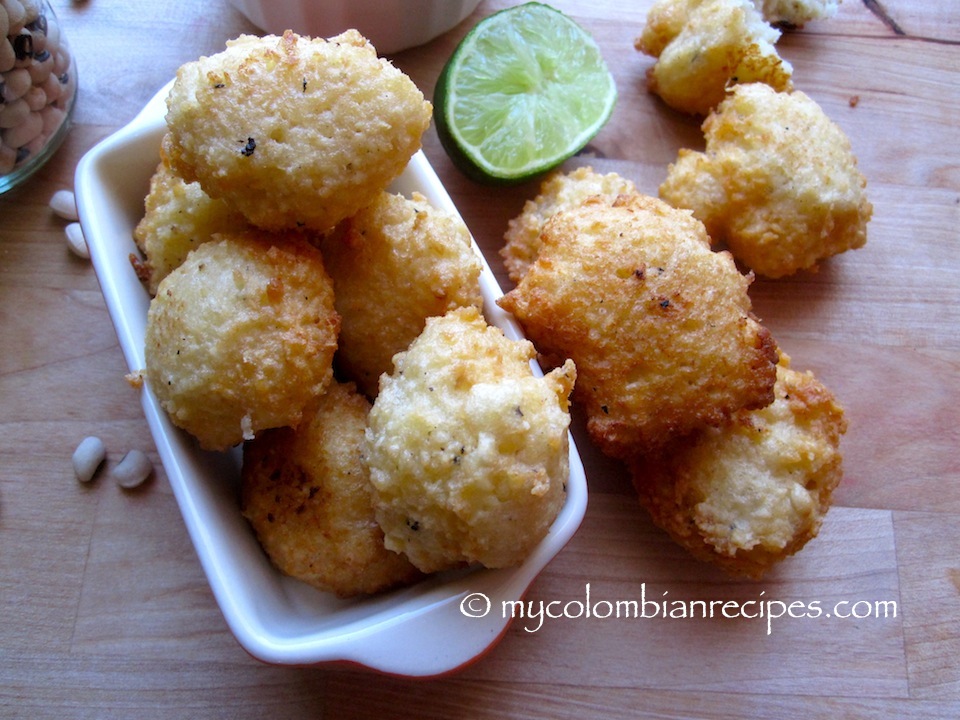 Ingredients
(About 12 fritters)
1 1/2 cups black-eyed peas, soaked in water overnight
1 large egg, beaten
2 tablespoon of cornstarch
Salt and pepper, to your taste
2 tablespoons of sugar
1/2 teaspoon garlic powder
Vegetable or canola oil for frying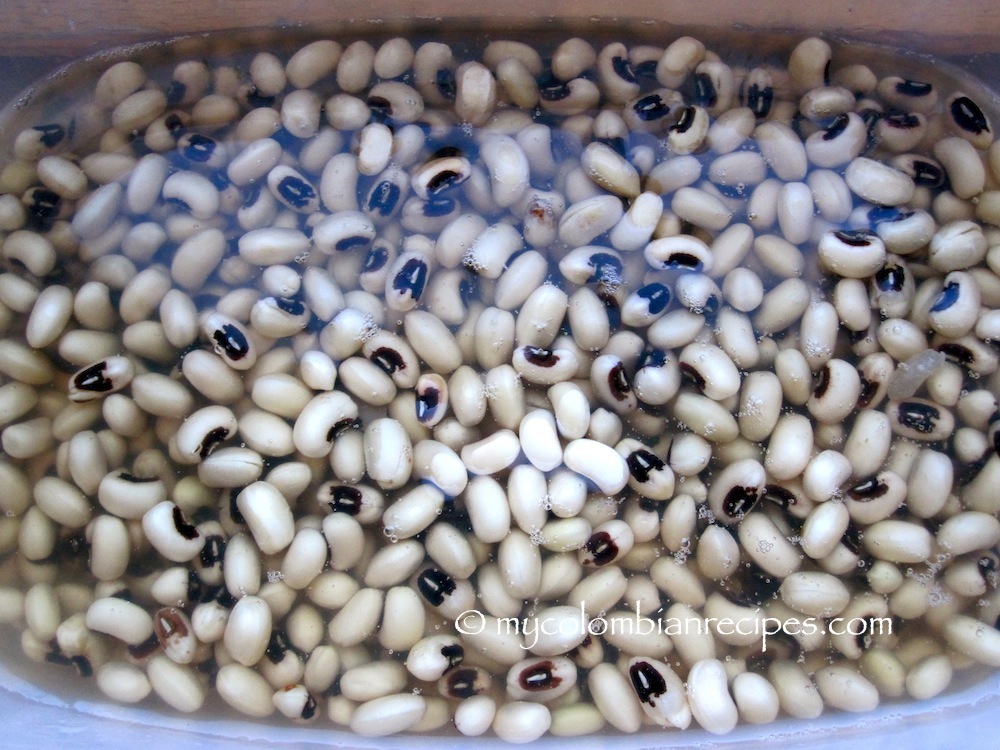 Directions
Drain and rinse the black-eyed peas. Place in the food processor and process for 30 seconds. (This will help the bean separate from the husks).

Place the crushed beans in a bowl with water and mix well. Drain and take off all the husk and discard. Save the white beans and set aside.

Return the peeled beans to a clean food processor and add the eggs, cornstarch, salt, pepper, sugar and garlic powder. Process until paste is formed.

In a frying pan, heat the oil over medium-high heat to 350º. Drop bean batter very gently into oil by the tablespoonful, 5-6 at a time, being careful not to overfill the pan. Turn the fritters with a slotted spoon until they are puffed up and golden, about 1-2 minutes. Remove fritters from oil and drain on paper towels. Serve with lime and salsa rosada(pink sauce) on the side.
This was printed from MyColombianRecipes.com