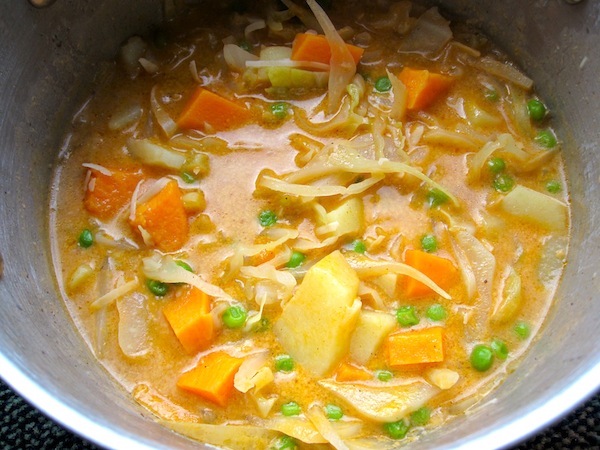 Serve this delicious and comforting meatless cabbage dish without mentioning that it's vegetarian and nobody will miss the meat, I promise 😉 It's so tasty you'll even be asked for the recipe by meat lovers, like me.
Served it with white plain rice on the side.
Buen provecho!
Ingredients
(4 servings)
3 tablespoons vegetable oil
1/4 teaspoon red pepper flakes
1 cup finely chopped onion
4 garlic cloves, crushed
1/2 tablespoon ground cumin
1 teaspoon curry powder
1 cup vegetable broth
1 can coconut milk
1/2 cup tomato sauce
1 tablespoon tomato paste
Salt and pepper
2 sweet potatoes, peeled and diced
1 large white potato, peeled and diced
1 small cabbage, shredded
1 cup shredded coconut
Juice of half a lime
2 cups frozen peas
Directions
In a large saute pan, heat the oil over medium heat. Add the pepper flakes, onions and cook, stirring occasionally, until beginning to soften, about 5 minutes.
Add the garlic, ground cumin, curry powder and cook, stirring, about 1 minute.
Add the vegetable broth, coconut milk, tomato sauce, tomato paste, salt and pepper. Bring to a boil and reduce the heat to medium-low.
Add the potatoes, cabbage and shredded coconut. Cover and cook about 30 minutes. Add the lime juice and peas. Stir well and cook for 2 minute more. Serve warm on top of white rice.
This was printed from MyColombianRecipes.com