This Black Eyed Peas Rice is a delicious side dish. This recipe is popular in the Atlantic region of Colombia.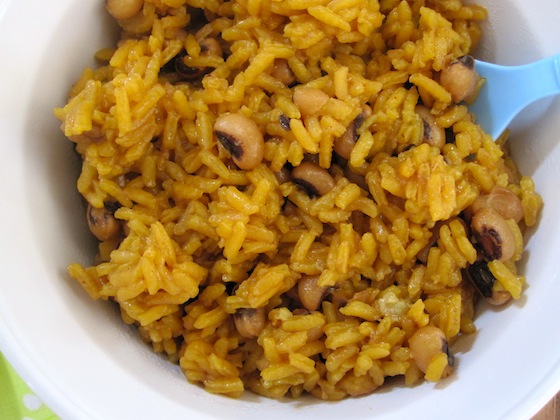 One of my favorite things about this black eyed peas rice recipe is that is simple, but filling and comforting. It can be serve as a side dish or meatless main meal.
What are black eyed peas?
Black eyed peas are also known as black-eyed beans. They are popular in African and Latin American cuisine. They are small white beans with black marks, creamy and full of flavor. In Colombia we have a lot of recipes with black eyed peas. Some of my favorites are this rice with black eyed peas recipe and black eyed peas fritters.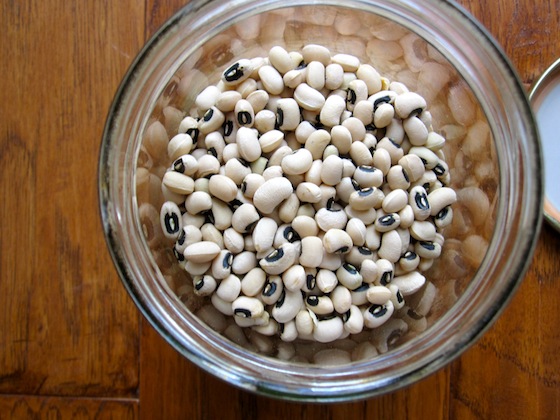 What do you need to make this rice
Oil: vegetable, olive or canola oil will work for this recipe.
Rice: I like using long grain white rice.
Vegetables: garlic, onion, scallions, red bell pepper.
Spices: achiote, ground cumin, salt and pepper.
Black eyed peas: I like to use dry black eyed peas and soak them overnight.
Herbs: cilantro, feel free to use fresh parsley if you prefer.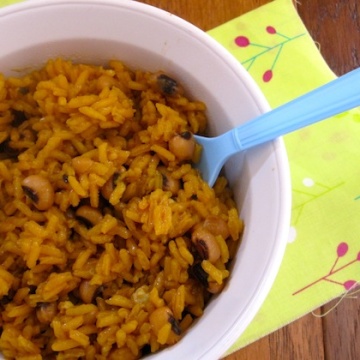 Blackeye Peas Rice Recipe (Arroz con Frijol de Cabecita Negra)
Ingredients
2

tablespoon

vegetable oil

2

cups

long grain white rice

3

garlic cloves

minced

1

cup

finely chopped onion

2

scallions finely chopped

½

cup

red bell pepper finely chopped

1

teaspoon

of achiote

1

teaspoon

ground cumin

2

cups

blackeye peas

picked over, soaked overnight and drained

¼

cup

chopped fresh cilantro

Salt and ground pepper
Instructions
Drain the beans and put in a large pot. Cover with water and bring to a boil over high heat. Reduce the heat to medium low, cover and cook for about 35 to 40 minutes, or until tender, drain reserving the cooking liquid to cook the rice.

In a medium pot, add the onions, garlic, red bell pepper and scallions, sauté for 2 minutes.

Add the rice, sauté for 2 minutes and stir until well coated.

Add the cooked beans, 2 cups of the beans cooking liquid and 2 cups of water. Add cilantro, cumin, salt, pepper and achiote, bring to a boil, then reduce the heat to low, cover and cook for 20 to 25 minutes.

Remove the rice from the heat, let it sit covered for 5 minutes and serve.
Notes
You can usually find black eyed peas canned at the grocery store, but I prefer cooking them from scratch. Store the leftovers in the refrigerator for 3 to 5 days.
Nutrition
Calories:
707
kcal
Carbohydrates:
130
g
Protein:
27
g
Fat:
9
g
Saturated Fat:
2
g
Polyunsaturated Fat:
5
g
Monounsaturated Fat:
2
g
Trans Fat:
0.04
g
Sodium:
23
mg
Potassium:
1172
mg
Fiber:
11
g
Sugar:
9
g
Vitamin A:
760
IU
Vitamin C:
30
mg
Calcium:
142
mg
Iron:
8
mg
What to serve with black-eyed peas rice?
This rice dish can be serve as a meatless main meal with a green salad on the side or a side dish with roasted chicken legs, breaded chicken breast and stuffed meatloaf.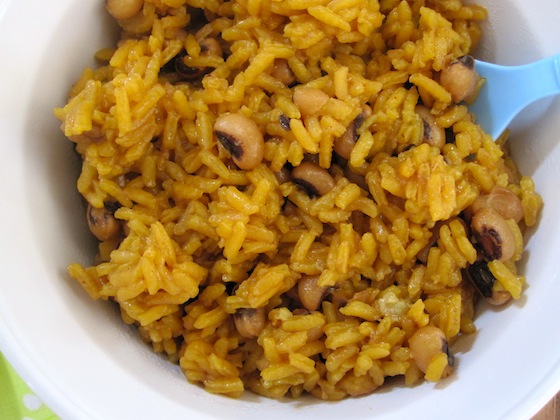 I've been cooking a lot over the past few days. Cooking takes my mind off of stressful things, like kids going back to school! It is always therapeutic for me.
Well, the results are in... I made a lot of good Colombian recipes, as well as some meatless dishes for my vegetarian husband. I will be sharing them all with you soon.
I want to share one of these recipes with you today. This simple rice recipe, popular on the Atlantic Coast of Colombia, is easy to make and delicious!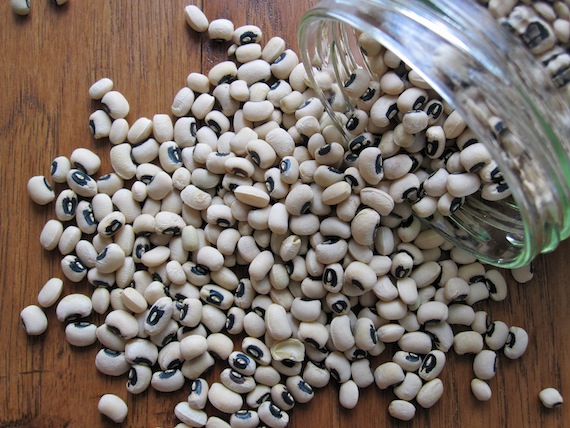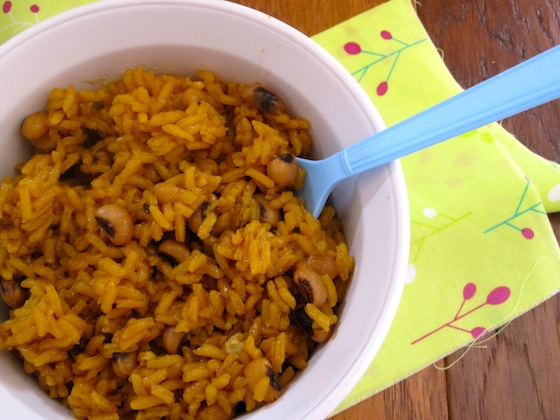 More rice dishes to try
Chicken and Rice (Arroz con Pollo)
Rice with Shrimp (Arroz con Camarones)
Seafood Rice (Arroz con Mariscos)