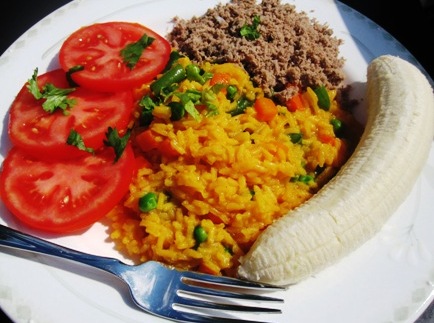 This rice is a very simple Colombian recipe to which some of my fondest memories are attached, as it was one of my grandmother's favorite lunch dishes. She would eat it with a banana and red tomato on the side, just like in the picture. We Colombians love to eat bananas with soups and believe it or not, it is quite delicious. The consistency of this rice should be between rice and a soup, hence the name.
Ingredients
(4 Servings)
1 tablespoon oil
1 tablespoon butter
¼ cup chopped onion
1 garlic clove, minced
1 cup white rice
½ teaspoon ground cumin
½ teaspoon sazon Goya with azafran
¼ cup green beans, diced
¼ cup carrots, diced
½ cup peas
4 cups chicken stock
Salt and pepper
2 cups powdered beef for serving
4 bananas for serving
Directions
Heat the olive oil and butter in a medium saucepan over medium heat. Add the onions and garlic and cook for about 3 minutes or until translucent.
Add the rice and stir for a minute to coat with the onions and garlic. Add the ground cumin, sazon Goya, salt, pepper and chicken stock. Bring to a boil, reduce the heat to low, add the green beans, carrots and peas. Stir and cook for about 20 to 25 minutes.
Serve with powdered beef (Carne molida) and bananas on the side.
This was printed from MyColombianRecipes.com