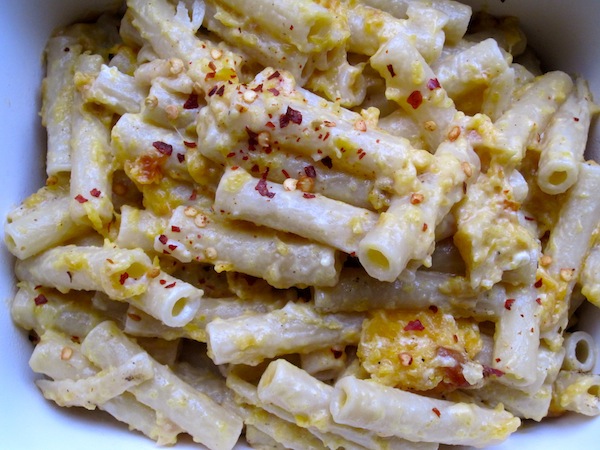 I made this Pasta with Butternut Squash dish the other night for dinner. It was delicious and super easy to make. The butternut squash sauce is creamy, sweet and a little spicy. It was just perfect.
Buen provecho!
Ingredients
1 medium butternut squash, peeled and cut into cubes
2 tablespoons of olive oil
1/4 cup of grated onion
2 garlic cloves, minced
Salt and pepper
1/2 teaspoon ground cinnamon
1/2 teaspoon ground cumin
1/2 cup of vegetable stock
1/2 cup heavy cream
1 pound of cooked pasta
Red pepper flakes, to your taste (optional)
Parmesan cheese, to serve
Directions
Place the oil in a large sauce pan over medium-high heat. Add the garlic and onion. Saute 3 to 5 minutes until the onions are soft. Add the butternut squash, cinnamon, cumin and season with salt and pepper.
Add the stock and cover. Cook over medium heat until the squash is soft, stirring occasionally, about 25 minutes.
Add the heavy cream and cook for 10 minutes more. Combine sauce and pasta and toss well. Garnish with red pepper flakes and cheese. Serve warm.
This was printed from MyColombianRecipes.com