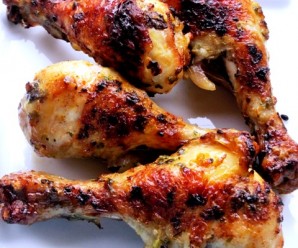 Colombian-Style Roasted Chicken Legs (Piernas de Pollo Asadas a mi Estilo Colombiano)
Ingredients
12

chicken drumsticks

skin on

Cooking spray

5

scallions

chopped

3

cloves

garlic

½

cup

chopped white onion

½

cup

fresh cilantro

1

tablespoon

fresh thyme

1

tablespoon

ground cumin

1

tablespoon

paprika

Salt and pepper

2

tablespoons

white vinegar
Instructions
In a food processor, place the scallions, garlic, onion, cilantro, thyme, vinegar, cumin, paprika, salt and pepper. Process to a paste.

Place the chicken in a zip -bag and add the marinade. Move around to cover evenly. Refrigerate the chicken overnight.

Cover a baking sheet with foil and coat with cooking spray. Position an oven rack in the center of the oven and heat the broiler to high.

Place the chicken legs on the baking sheet. Broil for about 10 minutes and turn the legs one time and cook for 12 to 15 minutes more or until the chicken is cooked and the skin is browned. Let it rest for 5 minutes and transfer to a serving plate.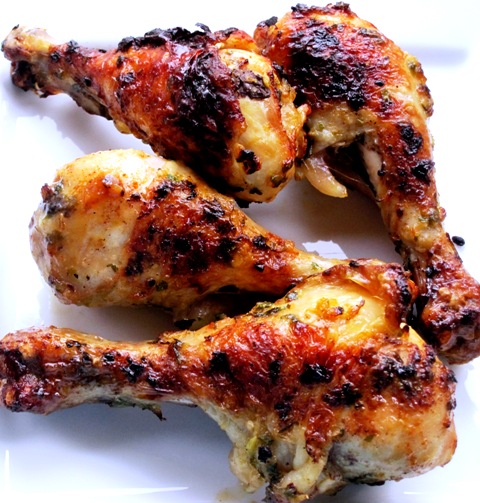 Asado or roasted, is one of my favorite ways to eat chicken. This is one of those dishes of which you'll find many variations all over the world. In Colombia, we season the chicken with our traditional seasonings and let it sit in the fridge overnight which makes the meat moist and the skin very flavorful.
Colombian restaurants cook this style of chicken on horizontal rotisseries that you can see through the windows while walking on the streets. The smell of pollo asado is like heaven to me. Just writing this post makes me want to rush to the airport, travel to Medellín, and go to a restaurant called Kokoriko to eat a whole pollo asado with corn cakes(arepas) and salted potatoes(papa salada). I hope you enjoy this dish as much as I do.