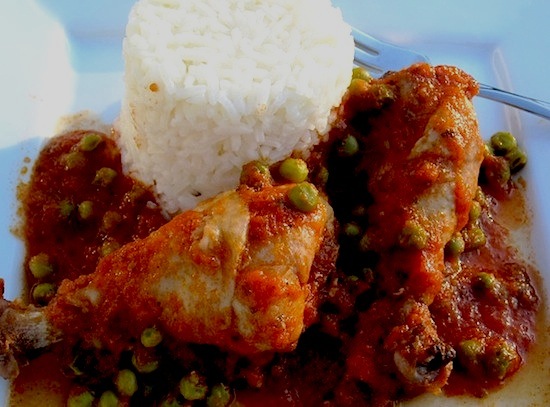 This Chicken Stew, or Pollo Estofado, is a flavorful tomato sauce-based dish. It could not be much easier to make and it makes for great leftovers. Be sure to serve it with sweet plantains and plain white rice, great for catching all the tomato sauce.
Buen provecho!
Ingredients
(4-6 servings)
1 tablespoons olive oil
3 tablespoon butter
8 pieces of chicken, trimmed of excess skin
  and fat
2 cups tomato sauce
2 garlic cloves, minced
1/2 cup chopped onions
1 tablespoon worcestershire sauce
1/2 teaspoon ground cumin
1/4 teaspoon oregano
1/2 teaspoon dried parsley
1/2 teaspoon thyme
2 cups of beer
1/2 cup peas
Salt and pepper
Directions
Season the chicken all over with salt and pepper. In a large frying pan over medium-high heat, melt the butter with the oil. Working in batches if necessary, add the chicken and cook, turning frequently, until browned, about 10 minutes. Transfer the chicken to a platter.
Add the onion and sauté until softened, about 5 minutes. Add the garlic and cook for 1 minute. Stir in the tomato sauce, Worcestershire sauce, cumin, oregano, parsley, thyme, and beer.
Over medium-low heat, cover and cook until the chicken is tender and opaque throughout, about 35 to 40 minutes. Uncover and add the peas. Cover and cook until the peas are warmed through, about 10 minutes more.
This was printed from MyColombianRecipes.com