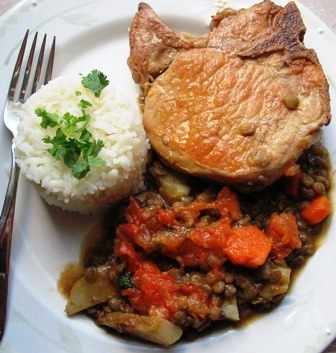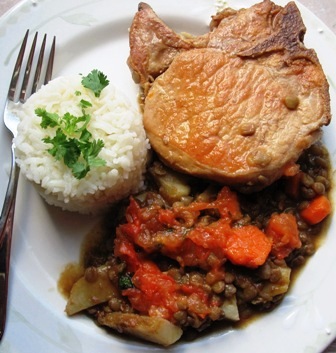 I am a huge lentils and pork chops fan, so I decided to put them together in a lentil stew over white rice. It was simple to make and tasted delicious. I know, not very original, nevertheless, this is a great autumn dish :).
Ingredients
(4 servings)
½ pound lentils, rinsed
1 tablespoon olive oil
4 pork chops
2 cups chicken broth
1 carrot, sliced
½ teaspoon ground cumin
1 garlic clove, minced
½ cup chopped onion
1 scallion, chopped
¼ cup red bell pepper, chopped
1 large potato, peeled and diced
Salt and pepper
Fresh cilantro
White rice and hogao for serving
Directions
In a large skillet, heat the olive oil over medium heat. Add the pork chops and cook until golden brown. Remove from the skillet and set aside. Add the onions, garlic, scallions and red pepper to the skillet. Cook for about 6 minutes or until onions are translucent.
In a slow cooker, combine all ingredients except the potatoes, cilantro, salt and black pepper.
Cover and cook on high for 4 hours. Add the potatoes and cook for 30 more minutes.
Stir in cilantro and season to taste with salt and black pepper.
This was printed from MyColombianRecipes.com