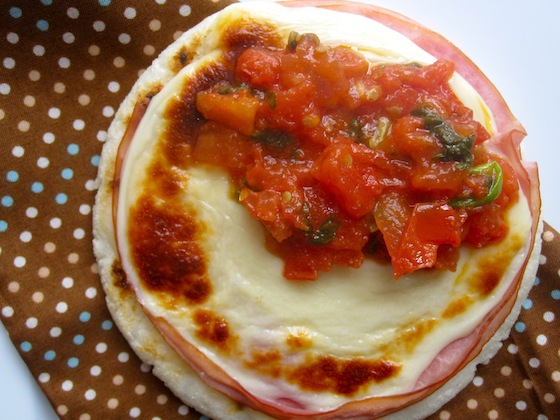 Arepas are really the perfect food! You can make them as an appetizer, as a main course, as a dessert, and you can even put them in a soup. And, to top it off, they are very easy to make. These delicious corn cakes made from basic precooked corn meal and water can be eaten any time of the day.
We have a wonderful place called "J&C Delicias" in Medellin. It is on my list of favorite restaurants and I go there whenever I visit my family in Colombia. They have the most delicious arepas topped with a variety of fantastic ingredients. I just love that place, but living here in the United States, I need to create my own arepas with my own toppings. This Arepa con Hogao, Queso y Jamón was my breakfast a couple of days ago and I want to share it with you, because it was absolutely delicious!
Buen provecho!
Ingredients
2 servings
2 arepas
4 tablespoons cream cheese
4 ham slices
1 cup shredded mozzarella cheese
1/2 cup hogao
Directions
Place the arepas on a baking sheet, spread two tablespoons of cream cheese on each arepa.
Top with the ham slices and scatter the mozzarella cheese evenly over the ham, leaving a 1/2-inch border. Slip under the broiler about 4 inches from the heat source and broil until the cheese is melted, about 2 minutes.
Add 1/4 cup of the hogao on top. Season with salt and pepper, and serve immediately.
This was printed from MyColombianRecipes.com