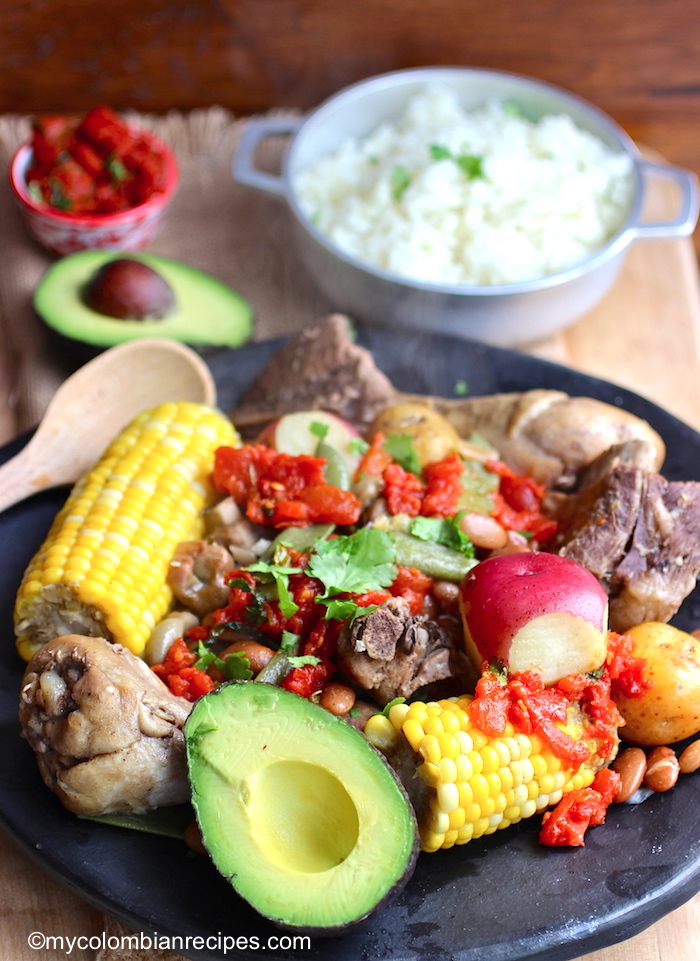 Colombian cuisine is rich and diverse, thanks to geographical variety, a tropical climate, and the influence of different immigrant populations. A hearty stew known as cocido is eaten throughout Colombia but varies from region to region. This Cocido Boyacense comes from the Boyacá department, known as "The Land of Freedom", as this region was the scene of a series of battles which led to Colombia's independence from Spain. Cocidos are traditionally served in stages beginning with the broth and followed by the meat and vegetables arranged on a large platter.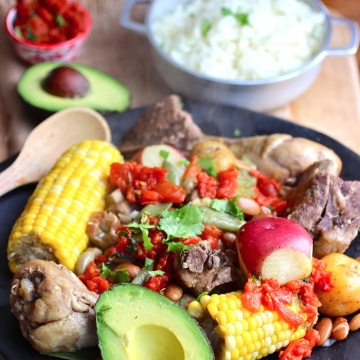 Cocido Boyacense (Boyacá Region Stew)
Ingredients
2

tablespoons

oil

5

scallions

chopped

4

ripe tomatoes

chopped

1

tablespoon

of cumin

1

pound

of pork ribs or pork chops

1

pound

of chicken

1

pound

of beef ribs or beef for stew

4

small yellow potatoes

4

small red potatoes

4

corn ears

½

cup

fava beans shelled

1

cup

snow peas

trimmed

½

cup

canary beans
Instructions
In a large saucepan place the oil and add the scallions, cumin and tomato. Cook for about 5 minutes, add salt and pepper. Take half of this mixture and set aside.

Stir in the beef, pork, corn, fava beans, snow peas, canary beans and pour enough water to cover all ingredients.

Cover the pot and cook for an hour over medium heat. Add the potatoes and chicken and cook for 30 minutes more, keeping the pot covered. Add more water if necessary.

Season with salt and pepper. Add the remaining tomato mixture. Serve with white rice and avocado on the side.

When it comes to cocido, there are very few absolutes. It's typically made from pork, beef, or chicken and vegetables like plantains, potatoes and tubers by the names of chuguas, cubios, and ibias, although the combination of veggies is variable... and arguable! Some of the root vegetables used to make a traditional Cocido Boyacense, such as chuguas, cubios, and ibias, are not available in the United States, so I needed to replace or omit some of them to adapt the recipe with ingredients I found here. This rich, hearty stew really hits the spot on cold winter nights.
Buen provecho!