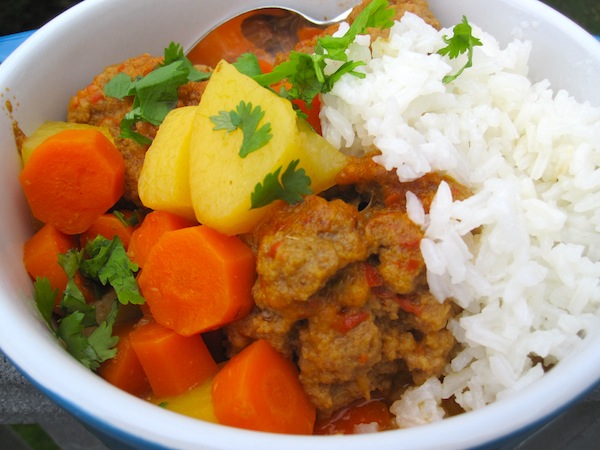 This Meatball Stew is perfect for this time of year, as it starts to cool down and you need something to warm you up. The flavor of the meatballs slowly cooked in a sauce of tomato, garlic, cumin, achiote, peppers, onions, cilantro, scallions, and vegetables is a delicious meal for the whole family. I love to serve it with white rice. It is the best way to soak up the delicious sauce!
I love using a slow cooker, because it does all the work for me, but you could also toss it all in a heavy pot, cover and simmer for about one hour.
Buen provecho!
Ingredients
(About 6-8 servings)
Meatballs

1 pound ground pork
1 pound ground beef
2 large eggs, beaten
½ teaspoon ground cumin
1/3 cup masarepa
2 garlic cloves, minced
1/2 grated onion
1 scallion, finely chopped
1/2 cup red bell pepper, finely chopped
Salt and pepper

Stew

1 cup alinos sauce
Salt and pepper
4 cups beef stock
1 cup tomato sauce
¼ teaspoon cumin powder
1/4 teaspoon achiote or sazon Goya with azafran
2 large potatoes, peeled and cut into small chunks
2 large carrots, slice crosswise
1/4 cup fresh cilantro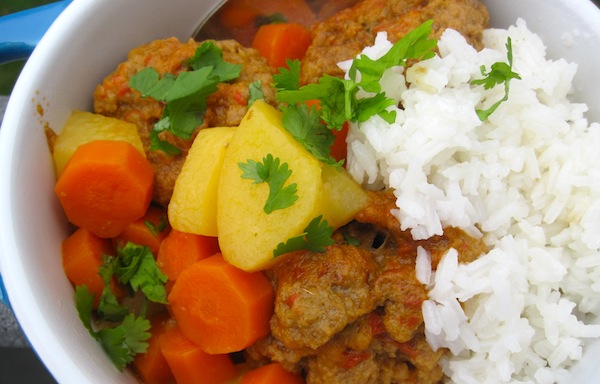 Directions
Place the ground beef and pork in a large bowl. Add onions, garlic, scallion, red bell pepper, masarepa, eggs, cumin, salt and pepper. Mix well using your hands.
Form the meatballs and add them to the slow cooker along with the remaining stew ingredients. Mix everything together carefully so as to not break up the meatballs.
Cook on low 7-8 hours or on high 3-4 hours. Serve with white rice and avocado on the side.
This was printed from MyColombianRecipes.com