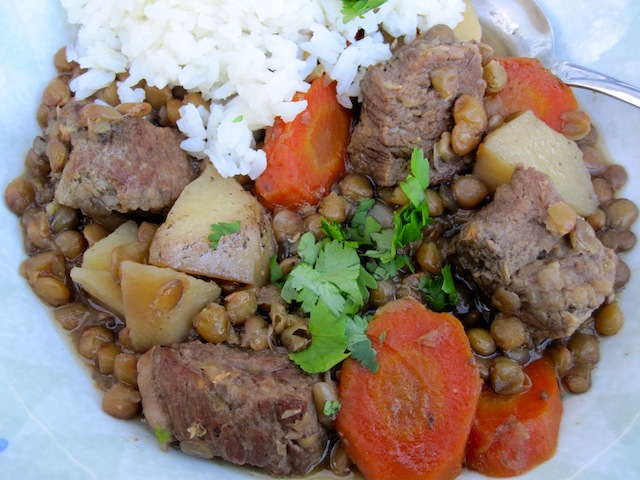 This time of year there is nothing better than cooking in your crock pot. One single pot, slow cooking and great smells. Now that's comforting and that's what I love to cook during the winter. This lentils and beef stew is really easy to make and delicious over white rice. The perfect weeknight dinner. Enjoy it!
Ingredients
(4 servings)
1 1/2 pounds beef for stew, cut into cubes
1 cup lentils
3 1/2 cups beef stock
Salt and pepper
1 garlic clove, minced
1 bay leaf
1 carrot, peeled and sliced
1/4 cup finely chopped onion
1/4 teaspoon ground cumin
1/2 teaspoon tomato paste
2 potatoes, peeled and diced
1/4 cup chopped fresh cilantro
Directions
In a slow cooker, combine all ingredients except the potatoes, cilantro, salt and black pepper.
Cover and cook on high for 4 hours. Add the potatoes and cook for 30 more minutes.
Stir in cilantro and season to taste with salt and black pepper.
Serve over white rice.
This was printed from MyColombianRecipes.com