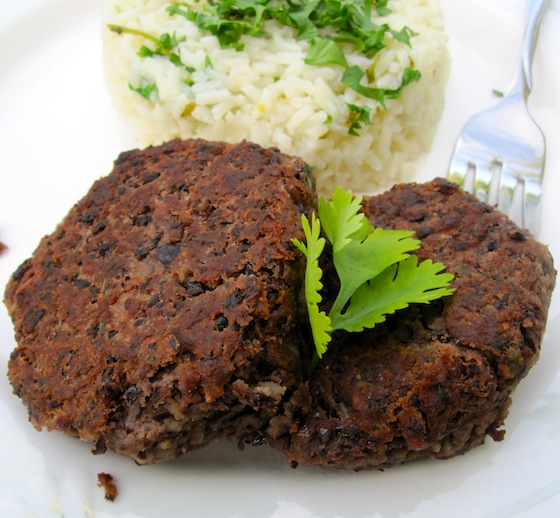 I love all sorts of bean dishes. They are my favorite food on earth and as a result, I have countless bean recipes. I've never eaten bean patties before though, so a couple of weeks ago I made Black Bean patties for dinner and they were delicious, nutritious and versatile!
We all loved these patties. Make these for your vegetarian friends or family members, they are going to love them. I served them with rice and vegetables on the side, but if you prefer, you can make some vegetarian burgers with them.
Buen provecho!
Ingredients
(4 patties)
Olive oil
2 scallions, finely chopped
2 tablespoons, finely chopped red bell pepper
1 garlic clove, finely chopped
3 tablespoons onions,finely chopped
1 can (15 oz) black beans, drained and rinsed
1/4 cup chopped fresh cilantro
1/2 teaspoon ground cumin
1/4 teaspoon paprika
1 beaten egg
1/2 cup bread crumbs
Salt and pepper
Directions
In a skillet over medium-high heat, add 1 tbs of olive oil. Add the scallions, garlic, onion and bell pepper and cook, stirring occasionally, until soft and slightly charred, about 10 minutes.
Place the beans in a food processor and add the onion mixture. Process for about 20 seconds.
ransfer to a bowl and add the remaining ingredients. Shape the mixture into patties. Arrange the patties on a plate and refrigerate for 45 minutes, or cover tightly with plastic wrap and refrigerate overnight.
eat 2 tablespoons olive oil in a skillet over medium. When it's hot, fry the patties, turning once, until lightly crisp, 3 to 4 minutes per side.
This was printed from MyColombianRecipes.com