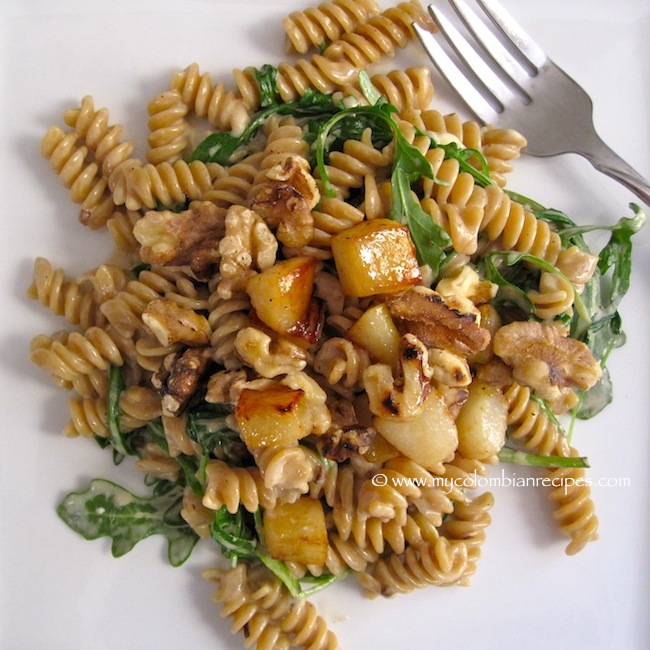 Whole Wheat Pasta with Pears, Walnuts and Gorgonzola Cheese is a recipe that has been kicking around my head for a while and I'm so excited to finally be sharing it with all of you. It's always a joy to share something that turned out even better than I had anticipated!
It's versatile and easy to toss together, which makes it a great weeknight dish. Buen provecho!
Ingredients
(4-6 servings)
1 pound of whole grain rotini or other short pasta
3 tablespoon of butter
3 Asian or Bosc pears, halved, cored and cut into small pieces
Juice of 1 lemon
1 tablespoon of sugar
1/4 cup of finely chopped onions
1 cup of heavy cream
1 cup of gorgonzola cheese, crumbled
Salt and pepper
1/2 cup walnuts, lightly toasted
1 bunch small leaved arugula, stems removed
4 fresh basil leaves, chopped
Directions
Bring salted water to a boil in a large pot. Add the pasta and cook according to the package directions.
Meanwhile, in a medium bowl, combine the pear and lemon juice, and toss to coat the pear evenly to prevent them from turning brown.
In a sauté pan over medium-high heat, melt 2 tablespoons of the butter. Add the pears and sugar and caramelize. Set pears aside on a plate.
Add the remaining butter and onions and saute until tender. Add the cream and reduce the heat to low and simmer for about 1 minute. Add 1/2 a cup of the cheese and whisk until smooth, about 1 minute more. Remove from the heat and season with salt and pepper.
dd the pears, walnuts, arugula and basil and stir. Drain the pasta in a colander, add to the sauce and toss well. Add the remaining cheese and serve immediately.
This was printed from MyColombianRecipes.com