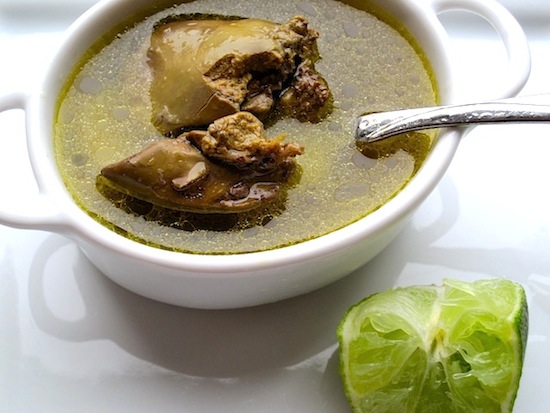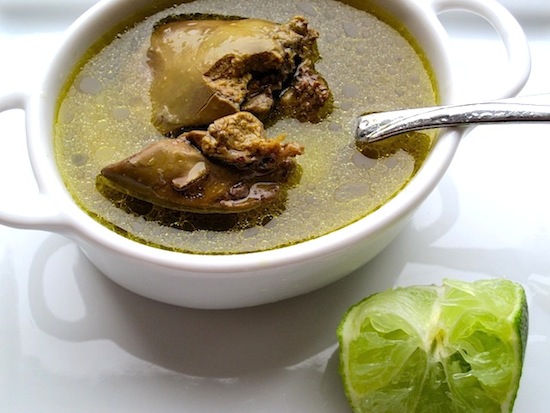 Consome de Pollo is a traditional Colombian soup made by cooking chicken parts like the liver, wings, heart, and legs, along with vegetables. Once strained, it is served in a small cup, as a clear soup, with pieces of liver and heart.
You can find this soup in a lot of Colombian restaurants all over the world and it is a must at Colombian parties. It is often served to people at the end of a party before they go home, hot, with a squeeze lime. I guess it helps to prevent hangovers 🙂
I have to tell you, this soup is delicious. You don't have to eat all of the chicken parts, just discard them, but if you like chicken liver, at least leave those in the soup. The flavor is wonderful.
Ingredients
2 1/2 pounds of chicken parts and gizzards of your choice (2 feet, neck, liver, heart, wings, legs)
12 cups of water
2 large carrots, peeled and cut into pieces
1 medium onion, peeled and cut into pieces
1 garlic clove, crushed
Salt and pepper
1/4 teaspoon ground cumin
1/4 cup cilantro
1 celery stick
Thyme
Lime to serve
Directions
Place the chicken parts in a large container with ice water and soak them for about 1 hour. This will help to clean up the blood and bad stuff from the chicken parts.
Remove the chicken parts from the ice water and discard the water. Place the chicken in a large pot and add the water. Bring to a boil, skimming off any foam from the top.
Reduce the heat to low and add all the remaining ingredients. Cover and simmer for about 4 hours.
Remove from the heat and remove the chicken parts that you want to eat and set them aside. Strain the broth through a fine sieve & return to the broth the chicken parts that you would like to eat. Serve the soup hot in small cups with lime juice.
Note: This can be use as chicken broth to make other dishes and it can be stored in the refrigerator for up to 3 days or freeze up to 6 months, so make a big batch.
This was printed from MyColombianRecipes.com