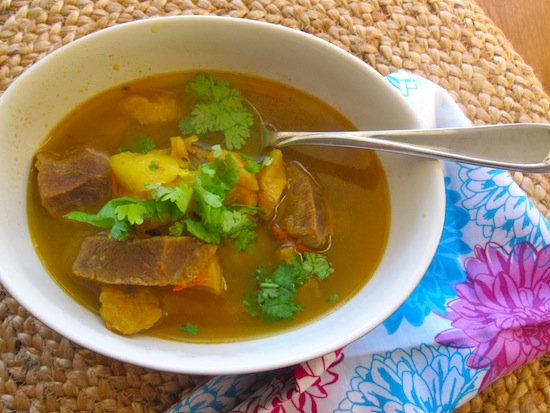 Sancocho de Uña or Sopa de Uña is a typical soup from Colombia. It consists of green plantains, cut into small pieces using your hands. The soup is made with beef, beef bones for flavor, green plantains, yuca, cilantro, and other vegetables like onions, garlic, tomatoes and scallions.
Plantains are an important food in a Colombian diet and we use them in many of our dishes. Plantains to Colombians are like potatoes to Americans. Plantain is a truly delicious vegetable and is perfect for soups. It comes from the banana family, but it is more starchy and it has to be cooked before you eat it. Green plantain or unripe plantain are firmer and lower in sugar than yellow plantain or ripe plantain. Plantains can be mashed, boiled, roasted, fried, or added directly to soups and stews. In Colombia we even use them in our traditional Colombian desserts.
If you haven't cooked with plantains before, one tip is to cook the green plantain within a day or two after you buy it. If not, the plantain will ripen very quickly and you'll have to use it in a recipe that calls for ripe plantain instead. The second tip is to be careful not to get any plantain on your clothes as green plantain can stain fabric. You might want to use an apron.
I like to serve this soup with white rice, hot sauce and avocado on the side. Buen provecho!
Ingredients
2 tablespoons oil
2 scallions, chopped
1/2 cup onion, chopped
2 garlic cloves, minced
3 tomatoes, diced
1 green bell pepper, diced
2 teaspoons ground cumin
1 tsp achiote or color
1/4 cup finely chopped cilantro
10 cups water/broth
1½ pounds beef bones or beef ribs
1 pound beef, cut into pieces
4 green plantains, peeled and cut into pieces using your hands
1 pound yuca, peeled and cut in chunks
Salt and pepper to taste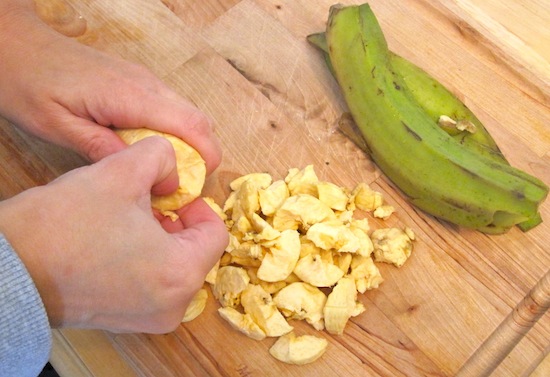 Directions
(6-8 servings)
Heat the oil over medium heat in a large pot, add the onions, garlic, tomatoes, bell pepper, cumin, achiote, cilantro, salt and pepper.
Add the water or broth, the beef bones, the meat chunks, and plantain pieces.
Bring to a boil, reduce temperature and simmer for about 50 to 60 minutes.
Add the yuca pieces and continue simmering for another 30 minutes or until the meat is tender.
Garnish with fresh cilantro and serve warm with avocado, white rice and hot sauce on the side.
This was printed from MyColombianRecipes.com