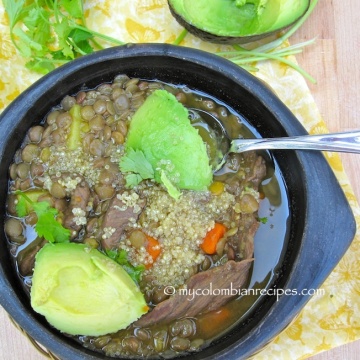 Sopa de Lentejas con Carne y Quinua (Lentils, Beef and Quinoa Soup)
Ingredients
2

tablespoons

canola or vegetable oil

1

cup

finely chopped onion

4

garlic cloves

minced

1

red bell pepper

diced

2

large carrots

peeled and sliced

Salt and pepper to taste

1

pound

of beef

cut in bite sized chunks

½

pound

of lentils

picked and rinsed

2

tomatoes

peeled and diced

10

cups

of beef or vegetable stock

½

teaspoon

ground achiote

1

teaspoon

ground cumin

3

medium white potatoes

peeled and diced

¼

cup

chopped fresh cilantro

2

cups

cooked quinoa or quinua
Instructions
Place the oil in a large pot and set over medium heat. When it is hot, add the onions, garlic, red bell pepper and carrots. Season with salt and pepper. Cook until the onions are tender, about 6 to 7 minutes.

Add the beef, lentils, tomatoes, broth, achiote, cumin and stir to combine. Increase the heat to high and bring to a boil.

Reduce the heat to low, cover and cook over low heat until the meat and lentils are tender, approximately 35 to 40 minutes.

Add the potatoes, cilantro and cooked quinoa. Simmer for about 25-30 minutes or until the potatoes are tender.

Add the chopped cilantro and season with salt to your taste. Serve with aji and avocado.
Nutrition
Calories:
999
kcal
Carbohydrates:
148
g
Protein:
63
g
Fat:
18
g
Saturated Fat:
4
g
Polyunsaturated Fat:
5
g
Monounsaturated Fat:
8
g
Trans Fat:
1
g
Cholesterol:
5
mg
Sodium:
28448
mg
Potassium:
3515
mg
Fiber:
29
g
Sugar:
28
g
Vitamin A:
6652
IU
Vitamin C:
80
mg
Calcium:
241
mg
Iron:
14
mg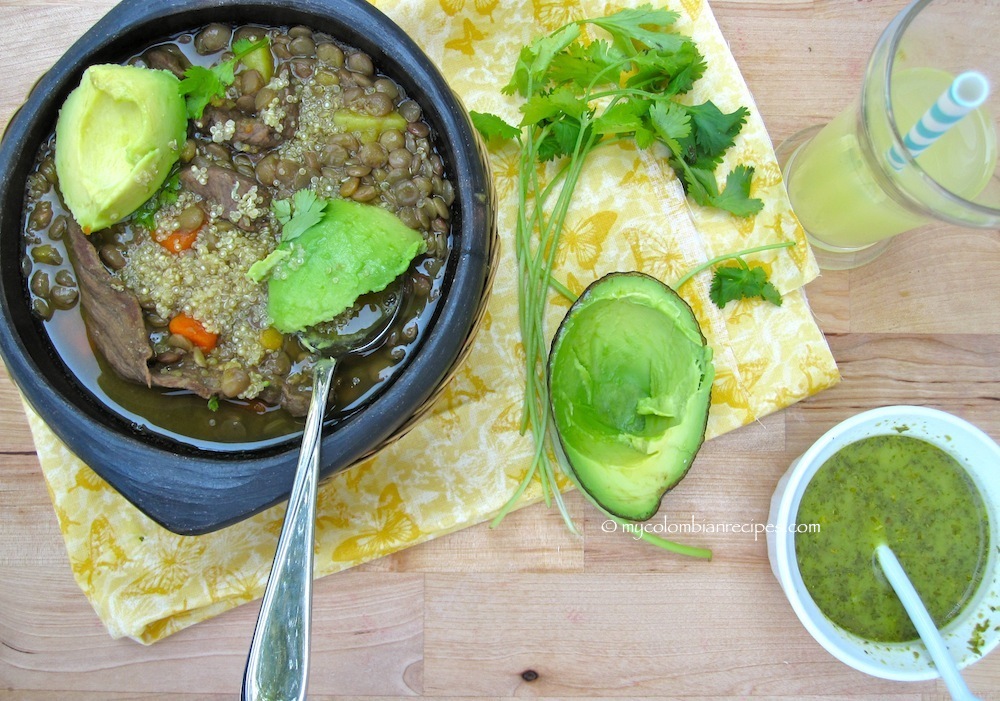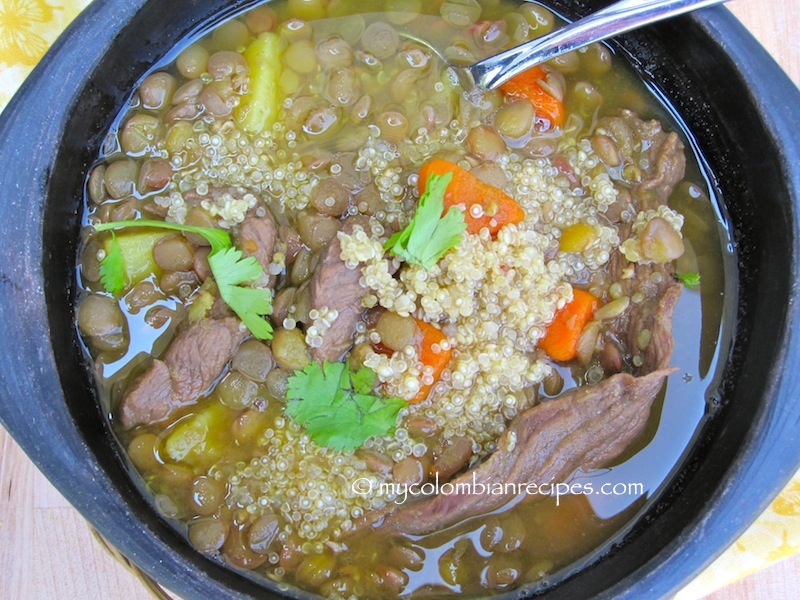 The recipe I am sharing with you today is a gorgeous and hearty Lentils, Beef and Quinoa Soup. This soup is comforting and warming, and is perfect for this time of year. I love cooking with lentils and make several variations of soups with them, as they are versatile and cook fast.
Soups are a staple in the Colombian diet. We love soups so much that we eat them regardless of the outside temperature. Whether it's cold or hot outside, we love our soups! Soup is the answer to most all problems, at least that's what my mamita and mom would imply when I was a child in Colombia... "If you're not feeling well, eat your soup. If you want to be tall and cute, eat your soup. If you want to be smart, eat your soup. If you want to have dessert, eat your soup." I suppose these magical powers have something to do with my love for soup!
When I miss my family, am exhausted, or feeling down, I take out a packet of lentils, pick them over for stones and simmer them. Immediately after taking that first spoonful, I feel better!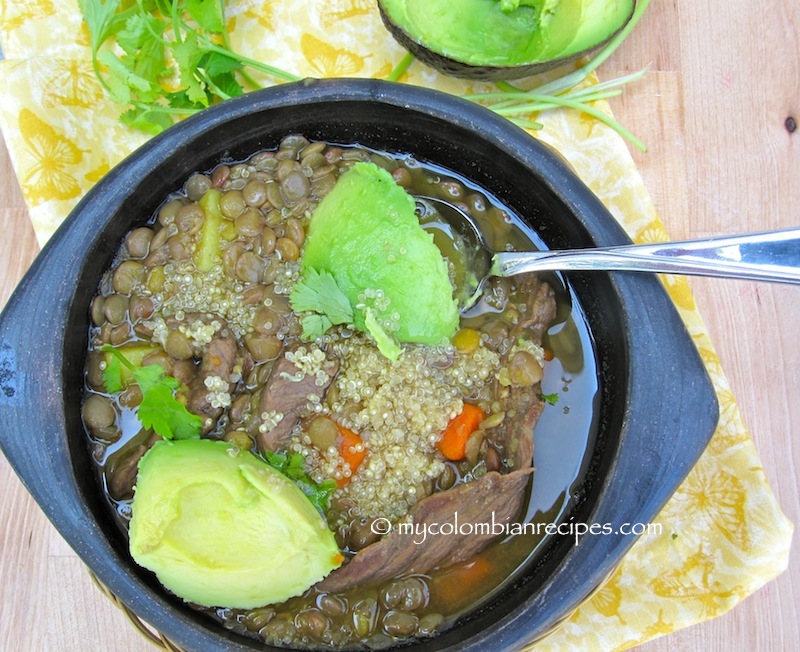 I enjoy experimenting with flavors and aromas of different vegetables, grains and herbs. This time, while making the soup I spotted a bag of quinoa in the pantry, so I decided to add it to my mom's traditional Sopa de Lentejas con Carne and it was an excellent idea. It was not at all flat in taste, but rather wonderfully flavor intense, so much so that you might need to resist wanting to lick the bowl!
What I love about this dish is that it is versatile, and it can be made using several varieties of lentils, and the beef can be easily substituted with pork, chicken, or chorizo. For a meatless version, you can serve it with a poached egg on top.
I hope you enjoy this soothing soup as much as I did.
Buen provecho!