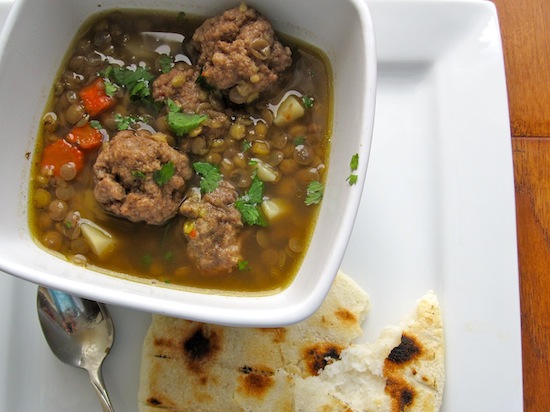 I've been so busy lately with the new baby that I haven't had much time to play in the kitchen. I know it's spring, but here in New England the weather has been winter like! I made a cold weather comfort food favorite this week, Lentil Soup with Meatballs. It's a very easy soup to make.
I love one pot meals that can simmer without any work. This way, I can change diapers and do laundry while my lunch is cooking.
Buen provecho!
Don't forget to comment on my post "Getting Ready For a New Life" for a chance to win a Slim-Fast Giveaway worth $100.
Ingredients
(4 servings)
Soup

1 teaspoon vegetable oil
½ cup chopped onion
1 garlic clove, minced
¼ cup chopped scallions
½ cup chopped tomatoes
5 cups water
1 ¼ cup dried lentils
½ teaspoon salt
¼ teaspoon pepper
1 cup diced carrots
½ cup potato, cut into bite-sized pieces
¼ teaspoon cumin powder
Fresh cilantro

Meatballs

1 pound ground beef
½ pound ground pork
1/4 teaspoon garlic powder
½ teaspoon onion powder
½ teaspoon ground cumin
2 beaten eggs
1/2 cup bread crumbs
¼ cup warm water
Salt and pepper
Directions
Place the oil in a medium pot. Add the onion, garlic, tomato and scallions to the pot, season with salt and pepper. Cook stirring occasionally about 12 minutes. Stir in the cumin and cook 1 more minute.
Add the lentils, carrots and water, bring to a boil. Then reduce the heat to medium low. Make the meatballs: In a medium bowl, combine all the meatball ingredients, and using your hands, mix well until combined.
Divide meat mixture equally into 12 portions and roll into balls with your hands.
Add the meatballs to the soup and simmer for 30 minutes.
Add potatoes, cook for 15 to 20 minutes until the potatoes are fully cooked and fork tender, thin with water if necessary. Add fresh cilantro and ladle into soup bowls and serve immediately.
This was printed from MyColombianRecipes.com