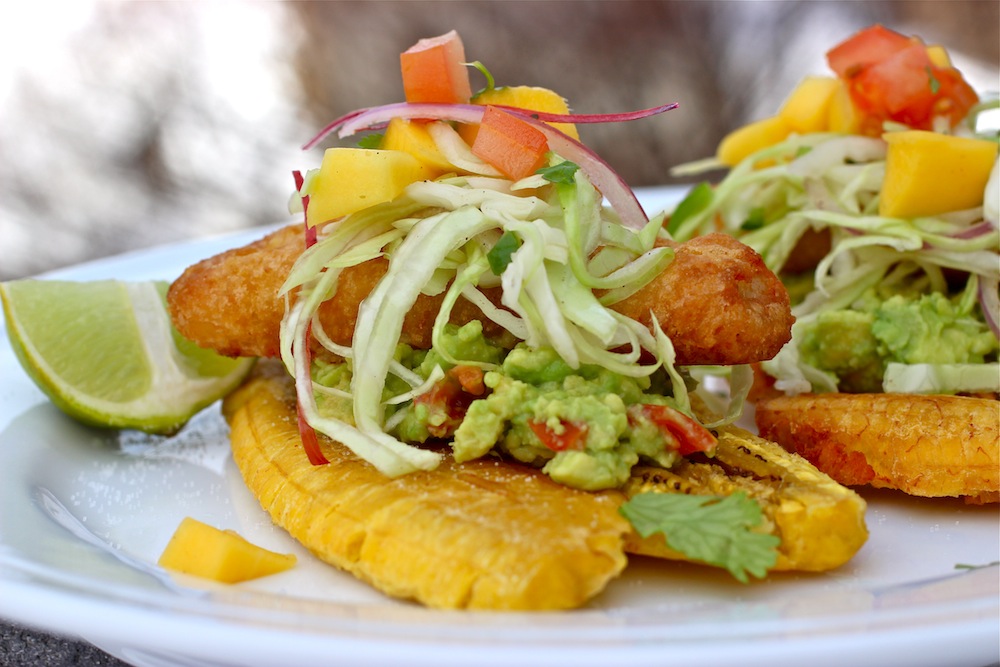 I am participating in a recipe challenge hosted by Gorton's, in case you haven't noticed 😉 I am competing against seven other wonderful bloggers, where we each created a recipe incorporating Gorton's Crispy Battered Fish Fillets.
I made Fried Green Plantains with Guacamole, Crispy Battered Fish Fillets and Mango Slaw. I need your help to WIN this competition! The recipe with the most votes wins, so your votes make all the difference.
With only 2 days left in the contest, I want to share the recipe for my dish with you guys. I hope you make it at home and enjoy it as much as I did!
You can vote for my dish once per day, so please, bookmark the link below and vote for me every day until April 7th! Please do not try to vote more than once per day from the same email and/or IP address, as those votes will not count. You can view all the entries and vote for me here. Thanks!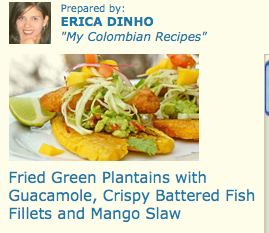 Ingredients
4 servings
4 Gorton's Crispy Battered Fish Fillets
1 cup of guacamole

For the Fried Plantains

4 green plantains, peeled
Canola or vegetable oil for frying
Salt to taste

For the Mango Slaw

1/2 head small green cabbage
1/4 red onion
1/2 cup ripe mango, peeled and diced
1/2 small jalapeño, finely chopped and seeded
1/4 cup diced fresh tomato
3 tablespoons chopped fresh cilantro
Juice of 2 limes
2 tablespoons white vinegar
1/4 teaspoon ground cumin
1 teaspoon sugar
Salt and ground pepper, to taste
Directions
Prepare Gorton's Crispy Battered Fish Fillets according to package instructions.
Meanwhile, make the Fried Plantains: In a large sauce pan, add enough oil to cover the plantains and heat the oil over medium high heat.
Add the plantains to the heated oil. Fry until they start to get yellow, but not golden, about 7 to 9 minutes per side. Carefully remove the plantains with a slotted spoon, and place them on a plate lined with paper towels to absorb excess oil.
Let the plantains cool for 3 minutes. Then, place the plantains on a piece of plastic wrap and cover with another piece of plastic wrap. With a flat pot cover, press the  plantains well, flattening them to about 1/4″ thickness. It is best to do this while they are still warm.
Then using tongs, add them back in the hot oil, two at the time, and fry for an additional 3 minutes on each side.
Remove the plantains with slotted spoon and transfer them to a plate lined with paper towels to absorb oil. Sprinkle with salt, to taste, and transfer to a serving plate.
To make the Slaw: Finely shred the cabbage and onion. In a small bowl, combine the lime juice and vinegar and whisk with a fork to blend. Add the sugar and season with salt and pepper.
In a large bowl, toss the cabbage, onion, mango, jalapeño, tomato and cilantro with the dressing.
To assemble: Spread the guacamole on top of the fried plantains.
Add the fish and top with the mango slaw. Serve immediately.
This was printed from MyColombianRecipes.com