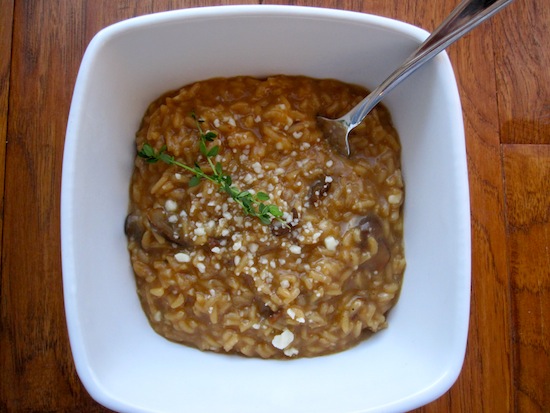 One of the most delicious ways for me to eat rice, is in Risotto. Serve this meatless dish for lunch or dinner, it will satisfy the most hearty appetites, even if you're cooking for meat lovers. The secret to making a good risotto is to cook it slowly, stir it often, and add as much liquid as the rice requires.
This mushroom risotto is full of flavor and the only accompaniment needed is a green salad or crusty bread.
Enjoy it!
Ingredients
(4-6 servings)
5 1/2 cups vegetable stock
4 Tablespoons butter
1 Tablespoon olive oil
1 cup onion, finely chopped
1 oz dried porcini mushrooms
1/2 pound portobello mushrooms, clean 
  and sliced
1/2 teaspoon fresh thyme
2 cups medium-grain rice
1/2 cup white wine (optional)
Salt and freshly ground pepper, to taste
1/2 cup grated asiago cheese or parmesan cheese
Directions
In a small bowl, combine the porcini mushrooms and 1/2 cup hot water. Soak for 30 minutes to soften. Drain the mushrooms, reserving the liquid, then chop the mushrooms. Place the stock in a saucepan and bring just to a simmer.
In a large saucepan over medium heat, melt 2 tablespoons of the butter with the olive oil. Add the onion and sauté until tender and translucent, about 5 minutes.
Add the mushrooms, thyme and cook, stirring, about 4 minutes. Stir in the rice and cook, stirring, until the kernels are hot and coated with oil, about 2 minutes. Add the wine and continue to cook, stirring often, until the liquid is absorbed.
Add the stock mushroom liquid and vegetable stock, 1/2 cup at a time, stirring constantly and making sure the liquid has been absorbed before adding more. When the rice is about half cooked, season with salt and pepper. The risotto is done when the rice grains are creamy on the outside, and firm, yet tender to the bite, 20 to 25 minutes. Rice varies, so you may not need all the stock, or you may need more. If more liquid is required, use hot water.
Remove the risotto from the heat. Stir in the remaining butter and the cheese. Spoon the risotto into bowls and serve immediately.
This was printed from MyColombianRecipes.com