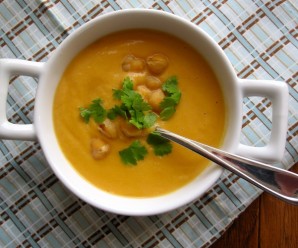 Crema de Garbanzos (Chickpeas Pureed Soup)
Ingredients
3

tablespoons

of butter

½

small onion

diced

3

scallions

finely chopped

1

garlic clove

minced

Salt and pepper

to taste

1

teaspoon

of ground cumin

½

pound

dried chick peas

soaked overnight

6

cups

beef broth

2

cups

heavy cream

½

cup

chopped fresh cilantro
Instructions
Place a medium soup pot over medium heat. Add the butter, onions, scallions, garlic, ground cumin, salt and pepper. Cook until the onions are soft and translucent, about 5 minutes.

Drain and rinse the chickpeas and add them to the pot with the beef broth. Bring the pot to a boil over high heat, and then reduce heat to low, cover, and cook at a simmer until the chickpeas are tender about 2 hours.

In a blender or food processor, puree the soup in batches, leaving some texture, and return the soup to the pot.

Add the heavy cream and chopped cilantro. If the soup is too thick, thin it with water. Ladle the soup into bowls and garnish each bowl with chickpeas and cilantro.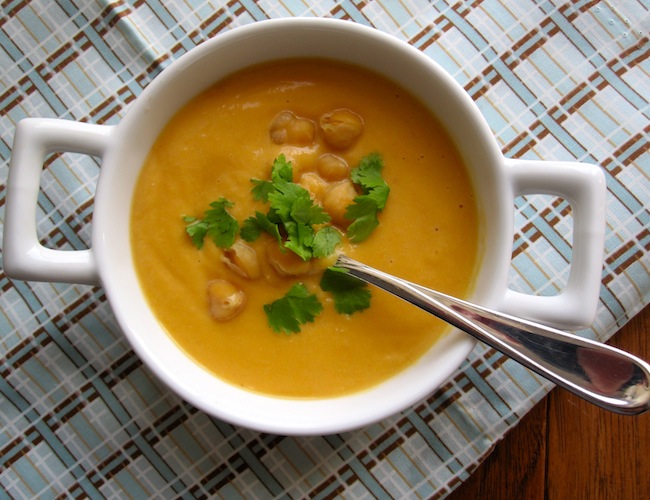 Crema de Garbanzos, or Chickpeas Pureed Soup, is a traditional soup from the Cundinamarca department of Colombia. Pureed soups are very popular in Colombia, and I grew up eating many different types of my mom's homemade cremas, or pureed soups. Actually you can find different packaged cream soups in most Colombian supermarkets, and Crema de Garbanzos is one of them, but for me, store bought soups, just won't do. This soup is very easy to prepare, and makes a wonderful lunch, so no need for a can here!
Buen provecho!