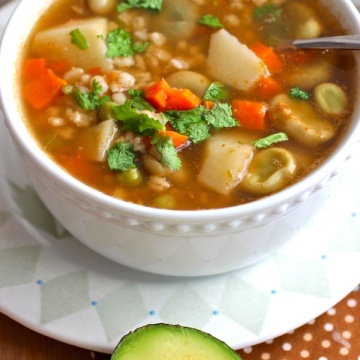 Sopa de Habas y Cebada (Barley and Fava Bean Soup)
Ingredients
10

cups

beef

chicken or vegetable broth

½

cup

soaked barley

1

cup

fresh and peeled fava beans

½

cup

chopped onion

3

garlic cloves

2

scallions

chopped

¼

cup

red bell pepper

diced

2

yellow medium potatoes

peeled and diced

1

teaspoon

ground cumin

½

cup

peas

½

cup

diced carrots

Salt and pepper

½

cup

chopped fresh cilantro
Instructions
Place the onion, garlic, scallions, red bell pepper in the food processor.

Place a pot over medium-high heat. Add the stock, barley and fava beans, bring to a boil.

Reduce the heat to medium-low. Add the onion mixture salt and pepper and let it simmer for 50 minutes.

Add the potatoes, peas, carrots and ground cumin, cover and cook for 25 minutes more. Add the cilantro and serve.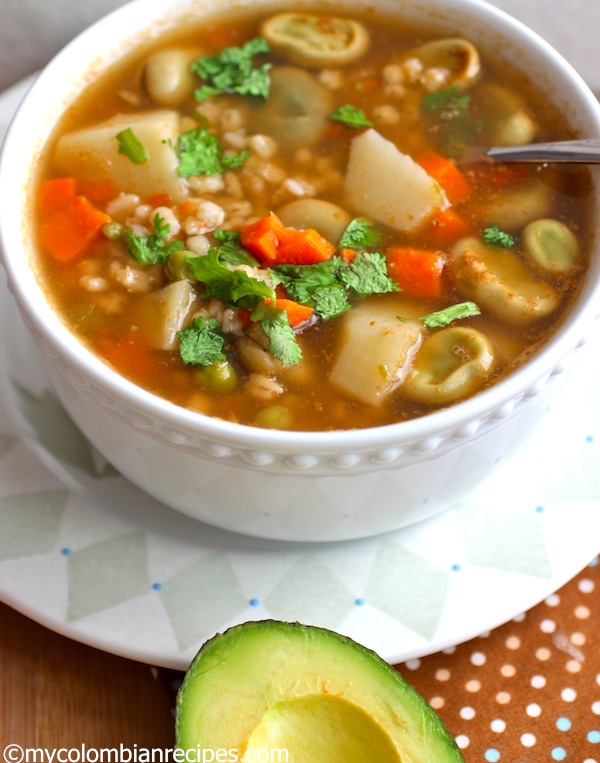 Growing up in a large Colombian family was absolutely amazing. Mamita made the most fantastic food and I still treasure our Sunday lunch and dinner tradition and all the wonderful food my grandmother cooked for us. Traditional Colombian soups were always on the menu. I remember walking into her kitchen and seeing a huge pot with simmering sancochos, sopas or caldos and being enveloped with the most amazing aromas.
Colombian cuisine offers a wonderful selection of comforting soups, from soups made with seafood from the coastal regions, to meat and poultry soups from the Andean regions. Soups are a must for lunch in Colombian homes and are usually served with avocado, white rice, salad and ají on the side. I grew up eating soup at least once a day and one of things that I crave the most when I'm homesick are traditional Colombian soups.
Sopa de Habas y Cebada (Barley and Fava Bean Soup) Soup is a traditional Colombian soup from the Boyacá department located in the Andean zone of the country. This comforting and filling soup is made with carrots, peas, potatoes, barley, fava beans, onions, bell peppers, garlic and herbs, and is very simple to prepare and perfect on cold days. I love how this soup is so incredibly easy to make yet so satisfying. True comfort food!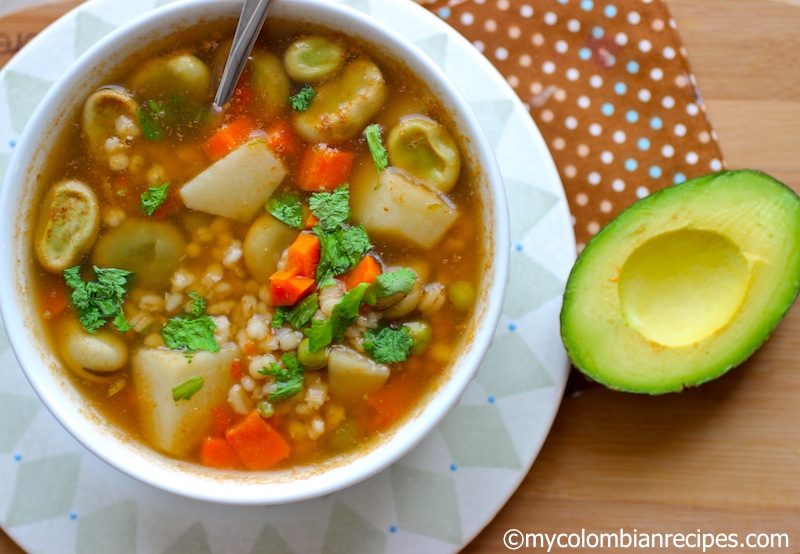 Buen provecho!